SanDisk Dual USB Drive is a quick and easy way to transfer files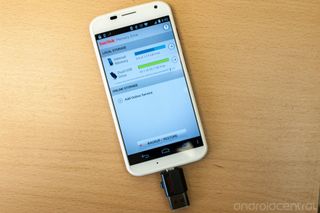 Image 1 of 10
Desktop computer business up front, mobile party microUSB in the back.
SanDisk today announced its new "Dual USB Drive" — basically a flash drive with a USB 2.0 connector on one side for plugging into a computer, and microUSB on the other side for plugging into a phone. Price starts at $19.99 for a 16GB model and hits $49.99 for 64GB.
Sandisk slipped us a 32GB unit. And, true to form, it's pretty simple to copy files just like you would with any other drive. At least on the computer side, that is. Phones get a little more complicated, but SanDisk helps out with that as well. Many Android devices don't have USB on-the-go (OTG) support. So it's possible you'll plug in this drive, fire up your favorite file browser — and nothing will happen. (Samsung is a notable exception, though — and rooted devices can get around this easily with any number of apps.)
To that end, SanDisk today updated its Memory Zone app to support the Dual USB Drive. Plug in the drive, open the app, and you've got a file browser capable of reading whatever's on the drive. Images, video, music — whatever.
Pretty simple, and it's a handy little accessory.
More at SanDisk's site.
SANDISK ANNOUNCES ITS FIRST DUAL USB DRIVE DESIGNED TO TRANSFER AND BACKUP CONTENT BETWEEN MOBILE DEVICES AND COMPUTERS
MILPITAS, Calif., Feb. 11, 2014 – SanDisk Corporation , a global leader in flash storage solutions, today announced the SanDisk Ultra® Dual USB Drive, a USB flash drive featuring both a micro-USB and a USB 2.0 connector in a sleek and sturdy form factor. The SanDisk Ultra Dual USB Drive is designed for Android™ smartphone and tablet users who need an easy way to move content such as photos and videos from their mobile devices. The drive allows users to safely store and backup files, free-up space, or simply transfer multimedia between their smartphones, tablets and computers.
"The SanDisk Ultra Dual USB Drive provides a simple, convenient way to offload and backup files from smartphones and tablets – with the peace of mind that comes with the trusted SanDisk brand," said Dinesh Bahal, vice president, product marketing, SanDisk. "This new drive integrates with SanDisk's Memory Zone app to make freeing up space on mobile devices simpler than ever, improving the user experience."
The SanDisk Ultra Dual USB Drive provides a convenient way to transfer content via an Android-powered smartphone or tablet's micro-USB port and a computer's USB connection. While other methods of transferring files from a mobile device to a computer require wires, applications or a wireless set-up, the SanDisk Ultra Dual USB Drive simply needs to be connected to a mobile device supporting USB on-the-go (OTG)1 to access up to 64GB2 of 'plug and play' storage capacity. Additionally, the drive's dual USB ports feature a retractable cover, meaning no caps to lose while still keeping the connectors safe.
SanDisk is making content management even easier with the SanDisk Memory Zone app, available for download on Google Play™. With the SanDisk Memory Zone app, users are able to better organize files stored on internal and external phone memory for management, viewing, copying and backup – further easing the hassle of freeing up the memory on their mobile device.
Pricing and Availability
The SanDisk Ultra Dual USB Drive is available worldwide and on www.sandisk.com in 16GB to 64GB capacities carrying MSRPs of $19.99 to $49.99.
Sign up for Black Friday email alerts!
Get the hottest deals available in your inbox plus news, reviews, opinion, analysis and more from the Android Central team.