Phil's favorite apps of 2014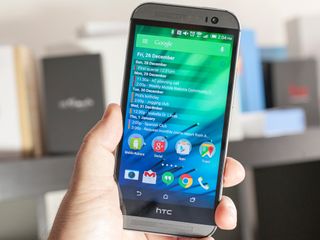 Two ways to look at the apps that I can't live without, seeing as how they don't really change much from year to year. One is that I'm just a crabby old dude stuck in my ways. The other is that I've found a bunch of apps that work well for me, and so why fix it if it ain't broken? I see so many slick home screens out there. But I've kept mine pretty much the same for I don't know how long.
Maybe things will change in 2015. Maybe they won't.
But for now, these are just a few of the apps that I can't live without. The ones that get me through work at home, and work on the road.
Google Play Music
Can't live without it. The will-bloggers-shut-up-about-it-already, is-it-still-a-problem-or-not device limit is still a bone of contention, but the simple fact is Google Play Music is a great way to listen to, purchase and stream music on an Android device. Toss in Chromecast and Sonos capability and it's a must-have at home.
On the road it's even more important for me. I'm an All Access subscriber, and saving music locally is just one touch away, so I make sure to have something queued up before wheels up.
And as a child of Napster, I think it's extremely important to have good, legal ways to listen to music. And Google Play Music fits that bill.
TripIt
Google Now is getting really close to being able to unseat Tripit — and for occasional travelers it probably already suffices. But I keep using Tripit (and its paid Pro service) for one reason: Control. When I forward an itinerary email to Tripit (I also let it scan my inbox for anything I might have forgotten to send), I know that flight or hotel information will end up where it's supposed to be, and it'll be there whenever I need it, on-demand. Tripit also makes it easy to share entire trip information with coworkers and family, so I don't have to scrounge up each piece on its own.
For my money, it's made keeping things organized so much easier (and I need all the help I can get on that front), and given my wife a little piece of mind that she can easily see where I am and where I'm going in just a few seconds.
Uber
I get the concern over Uber as a company. I really do. And I like to think there's a pretty big gulf between the folks in suits and the folks driving the cars. And Uber as a service, meanwhile, has been excellent for me in cities like New York and San Francisco, and I'm watching how it's working in my much smaller hometown of Pensacola. And I have no real issues with the app itself. It's fairly quick to load, does what it's supposed to — shows nearby cars and your trip ETA — and it makes paying for a trip as easy as it should be. So it's become one of the first apps I install on a new phone.
Snapseed
I like sharing pictures from the places I go. And for some simple, on-device editing, I've been using Snapseed for a couple years now. There are any number of photo-editing apps available. But I'm occasionally accused of being stuck in my ways, and the simple fact is I don't want to spend a lot of time editing pictures for a quick share. I just want to get in, get out, maybe add a few too many layers of HDR in there, some cropping. And for that, Snapseed does the job just fine.
Action Launcher 3
Launchers are pretty personal things, and truth be told I didn't actually like Action Launcher when it was first released in October 2012. But a lot has changed since then. And once I gave it a shot, I was hooked. So here we are a couple years later, with Action Launcher 3.0. And I basically can't get over the speed of the launcher. I've never been a huge fans of big grids of apps, either, so the Quickdrawer scrolling list serves me well. I'm digging the new themes, too, so the launcher can adapt to whatever wallpaper I happen to be using.
1Password
While passwords on Android remain a clunky endeavor, and there are a lot of alternatives out there, I find myself always coming back to 1Password. It's not perfect on Android, but it's good enough for me, and it's so good on OSX that I'm OK with that trade-off.
A few more honorable mentions
Because I'm the boss and can list whatever I want:
I just cannot make the switch to Action Launcher. I try every few months and I always end up going back to the Google Now Launcher. Still not a fan of how he handled the switch from 2 to 3, have no issue with him charging for it, my issue is with the switch he made. It obviously confused a lot of people and if he was confident in the upgrade he would have been less shady about it. When I was using 3 there was some pretty basic launcher functionality that was missing. Good list overall though, all of them have been. Posted via the Android Central App

I really want Press not to be an abandoned app. But sadly, it is.

The guys responsible for Press have said that they are working on a new 'Material Design' version of it. Can't recall any timescales and I think the info was released via Twitter.

Been looking at Press for a while but not paying for a app that hasn't been updated in a year. At least gReader Pro is still being updated. Posted via Android Central App

Tripit rocks. I use Password Keeper and love the capability to auto fill apps.

Doesn't the Google Photos app do everything SnapSeed does? Posted via the Android Central App

I think so. Google bought them and integrated most of its features into its Photos app I believe. I mean since the acquisition Snapseed hasn't even been updated in over a year. How could it be recommended? I used to use it last year, but after they were bought and Photos got the features I uninstalled Snapseed.

Why is google music better then ie spotify or deezer etc? It has the least songs... No user made playlists...? Posted via Android Central App

There are, in fact, user made playlists that you can subscribe to. Source: I've subscribed to many user made playlists.

Help me out here! I have folders on my SD Card labeled "Country" "Heavy Metal" "Rap" "Love Songs" and when I open Google Play Music it doesn't show these folders. Instead it separates the music the it wants to. Is their a way to fix this? Please help! Posted via Android Central App

As a plus, Google Play Music isn't the best option if you want to deal with local music (that's my opinion). If you want tag editing, folder handling, and deeper level of control of your SD Card stored music, I suppose you should look at other options, like Musixmatch (really great app, and also has the best lyric management in the business) or Poweramp (by far the most complete music player from Play Store, although is free for 15 days and then $1)

I just read your comment again, you said their are user made play lists that you can subscribe to. So I have to get a paid subscription in order to make a folder with a certain genre of music? If so this is a total seal breaker. Sounds like a money pit to me. Posted via Android Central App

The thing is, Google Play music app doesn't work with folders. It just scans the folders and create a library (which for me is better, by the way). If you want to get these songs separates by genre, you need to tag them in your computer with the genre and it will show up grouped by genre.

All Access lets you listen to playlists that others have made. If you want to listen to your own playlists, you don't need a subscription, but you need to make playlists, not just throw them in separate folders. Play Music doesn't care where things are located on the device.

How do you create folders in Google Play Music? Can you? Posted via Android Central App

Yes, you can create playlists/folder/whatever. I do it all the time. And no, you don't have to be a subscriber to it. Upload all of your music to Google Play Music and then make your folders.

Okay I already have folders created on my SD Card that my Samsung music player picks up. I'm just wondering why the Google Play Music doesn't do the same. I don't want to have to create these folders all over again. Posted via Android Central App

Okay I just figured it out. Thanks. OMG I have a lot of music and it's going to take me awhile to create new folders in my Google Play Music in order to get everything organized. Thanks for the info Posted via Android Central App

Only reason I have Google Play Music is to back up my music from my SD Card. Posted via Android Central App

All the Android central guys seem to be locked into the Google Play ecosystem. I tried All Access for a few months when it was new but left it because there were less songs than Spotify and also the Play Music app was having major problems with LG software at the time and so the app would just stop working. I'm so involved with Spotify now that it would be hard to switch. I do like that Google lets you mix All Access music with music you have purchased. I wish Spotify had an option to buy songs that artists won't allow for streaming and add it to your playlists.

You mean LG had a problem with Google software. If 90% of the other skins work, LG is at fault Posted by my soon to be retired Note 3

It does, but requires you to use the Spotify software on your computer. If you import your local music, and make sure its tagged correctly, then you can use Spotify on your computer to sync it to Spotify on your phone, including your non-Spotify music.

For me the killer feature of GPM when compared to Spotify is the ability to cast direct to Sonos speakers (bypassing the limited Sonos controller app). But there are a number of things I prefer about Spotify (better social playlists being the main one) so I find it difficult to decide which I prefer

Or better than Rhapsody? Posted via the Android Central App

The radio playlist on Spotify and Deezer suck compared to Google Music. Mind you, Google Music sucked as well until they bought Songza. Now it is the most well rounded service.

I cannot agree more about Google Play Music! Its simply the best out there, but it keeps getting better! Now with Songza playlist curation, I have a perfect list for my mood anytime. I am always trying to convince my friends to buy it but they seem content hearing ads on Pandora (yuck). Posted via Android Central App

Pandora has very few ads. I'll go hours before I even hear an add. Posted via Android Central App

Doubt that Posted via the Android Central App

Are you doubting that Pandora has very few ads? Okay so even if Pandora has one 15 second ad every 30 minutes would you still consider that excessive? I've gone hours on Pandora with absolutely zero ads. I have the free version as well. Posted via Android Central App

I'm sure it's a 1 ad: 5-7 song ratio. It just feels like a long time because you don't listen to the radio edited versions of the Britney Spears songs you so love Posted via the Android Central App

That's very cool. I do love the remix's Posted via Android Central App

I use Spotify but I also can't figure out why people keep using Pandora. Sure it's free but you have no control over what you listen to and have to listen to ads. I've been listening to my own music so long that I can't stand listening to any radio service, including Pandora.

I also have music loaded on my SD Card for when I feel like listening to exactly the music I want. Seriously I rarely hear a commercial on Pandora and this coming from a long time Pandora listener. Another very cool feature about Pandora is it let's you customize your stations. The longer you use Pandora the better it gets Posted via Android Central App

Yeah, discovering new music sucks!

Happy early birthday Phil!

"...I've never been a huge fans of big grids of apps..." Me neither. So I would suggest also giving Lightning Launcher a try. Truly customizable launcher, and currently on sale at 50% off - only $1.50 :)

Great picks Phil Posted via the Android Central App

Can anyone tell me if there are any launchers out there that are better than Nova? Tried action launcher 3 and though it's a decent launcher, it's not the one for me. Nova is quick and does the job for me but looking at some other launchers since I've been using Nova since the last 3 or so months since it came pre-loaded in my custom ROM. Thanks. Posted via my de-TouchWized Samsung Galaxy S3 running SlimKat 4.4.4

Lightning launcher! As I said above, it's on sale for 50% off right now - just $1.50! Has a bit of a learning curve, but it's ridiculously customizable. By that, I mean, *really* customizable. Not like most launchers which say they're customizable but they just usually refer to themes or things like multiple homescreens which every launcher has. Plus dev is pretty active on a Google+ page which is nice.

I second this. If you want maximum flexibility (e.g. multiple desktops, each with their own grid size and panning methods, multiple docks) then LLX is the way to go. Yesterday I tried several other launchers (Nova, ADW, Go, Action, ss, Google Now). Such copycats... uninstalled and removed from my Google Play "All" list. Posted via Android Central App on my HP TouchPad (Schizoid PAC-ROM 4.2.2)

Do you really mean Nova is a copycat of Lightning Launcher? You must be joking LOL. Posted via Android Central App

I think he means that they (except for LLX) are copycats of each other. If you look at Nova, ADW, Apex, Holo, etc., they all look and work basically the same; have very similar features with just a few distinguishing capabilities. LLX is the first one I found that really opened up options.

This. The others have a smattering of changes from stock. I'll admit that I did find Nova's subgrid positioning exceptional, and some had Zune-like options. But they're pretty limited in their flexibility. Posted via Android Central App on my HP TouchPad (Schizoid PAC-ROM 4.2.2)

I've been using nova launcher on all of my phones for the past few years. I love the speed, simplicity, and aesthetics. Posted via Android Central App

So I have to buy Google Play Music in order to create folders? Seriously help me out people. Posted via Android Central App

What I'm comparing Google Play Music to is my built in muic player on my Samsung S3. The built in music player on my Samsung S3 Let's you arrange your music into files and folders. Can I do this with Google Play Music? Posted via Android Central App

So basically all I'm using my Google Play Music for is a way to backup music that I download from other sources. Okay cool. Posted via Android Central App

Once again this is another deal breaker for me, I was considering purchasing the Droid Turbo but upon further research I discovered that Google Play Music is the default music player. I've also looked for other basic music players on the Play Store and everything I find is loaded with ads. I have a questIon? Do people consider the built in music player on a Samsung device bloatware? Posted via Android Central App

I wouldn't call it bloatware, but most of Samsung's stock apps suck. Owning a galaxy is the reason I switched messaging to hangouts, and bought poweramp, Nova launcher, today Calendar, etc. Just to get away from the touchwiz. I've never used any of the free music players, but the pro versions of poweramp and rocket player are both better than the stock Samsung app. Its been awhile since I used rocket player, but poweramp has the option to display folders, instead of by the genre/album/artist metadata sorting

Spend 5 bucks for PowerAmp. Best 5 bucks you'll ever spend. Posted via the Android Central App

I'm surprised no one have mentioned Pushbullet yet. Posted via the Android Central App

Yeah, PushBullet is very cool. Synced notifications across all devices, including Windows, etc., with the ability to "push" files, images, links, etc. Posted via the Android Central App

>"I find myself always coming back to 1Password. " I would never trust my passwords to a closed-source, third-party, internet-connected service. http://en.wikipedia.org/wiki/KeePass
http://keepass.info/
https://www.androidcentral.com/e?link=https2F2F...

'Google Wallet: Because needing single apps for loyalty cards sucks.' If you want a place to put loyalty cards, then use what I use: Stocard (https://play.google.com/store/apps/details?id=de.stocard.stocard)

That's his point, no reason to have a single app just for that, when Google wallet can do the exact same thing...plus, back them up, transfer to a new device, etc.

Exactly what Stocard does, and you don't need a working data connection as it [Stocard] downloads everything to the device, so you just need to open it. A lot of the apps need a data connection to get at your cards.

Every app Phil can't live without are apps I've been living without for a long time. And I really don't see any reason to start using them now.

Different Strokes, keep an open mind, less you end up looking like an ass... Posted via Android Central App

Can I suggest you write a post encouraging readers to list their top apps of 2014 in the comments?
Would be interesting to see what comes up.

Okay in all reality their is no such thing as an app that anyone can't live without. Seriously. The cowboys and Indians (Native Americans) didn't have apps and they lived just fine LOL (minus the fighting and turmoil) with that being said here are the apps I use everyday. Iheart, Tunein, Facebook, Facebook messenger, Android Central, Flipboard, Chrome, Pandora, Yahoo Sports, NFL, Touchwiz music player, Posted via Android Central App

As much as I love google and everything android I was so annoyed that there was no good games for free. Yes I know nothing is free but the amount of apps that were actually pretty decent on the amazon app store for free. Like Google come on sorry wrong thread to put this on but like come on googs merry Christmas from Ireland ac love ye guys Posted via the Android Central App

Also I don't expect anything free I have pumped a lot of my money into the android ecosystem. But like a few we love you users of our os here are a few free apps blah blah come on like. Posted via the Android Central App

That's hilarious. I can tell your afraid of the "free police". Just so you know (I'm sure you already do) most tech savvy people don't pay for anything. Posted via Android Central App

Well to be honest that's kind of terrible like with music these days people like you ate the reason why governments want tighter control over the net and the term tech savy shouldn't be applied your just a bit of a thief. Sure go into your local shop and rob a few bars and a bottle of orange no you won't cause it's robbing. I have in the past downloaded the odd apk or song or sample of a movie soley to see what it's like. Your a thief buy some apps music etc..... people like you will destroy our beautiful Internet just really knackery and poor thing to do but hey that's some people for ya Posted via the Android Central App

Why are you using the old version of gmail and the AC app while you're using the new chrome? Posted via the Android Central App

I use reader.aol.com with VReadr. Simple.

Google Play Music is cool and the ability to "cloud store" music is awesome. As far as storage is concerned first and foremost I control how I control my content by keeping things backed up on external hard drives. The "cloud" is a second option for me. It is foolish to let somebody else store your data. Posted via Android Central App

I listen to play for my playlists mostly. I use the Samsung music app when I wanna listen to full albums from my SD card. Posted via the Android Central App

Help Help Help Help! In order to even have a Google Play Music account it's telling me that I need to have a credit card on file. Do I have to have a credit card on file to use Google Play Music? Posted via Android Central App

Must say I have been using rhapsody for years tried other music services including Google play music and always end up with rhapsody. My account allows me multiple devices which includes my phone and both my kids with there different Google accounts. Can't beat that at all. Posted via the Android Central App

I hope uber disappears. It's not a good company yet Google, Sprint and others are getting in bed with them.

This is all starting to make sense now. It will be a cold day in hell when I hand over my credit card info just so I can store my music in the Google Play Music service. It will also be a cold day in hell when I give up my SD card and trust some third party with my files. And to think I almost got lured in to the Motorola- Nexus- Turbo world. Posted via Android Central App

It works just fine with media stored on your SD Card. If you don't like it, find another music player Posted via the Android Central App

Luckily I have a Samsung device that comes loaded with an awesome player of its own, built right in. How awesome is that? I'll answer that for you. Very awesome! Posted via Android Central App

Yes, it sure does show music stored on a SD card in the play music app, without uploading it to the cloud, and for free. Pretty sure they require a credit card to prove your billing address and country, a lot of music has legal copyrights restricted to certain countries. It's not a conspiracy against you. Also, I know they don't realize your apparent issues with actually paying for things you want to use, but it's also there for normal people to actually make a purchase easily. And, like any android device, in a Motorola nexus turbo world, you are permitted to download and use any (free) music player you like, they aren't forcing you to use play music.

"Normal people"? Yeah I caught that. Sorry but it's not normal to just give out credit/debit card information. "Conspiracy theory"? Yeah I caught that also, good job trying to associate people not wanting to put their credit card information on Google Play Music with paranoid tin foil hat lunatics. Sorry buddy but your going to have to do way better than that. Oh and speaking of bloatware I disabled a piece of bloatware today named Google Play Music. Posted via Android Central App

Oh and speaking of the "Droid Motorola Turbo World" what's the point of purchasing a phone with zero features? Well I shouldn't say zero but those phones come pretty much with very little features. Sure you can download third pay apps and deal with aggravating ads or worse have to pay for the "pro" version of the third party app. I must say it's genius how Google Motorola figured out how to exploit a certain small niche market of individuals who for some crazy reason want to be apart of some minimalist movement. I just don't see the value in paying top dollar for a product that you have to build up (customize LOL) yourself just to get it to function properly. FYI less is not more. Posted via Android Central App

Look, it's not my fault this entire comment section is littered with your struggle to understand how a simple music app works, or why they need a credit card to prove your country of residence, for legal reasons and billing. That's your choice, don't use it, I was just pointing out its not this big scam, you seem to think it is. It's perfectly normal to enter a credit card number for a pay service. However, you don't need to, the free aspect of Google play music works just fine without entering it. You can still play music, even from your SD card. And that second comment is where you are completely wrong. That's the entire point of Android, customization and using the apps you enjoy, not being stuck with the crap stock ones Samsung shoves down your throat. I've yet to meet anyone with a Samsung product that still suffers through the stock apps horrible UI, they've moved on to better free or paid apps. Yet, unless they root, they can't remove those apps and are stuck with all the bloat Samsung has stuffed into laggy touchwiz. These wonderful Samsung apps, are the reason I spent money on better quality apps, just to get rid of their junk and make the phone tolerable. You are basically turning one of the biggest, best features and selling points of Android, into a negative. If you want to buy a phone and be locked into only the apps they give you, maybe you should switch over to the sandbox and get an iOS device. Less is more to some people, what works for them might not work for you, the opposite of your opinion is true for a lot of people. Why have all that pointless crap, no one uses, built into a phone? What's better, loading something up with a ton of pointless "features" or giving people the option to pick and choose what features/apps they want to download and keep on their phone? Realistically, you're whining about spending $1-5 on more feature rich apps...

One wonders what you use to buy paid apps with. My Google wallet account takes care of all my app OR Google music needs. Posted via Android Central App

Phil, the HTC One M8 still your daily driver?

i love snapseed and google play music. these app is just amazing
www.kiandroid.com

I tried to like 1Password, but I just don't see what people like about it. Was on Dashlane before, decided to find something slightly cheaper as I think $20/year is a bit steep, even for a service as good as Dashlane's. Couldn't stand 1Password, felt really outdated and clunky, tried LastPass instead. LastPass is almost as good as it gets on Android, I think. Especially with Samsung's fingerprint login. Few taps to get to usernames and passwords and even though the "always on" password service for apps and web pages is still too buggy to be useful, they're at least workinging in the right direction. i agree that Google Play All Access is hard to beat, though with 6 months free Deezer at the moment for me, I can live with a lot of missing albums and artists. Oh, and Deezer is actually working on a proper desktop app. Even though it's not very useful today it's still better than not doing it at all, like Google. I hate browser players as they never work well in the background for instance while you're playing a game.

what calendar widget is that on the homepage of the HTC?

Near the bottom of the article he linked Pure Calendar Widget. See what he had to say about it, he had you in mind! Posted via Android Central App on my HP TouchPad (Schizoid PAC-ROM 4.2.2)
Android Central Newsletter
Get the best of Android Central in in your inbox, every day!
Thank you for signing up to Android Central. You will receive a verification email shortly.
There was a problem. Please refresh the page and try again.