Phillips and Company launch Blue Marble -- transform your roof into a giant QR code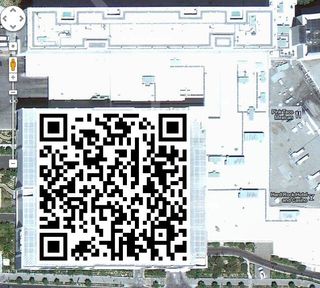 PR firm Phillips & Company has unveiled Blue Marble, a new service that will allow you to mark your roof with a giant QR code, snapping an aerial picture, then integrating it into Google Maps or Google Earth.
Hot damn.
Says Phillips & Company President Rich Phillips. And he's probably right, because he knows marketing and trends. All I know is that this is a very cool idea, and can't wait to see how it gets abused used in fun ways by companies (like Google or Apple) that have a sense of humor. I'd do it myself, if the cost weren't so prohibitive -- it starts at $8,500, with a recurring $200 support fee. That's providing you can keep to Blue Marble's schedule, as costs for a special event outside of said schedule is an additional $49,500. Wowza. Looks like my giant QR code for Jerry's tasty porch-cooked ribs and chicken will have to wait until I hit the lottery. Hit the break for the full press release.
Phillips & Company Launches QR Code Service from Space, Enabling Any Business to Transform its Rooftop into a Dynamic Marketing Tool through Google Earth, Google Maps
Blue Marble Service Adds Marketing Value to Any Location in the World, Connecting a Company's Physical Profile on Earth to Millions Searching for Products, Services
AUSTIN, Texas--(BUSINESS WIRE)--Phillips & Company, a global public relations and business development consulting firm, today launched Blue Marble™, a new patent-pending marketing service that enables any business to transform its rooftop into a space-accessible billboard by integrating a dynamic QR code into the physical site, taking an aerial or satellite image from space and making it accessible in leading navigation applications like Google Earth® and Google Maps®.
Blue Marble (opens in new tab) is a comprehensive branding and marketing service for any size business with a "space-accessible profile." A space-accessible profile is the profile or image of a building, facility, landmark, or other entity visible from the air or from space by satellite. Blue Marble enables businesses, cities, malls, schools, churches and other facilities to leverage their space-accessible profile in a world where everyone is viewing the world "as seen from space."
Blue Marble connects a company's physical profile on Earth to the millions of people searching for products, services and navigation on the Internet. Mapping and navigational applications are consistently ranked in the top 5 apps for smart phones. Additionally, Google Earth has been downloaded over 1 billion times. By integrating a readable code into the space-accessible profile, mobile users can access dynamic marketing programs, videos, digital coupons and other content while viewing the specific geographical location.
"Space is not just a destination – it is a platform for applications and services," said Phillips & Company President Rich Phillips. "Our use of satellite imagery in day-to-day applications is proof that our 'big blue marble' called Earth is one global market accessible through the Internet, mobile phones and GPS devices. By using QR code technology, we are taking dynamic marketing to literally the next level – low-earth orbit. But the benefits are to any company on Earth that wants to optimize their real estate investment and build a marketing program that can take advantage of today's mobile revolution."
QR codes can be used in most smart phones including those with Google's Android operating system using Google Goggles or other third-party barcode scanners. According to ComScore, 14 million mobile users scanned a QR code in June 2011. Fifty-eight percent of those users scanned a QR code from their home, while 39 percent scanned the code from retail stores.
Satellite images are typically updated by Metropolitan Service Areas (MSAs) on a rolling basis based on scheduled satellite and aerial updates. Phillips & Company has developed its own proprietary schedule based on projected updates to satellite imagery.
Blue Marble pricing for MSAs on schedule includes a one-time service charge starting at $8,500 and a recurring $200 support fee, which includes QR code production, site installation, content strategy consulting, satellite or aerial image capture and monthly access to a mobile content management and behavioral analytics platform that delivers real-time data to the customer on scans and usage. For companies wishing to schedule an image capture and event off-schedule, there is an additional charge of $49,500 for each MSA.
Phillips also offers a companion public relations event program, which includes the management of events in coordination with the image capture and the development and execution of marketing and media campaigns.
While standard billboards can cost between $10,000 and $30,000 per month on average and are limited by geography, a space-accessible billboard is available at a cost 75 to 98 percent less and to everyone on the planet with Internet access.
Phillips has partnered with 44Doors (opens in new tab), a leading provider of mobile marketing platforms, to manage content and deliver actionable marketing data to Blue Marble customers. 44Doors Capture™ (opens in new tab) delivers relevant messaging and content to mobile devices based on location, time of day, consumer preferences and other variables, driving traffic to specific online and offline points of engagement and purchase.
Said 44Doors CMO Tim Hayden: "This has to be one of the most creative and powerful ways to use QR codes we've seen. Blue Marble is bringing an exciting solution to marketers to capitalize on rising trends in smartphone use and organic search. Companies will now have a number of ways to deliver relevant mobile apps, promotions and product information to an audience that finds them on a map."
To schedule a Blue Marble marketing campaign or learn more about how Phillips & Company can help your company or organization grow visit www.bluemarblebrand.com (opens in new tab) orwww.phillipscompany.com (opens in new tab).
About Phillips & Company
Phillips & Company is a management consulting firm that helps leading companies achieve sustainable revenue growth through strategic communications and business development campaigns. With a focus on space technology, homeland security, mobile computing, telecommunications, healthcare, education and green technology, Phillips & Company helps organizations own the issues driving their respective markets through public relations, integrated marketing, business development, brand positioning and public affairs. Ultimately, Phillips helps companies create demand for their products and services by broadening and reinforcing the trust customers, partners and investors have in their company. Headquartered in Austin, Texas, Phillips & Company has operations in Washington, D.C., Miami, London and Hong Kong. For more information about Phillips & Company please visitwww.phillipscompany.com (opens in new tab).
Blue Marble™ is a trademark of Phillips & Company. Google Earth® and Google Maps® are registered trademarks of Google, Inc.
Android Central Newsletter
Get instant access to breaking news, the hottest reviews, great deals and helpful tips
Senior Editor — Google Ecosystem
Jerry is an amateur woodworker and struggling shade tree mechanic. There's nothing he can't take apart, but many things he can't reassemble. You'll find him writing and speaking his loud opinion on Android Central and occasionally on Twitter.
I think it would be cheaper to just have my roof re-shingled into a valid QR code, and wait a few years for a satellite update.

With a cost of 8500 bucks, I don't see this getting abused, or even used for that matter. The use case is pretty absurd. After paying the money, potential Users would have to shoot a picture of the QR code with their phone from some other screen. Two devices to do the job of a mouse click or screen tap. That's a whole lot more trouble than simply paying google for an advertisement, or simply publishing a pin drop in Google earth for free.

Wouldn't it be easier / cheaper to build the QR code in your PC, locate your roof on Google Earth / Maps and just import the image? 8,500 green ones just don't sound right for something like this... not even the giant QR code + aerial shot...

As a business owner, I can say this is totally cost prohibitive for all but large companies, who would still see no return of investment.

I don't know if I'd trust the food at a place called "Pink Taco" Mexican.

I don't think QR codes are used that much, soI don't see it worth the cost. However, it is interesting what people can think of doing.

I really want to eat at that Mexican restaurant...I wonder if their carpet matches the drapes.

So what happens when you have a funny shaped roof?????????
Android Central Newsletter
Get instant access to breaking news, the hottest reviews, great deals and helpful tips
Thank you for signing up to Android Central. You will receive a verification email shortly.
There was a problem. Please refresh the page and try again.