Philadelphia Media Network announces plans to offer discounted Android tablets with digital subscriptions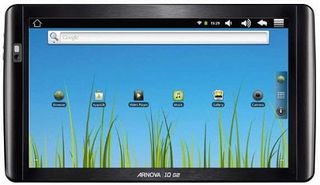 Continuing the trend we're seeing of publishers offering discounted Android tablets with subscriptions, the Philadelphia Media Network and Arnova have now officially announced their plans to offer the Archos Arnova 10 G2 to subscribers after the news broke back in July. Some 5,000 of the 1GHz Gingerbread powered tablets will be produced for Philadelphia Media Network by Arnova and they will come pre-loaded with content from the Philadelphia Inquirer and philly.com.
The tablets will be available for $99 with a discounted two-year digital subscription to The Inquirer and Daily News for $9.99 a month or for $129 with a one-year subscription at $12.99 a month. If you're interested, Philadelphia Media Network says you'll have to act fast as they are on a first come, first serve basis. You can hit the break for the full details and specs for the Archos Arnova 10 G2.
PHILADELPHIA MEDIA NETWORK AND ARNOVA OFFER DISCOUNTED ANDROID TABLET WITH BUNDLED DIGITAL SUBSCRIPTIONS TO INQUIRER, DAILY NEWS
First newspaper publisher in U.S. to offer bundled tablet package
PHILADELPHIA (September 12, 2011) – Philadelphia Media Network Inc. (PMN), owner and publisher of The Philadelphia Inquirer, Philadelphia Daily News, and philly.com, met the future today, becoming the first media company in America to offer deep discounts on a bundled package of digital newspaper subscriptions and a next-generation Android tablet.
The announcement headlined a new partnership between PMN and ARNOVA, which will manufacture 5,000 of the critically-acclaimed ARNOVA 10 G2 tablet that will include digital subscriptions or "apps" of The Philadelphia Inquirer and philly.com. The partnership is the first of its kind involving a major media company anywhere in the nation. Sale of the deeply-discounted packages officially begins tomorrow, September 13, 2011, when 5,000 of the bundled tablets become available on a first-come, first-served basis. The wireless tablet also comes pre-loaded with a wide-range of other apps and offers fast and convenient web surfing, emailing and a remarkable high-definition multimedia experience.
"This partnership recognizes that consumers are increasingly utilizing tablets and other highly portable devices for their news, sports, and entertainment needs," said Gregory Osberg, PMN Publisher and CEO. "We intend to utilize a variety of platforms and methods to reach our customers, ranging from philly.com to traditional hard copy subscriptions, as well as our new digital subscriptions. Our goal is to be the most innovative company in the industry, and today's announcement is a major step in that direction."
"We are proud to partner with the Philadelphia Media Network on this opportunity to take media and the consumption of it to the next level," said Henri Crohas, ARNOVA President. "This is a partnership that both brands can be proud of as we both continue to push the boundaries of technology with the goal of improving every day life."
The tablet is available for as low as $99 with a deeply discounted two-year digital subscription to The Inquirer and Daily News for $9.99 a month or for $129 with a one-year subscription at $12.99 a month. The highly discounted digital subscriptions – made possible in part through sponsorships by Main Line Health, Comcast Corporation, and Wells Fargo -- are the equivalent of consumers receiving a free tablet.
The critically-acclaimed ARNOVA 10 G2 is powered by a 1 GHz processor, features an ultra-responsive 10.1 inch, 1024 x 600 pixel capacitive multi-touch display, and utilizes Android 2.3 Gingerbread. The tablet also supports Flash, plays high-definition files up to 1080p, and with an integrated webcam supports video chat with friends and family.
Individuals who would like to take advantage of this limited launch can visit www.phillytablet.com or call toll-free at 1-800-688-2222. In addition, this week, the first floor lobby at PMN headquarters at 400 North Broad Street has been transformed into a tablet store for consumers who want to test the tablet before purchasing. Customer services representatives also will be on hand to provide tutorials and assistance to individuals who may not have experience with tablets. The tablet's USB Host Connection feature allows users to connect a mouse, keyboard or external hard drive, by-passing the need to utilize a PC for many every-day functions.
The launch of the tablet coincides with the debut of a new Inquirer Android app, which is one of many apps pre-loaded on the tablet. Users can also access thousands of additional apps through the Amazon Appstore for Android, including e-books, entertainment, news, games and sports.
"Through this innovative project, Main Line Health is on the forefront of providing healthcare information and encouraging health literacy for an increasingly digital and mobile population," said Sarah Peterson, Senior Vice President of Marketing and Public Affairs, Main Line Health. "Through a variety of convenient ways, consumers can become more empowered in their own health choices to keep well ahead. We believe as people take more control of their health, we all can be part of the solution to reduce the cost of healthcare, or certainly control it. We want to be partners in that process."
Philadelphia Media Network also partnered with TigerDirect to fulfill orders for the tablet and provide customer and technological support for customers. TigerDirect is one of the industry's top computer and computer-product retailers and its web site has been ranked among the New York Times' "Top 25 Online Retailers."
"We are delighted to participate in the launch of a new era in news delivery. Our world class sourcing and logistics operations provide a solid platform to enable a seamless customer experience," said Richard Leeds, Chairman and CEO of Systemax, Inc., the parent company of TigerDirect.
###
About Philadelphia Media Network
Philadelphia Media Network, Inc. (PMN) is the owner of The Philadelphia Inquirer, Philadelphia Daily News, and Philly.com. With its multiple brand platforms and integrated print and digital products, PMN is the region's largest media network and the industry's technological leader and innovator. The Philadelphia Media Network reaches an average weekly audience of 2.2 million adults – more than the combination of the three evening television news shows or the combination of those radio stations ranked in the top ten during drive-time programming.
About ARNOVA
ARNOVA was founded in March 2011 with the corporate objective of bringing the best in technology to all consumers at all levels of income. Leading the market of Android powered tablets under $300, ARNOVA provides the best possible value for the lowest possible cost. Specializing in Android powered tablets with its new, affordable 8 and 10 inch tablets, ARNOVA is distributed in developing world countries and as an entry level brand in Europe, North America and Asia.
About Systemax, Inc.
Systemax Inc. (http://www.systemax.com), a Fortune 1000 company, sells personal computers, computer components and supplies, consumer electronics and industrial products through a system of branded e-Commerce web sites, retail stores, relationship marketers and direct mail catalogs in North America and Europe. The primary brands are TigerDirect, CompUSA, Circuit City, MISCO, WStore and Global Industrial.
About Main Line Health
Founded in 1985, Main Line Health is a non-profit health system serving portions of Philadelphia and its western suburban counties of Montgomery, Delaware and Chester. At its core are four of the region's most respected acute care hospitals — Lankenau Medical Center, Bryn Mawr Hospital, Paoli Hospital and Riddle Hospital — as well as one of the nation's premier facilities for rehabilitative medicine, Bryn Mawr Rehab Hospital, and Mirmont Treatment Center for drug and alcohol recovery. Main Line Health, with over 10,000 employees and 2,000 physicians, provides the area's most advanced medicine to over 70,000 patients annually through patient-centered care, disease prevention, medical education and research.
Get the Android Central Newsletter
Instant access to breaking news, the hottest reviews, great deals and helpful tips.