Mobile Nations at GDC 2013 podcast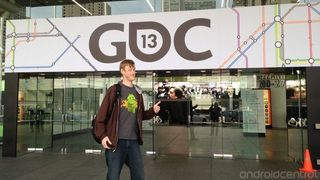 Simon Sage, gaming editor for Mobile Nations, joins Rene to talk about PAX East and GDC 2013, the state of mobile gaming in general, iOS, Android, BlackBerry, and Windows Phone in specific, and the explosion of free-to-play titles. Also, Facebook's mobile event.
Download directly: Audio | Video
Show notes
Android Central at GDC 2013
Crackberry at GDC 2013
Debug & Iterate team-up podcast: The future of human interface
Guests
Hosts
Rene Ritchie has been covering the personal technology industry for almost a decade. Editorial Director at Mobile Nations, analyst at iMore, video and podcast host, you can follow him @reneritchie on [Snapchat](https://www.snapchat.com/add/reneritchie), [Instagram](https://instagram.com/reneritchie), or [Twitter](https://twitter.com/reneritchie).
Android Central Newsletter
Get the best of Android Central in in your inbox, every day!
Thank you for signing up to Android Central. You will receive a verification email shortly.
There was a problem. Please refresh the page and try again.