Mint Personal Finance app updated with Honeycomb support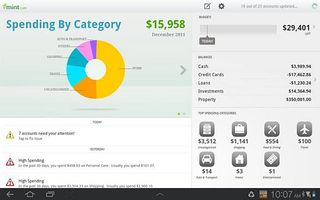 Mint, Intuit's popular personal finance app and long-time favorite of ours here at Android Central, has finally been given the Honeycomb treatment in its latest update. Available now in the Android Market, Mint's tablet attire has all of the features included in the smartphone version, along with a few extra goodies, including an updated overview page, spruced-up spending graphs, and a very handy offline mode.
For those unfamiliar, Mint is a free app that aggregates your financial accounts into an easy-to-read layout. Mint shows you when your money is coming in, when it's leaving, and exactly where it's going. All information is updated in real-time, and with the tablet version's new offline mode, you'll be able to access all of your financial information as it was at your last online sync.
If you've already been using the Mint app on your tablet, simply upgrade from the market for the new Honeycomb-optimized version. Intuit's full presser, along with a market link, is waiting at the jump.
Android Tablet Users Can Now Tap Into the Power of Mint.com
Free App Lets Users Easily View Account Balances, Track Spending, Receive Alerts
MOUNTAIN VIEW, Calif.--(BUSINESS WIRE)--Android tablet (opens in new tab) users can now manage their money and visualize their spending on interactive graphs with the new Mint.com (opens in new tab) personal finance app.
Free to download from the Android Market (opens in new tab), the new app brings Mint.com's award-winning service into the hands of Android tablet users, and transforms their transactions into easy-to-read graphs. The result: A clear picture of their overall spending by category or by date range and a better understanding where their money is going.
"In the next few months, Android tablets are expected to hold more than 40 percent of the market share," said Aaron Forth, general manager of Intuit Inc.'s (Nasdaq:INTU) Personal Finance Group. "As tablet use rises, more mobile-savvy people will look for ways to manage their lives across multiple devices, so we developed our Android tablet app to bring simple money management tools to their fingertips."
With this launch, Mint.com's mobile portfolio now includes apps for both smartphones and tablets on iOS and Android platforms, providing on-the-go access to its nearly 8 million Web and mobile users.
How the App Delivers
The new app for Android tablets offers popular Mint.com features, letting users:
Organize all accounts: One tap gives users a complete overview of their finances; helps them review account balances and automatically categorizes transactions.
Obtain financial insight: Detailed graphs drill into spending by category, such as food, clothing and travel, or spending over time; provide customizable date ranges for a personalized view.
Stay on top of spending: Personalized budgets track spending help users reach financial goals.
Get personalized updates: Streaming delivery of account alerts, bill reminders and personalized advice provides the most up-to-date information and helps people make smart financial decisions.
Track cash spending: Enter cash transactions while on the go to more accurately capture spending.
Easily find transactions: The search bar helps users find specific transactions or purchases by merchant, category or tags.
Review finances anywhere: No Internet? No problem. Storing information from the latest download allows easier viewing of finances, anytime, anywhere.
Intuit's unique approach to innovation (opens in new tab) helps it quickly adapt products for tablets, according to a recent report (opens in new tab) from Forrester Research. Mint on the Android is the latest example, joining a robust lineup of mobile solutions that are changing the way people manage their finances around the world.
For full information on Mint.com's other mobile apps and services, please visit: https://www.mint.com/how-it-works/anywhere/ (opens in new tab).
About Mint.com
Mint.com is a leading online personal finance (opens in new tab) software service from Intuit Inc. (Nasdaq: INTU), providing nearly 8 million users a fresh, easy and intelligent way to manage their money. And it's free. Launched in September 2007, Mint.com has quickly grown to track nearly $1 trillion in transactions and $485 billion in loans and assets for its users. Mint.com's innovation is in applying advanced technology to deliver breakthrough ease-of-use.
Using patent-pending technology and proprietary algorithms, Mint.com allows users to see all their financial accounts in one place, makes it easy to set and keep to budgets, and helps identify money saving ideas. Mint.com is so effective that more than 90 percent of users say they have changed their financial habits as a result of using the service. For more information on Mint.com's free online personal finance service, please visit http://www.mint.com (opens in new tab) and follow Mint.com on Twitter: www.twitter.com/mint (opens in new tab).
About Intuit Inc.
Intuit Inc. is a leading provider of business and financial management solutions for small and mid-sized businesses; financial institutions, including banks and credit unions; consumers and accounting professionals. Its flagship products and services, including QuickBooks®, Quicken® and TurboTax®, simplify small business management and payroll processing, personal finance, and tax preparation and filing. ProSeries® and Lacerte® are Intuit's leading tax preparation offerings for professional accountants. Intuit Financial Services helps banks and credit unions grow by providing on-demand solutions and services that make it easier for consumers and businesses to manage their money.
Founded in 1983, Intuit had annual revenue of $3.9 billion in its fiscal year 2011. The company has approximately 8,000 employees with major offices in the United States, Canada, the United Kingdom, India and other locations. More information can be found at www.intuit.com (opens in new tab).
Pretty sweet app. I hadn't used the phone version, but now it's on both phone and tablet. Just need to move my budget stuff over. Thanks!

Looks fantastic on my Touchpad running ICS. Such a great app.

I like the idea a lot but i am concerned about having all my passwords on one website. If this gets hacked then it could be really bad news.

About all they can see is the amount you spend on stuff and I guess who your accounts are through. As far as bad news maybe if you dont want your mom to see your last trip to the strip club or your favorite porn site. Give this thing a try Ive been using it for almost 2 years now and love it, also its easy to delete your info if you change your mind.

Great app... if only I could get around to using it ¬¬' Damn country-locked apps!!!

Looks like a wonderful way to tell a third party all about yourself and your money. Hmm....

All information is updated in real-time, and with the tablet version's new offline mode, you'll be able to access all of your financial information as it was at your last online sync.
Business funding

letterhead design - Letterheads printed full colour on 120gsm paper with free delivery.

contact us - Best exchange rates uk offers the exchange rate euro for both business and personal currency exchange.

Printed Letterheads - Fantastic value printed letterheads.
Android Central Newsletter
Get the best of Android Central in in your inbox, every day!
Thank you for signing up to Android Central. You will receive a verification email shortly.
There was a problem. Please refresh the page and try again.