Unboxing the Surface Duo: Hands-on with Microsoft's ambitious new phone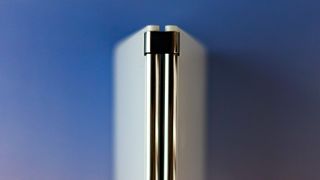 Whether you have plans to buy it or merely watch the hype unfold over the internet, the Surface Duo is undoubtedly one of the most interesting phones to be released in 2020. That it's coming so early in the year — it was originally slated for closer to Christmas — is one of the few gifts this otherwise terrible year has given us.
Most typical smartphone users are just growing used to the idea that foldables are real, that they're not as fallible as originally thought, and that, inevitably, they will be mainstream. Microsoft's take on the foldable avoids the foibles of flexible displays and breakable plastic overlays, relying instead on two distinct OLED screens and a sturdy, infinitely adjustable hinge that forms the, well, backbone of the Duo itself.
Microsoft Surface Duo specs, at a glance
Source: Daniel Bader / Android Central
While it's too early for me to show you the phone's software, I was lucky enough to be among the first people in the world to unbox the Surface Duo this week, and I'm going to walk you through that process now.
The reviewer's kit is a deliberate play on the Duo's extensible nature, unspooling horizontally to reveal a vertical flap inside that, underneath, houses the Surface Duo retail box as well as a pair of Surface Earbuds in a new Graphite color (opens in new tab) that should be available on September 10, the same day as the Duo itself.
Source: Daniel Bader / Android Central
The box also houses a printed and embossed card from Panos Panay, Microsoft's Chief Product Officer, who says, "I hope you love using Surface Duo as much as we loved creating it." It's a nice touch.
Inside the Surface Duo's box, opened with a quick pull-tab, is the phone itself, an 18W USB-C charger, a USB C-to-USB C cable, and a bumper case that adheres to the edges of the ultra-thin Surface Duo. I don't see myself using the bumper — it makes an already-wide phone even wider — but it's great to have it included given that the unconventional design of the phone will limit third-party accessory options.
And then there's the phone itself. Panay described it more than once as a smaller Surface, not necessarily an Android phone, and looking at it I can totally understand where he's coming from. This is the first phone I can remember using that doesn't have a rear camera. Aside from the Microsoft logo on the front there are no other embellishments.
The buttons, all adorned on the phone's right-screen edge when closed, are clicky and easy to identify. The capacitive fingerprint sensor is in a comfortable position for the thumb when the phone is open on either side. The USB-C port is unfortunately not centered.
Source: Daniel Bader / Android Central
When the Duo is open, it absolutely feels like you're holding a tablet, albeit an ultrathin one. The hinge holds securely even when you're holding only one side. It's easy to place the phone down in a laptop-like orientation, and it's even easier to tent it to watch video content. Yes, the bezels above and below the two displays are large.
I can't say whether they are distracting while in use, but they do provide ample space to grasp the Duo anywhere on the open chassis without covering the display, which I'm sure is the point.
The phone closes with a soft, satisfying metallic thud, and it goes back to being an unassuming book-like thing that resembles nothing else on the market today.
You'll have to wait a bit longer for a full review, but I hope this has been at least somewhat useful in understanding what the Duo looks like, how it feels, and what you can look forward to if you choose to buy one. I'll be hanging around in the comments to answer any questions you have, or hit me up on Twitter if you'd prefer.
Preorder today
(opens in new tab)
Two screens are better than one
Microsoft delves into the future of foldables with an ambitious dual-screen device, featuring two ultra-thin 5.6-inch AMOLED displays bound by a 360-degree hinge. This pocketable inking-enabled Android smartphone marks the latest in the Surface lineup, geared for mobile productivity.
Android Central Newsletter
Get instant access to breaking news, the hottest reviews, great deals and helpful tips
Daniel Bader was a former Android Central Editor-in-Chief and Executive Editor for iMore and Windows Central.
Looks good. But here is my problem with all these companies. How come a regular consumer like myself that would spend 1500 on the phone won't get that unboxing treatment. We like gifts as well.

Good point. Real good point

I'm torn about this. I had a similar reaction to you when I saw the first photo of the press kit, but imagine how much material would be wasted if every phone that got shipped went out in a box like that.

I keep hearing this argument and my answer is the same. How does one buy a car when you can't pay for it outright? Don't get me wrong... This thing is hella expensive.

Your excitement has me jazzed!

Great video...Thx for that! I have my own reasons for excitement for the device. I'm curious if you can identify what is creating the excitement for you? The feel of the device? Form factor? Quality? That it exceeded expectations...or met them? Anyway...thx for sharing this with us.

There's no led notification light. You have to open it to see notifications. No wireless charging on a $1400 "flagship" phone. No NFC for contactlesspayments either. One word, "Covid." Smart choice there. A less than up to date processor with no 5g chip (I think), and only 6GB RAM. There's also no Pen included, an $88 to $112 item that is perfect for this device. They also show it being used in the commercials. At least the box is nice; you can use it to keep your stash in. Sounds like a typical MS product. Pay premium price for a less than average device.

I've said that Microsoft should have released a branded smartwatch with the Duo. Adding any Android Wear or Samsung watch gives you notifications and NFC payments. I still feel they should push this combo.

These are not 'minor' emissions and the seriously ugly bezels that look like an old iPhone are unacceptable on a device that costs this much! No NFC, no 5g support, no wireless charging? These things should be standard on any phone these days and design does matter, take a look at Samsung's new fold. I don't understand why anyone would buy this over even the LG velvet or v60 which cost way less and look much better. Seriously who makes the final decisions at Microsoft and Google about their final products coz they so far off the pulse it's embarrassing!

This is a first gen dual screen device with a 360 hinge. The goal was to get the form factor right first. You COULD include all those things that are missing but it'd also look like and feel like a brick. As tech advances (gets smaller and more efficient) and designs improve it'll have better specs/features. This first gen is NOT for everyday consumers aside from Microsoft fans who have the disposable income they're willing to spend. Take a look ad Dave Lee's YouTube video about the hardware/form factor. This device is crazy thin and there's a lot of engineering that went into it. Microsoft didn't arbitrarily decide to not include things like a super nice camera, NFC, etc.

Why does everyone use that trope as an excuse? "This is a first gen device give it a pass!" With the Fold 1 everybody was saying that because iT foLdS! Come on, wake up and smell the roses. The Fold 2 has been revealed and if we're being honest, that phone should have been the first Fold not the POS we actually got. "This first gen is NOT for everyday consumers aside from Microsoft fans who have the disposable income they're willing to spend." Again this was said about the first Galaxy Fold. Why are we giving these companies passes just because they made a device that can fold but has vastly inferior specs to phones that don't?! Makes no sense to me.

The device isn't aimed at you; it's aimed at tech-pioneers, who simply find the latest trend interesting, or posers, who have money to always be seen with the latest gadget. Both devices are basically proof-of-concept beta tests, that aren't meant to sell in large numbers, but to carve out new categories, and pave the way for better devices.

I'm interested in learning more about the single use case that comes with it.

Take good care of my phone, Daniel

I don't know why, but this is the foldable I can get behind. I wouldn't mind trying one out!

Bezels shmezels, it's beautiful.

can't just answer the phone call without opening it up... sounds like a great phone.

Fold it with the displays out...

How the heck is that supposed to fit in a pocket.

Safe device. Doesn't push the envelope nor does it make any current competitor nervous. Brings to mind the Motorola Razr with all the corners it cut which led to a lackluster user experience.

Like I said several days ago...they'll sell a couple hundred. It's an overpriced ****.

Funny because Windows Central says they've already had hundreds of people order the Duo using their referral code. Just because you don't like it doesn't mean others won't.

I don't like it when companies won't allow the software to be shown. Like what are you trying to hide Microsoft?

If you want to see examples of the software in action go to YouTube and watch Panos's 35 minute Microsoft presentation.

I did already and he was trying to oversell this thing so badly. For someone who says they are super pumped about this device, I couldn't tell at all LOL. Showed no emotion whatsoever haha.

I don't think they're trying to hide anything. I think it's more forcing reviewers to give it a fair chance, rather than jumping to immediate conclusions. If they were trying to hide anything, they could have easily just waited to ship the review units. They obviously want reviewers to spend a couple weeks with it before giving it a review.

My big question about functionality - Is this a phone or a foldable tablet? Even Microsoft seems to be reluctant to call the Duo a phone. I think the Duo is a great small tablet for production work. Just not sure it would be comfortable as my full time phone.

It should have been a W10X device; right now it's a secondary phone that folds, with an OS that's the antithesis of productivity...

If you want to see examples of the software in action go to YouTube and watch Panos's 35 minute Microsoft presentation.

This phone definitely needs a screen on the outside to make it really productive imho.

It has TWO screens on the outside...! What it needs to be productive, is Windows as the OS.

I would rather buy last year's Galaxy Fold and have some change left

I'm still waiting for support for the latest Microsoft success Lumia 950XL . With a great amount of money I spent, after every update, some features where disappearing untill this flagship of phones is literally useless.

Looking forward to receiving mine, I pre-ordered one and I live in Australia,😎 ( Big Apple Buddy), I do agree that the people who pre-ordered the Surface Duo, do deserve a bonus like what these Tech press get, why not have the pre-orders to include the Surface Buds, or the Surface pen, with the Surface Duo it's not like more people will buy the Duo because of that, it's expensive, and it's a untested device, form factor for the market, Microsoft is new in the mobile space again and I look forward to that future with Duo devices, but Microsoft should have included a limited time bundle for the super fans of Surface, who pre-ordered as soon as they could.

Dude, you definitely need to join our Surface Duo fans group.. Just search for us on Facebook.. We're "Surface Duo Central".. See you there.
Android Central Newsletter
Get instant access to breaking news, the hottest reviews, great deals and helpful tips
Thank you for signing up to Android Central. You will receive a verification email shortly.
There was a problem. Please refresh the page and try again.