Lookout for Android gets a redesign and dialer threat protection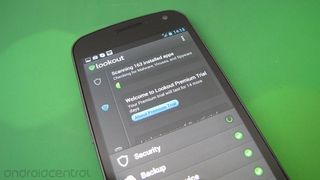 As mobile devices become smarter and more prolific, mobile security threats are continuing to diversify. And with more and more of us becoming more security conscious these days, mobile security apps like Lookout are becoming increasingly popular.
The latest update to the popular security app, now available on Google Play, includes a fresh coat of paint, as well as new features. Most notable is the "safe dialer," which protects against that nasty USSD code exploit on certain Samsung phones.
Intuitive user-friendly design.
A new Activity Feed – an intelligent dashboard which allows you to see your mobile activity and how Lookout protects you in one glance.
Signal Flare – allows you to locate a missing device, even if the battery has died.
Safe Dialer – protects against a new mobile threat: dialer-based attacks. It scans every phone number you click to call from your mobile browser, alerting you to potential threats.
You can grab the latest version using the Google Play Store link above. Check past the break for the full presser.
London, UK — 9th October, 2012 — Lookout Inc., the mobile security leader, today announced the availability of the redesigned Lookout Mobile Security for Android. The new Lookout Mobile Security has a sleek design and smart additions, including an intelligent dashboard of mobile activity and protection, a way to locate a missing device with a dying battery, and protection against click-to-call threats, an emerging new mobile threat category. With more than 25 million users worldwide, Lookout protects mobile phones from threats like malware and spyware; backs up personal data and can find a lost or stolen phone.
What's New with Lookout Mobile Security:
· Lookout's New Look. The Lookout app takes advantage of the latest Android OS design conventions, making phone protection a seamless, consistent experience. The design is now more intuitive making it simple to access the features you want, stay informed and take action if there is a threat to your phone. Lightweight and mobile-optimised, the app keeps speed and battery life at the forefront.
· Protection at a Glance. The more you rely on your phone, the more you want to know what is happening on your device. To keep you informed, the app now has Activity Feed: a dashboard that displays of all the ways Lookout is protecting you. It intelligently categorises updates, so with a quick glance, you can be notified of threats, app download history, data backups and security notifications.
· Lost Phone + Dead Battery = No Problem. Lookout locates thousands of phones every day, but when a phone can't be found, a dead battery is often the culprit. In fact, nearly 30 percent of people who reported they could not recover a lost or stolen phone said a dying battery was to blame[i]. To solve this problem, Lookout created Signal Flare, a first-ever capability that automatically flags the last location of a phone if it has a low battery. If you lose your phone after a battery has died, Signal Flare improves your chances of getting it back.
· Click-to-Call with Confidence. Lookout added Safe Dialer protection against dialer-based attacks, a new category of mobile threat. It scans every phone number you click to call from your mobile browser, alerting you if dialing the number might have unintended consequences, including wiping your phone without your permission.
Lookout Mobile Security for Android is available in Free and Premium versions. For more information, please visit the Lookout blog or you can download the app (opens in new tab).
"Dreams are always crushing when they don't come true. But it's the simple dreams that are often the most painful because they seem so personal, so reasonable, so attainable. You're always close enough to touch, but never quite close enough to hold and it's enough to break your heart." rajasthani sherwani

The only thing I would use it for is location. And it can't locate it in my own house.

Announcing Snake Oil by Lookout. "Ooh, what does it do?" Well, nothing really, but we do offer a premium version! "Shut up and take my money!"

i love Lookout. 1. it can find your phone if it's lost or stolen - even if your battery dies.
2. it's lightweight - it uses very little battery and resources.
3. the malware detector works. i tested it by purposely installing "SMS Replicator" and it caught it on my phone after a scan.
4. i trust them - they are a reputable AMERICAN company based in the U.S.
5. it's FREE. IMO - install it.

I have to go with avast! Mobile Security instead of lookout
1. it can also find your phone, even better locating it
2. main reason I changed from Lookout, it's a resource & battery hog sometimes
3. It also has one with many more useful things
4. I admired your patriotism. No comment on this.
5. Free also Plus, if you're rooted, you'll get more benefits
1. Firewall
2. hard-reset proof

it's not about patriotism. it's that i trust an American company more than i trust a foreign company (like one located in the Czech Republic or Russia) with my data security.

You have done an excellent job in passing out the message through this blog, keep up the good work!
sherwani

I praised your content and writing style that is eye-catching, I admit your web content is perfect as you want to described as like pakistani dresses, I am sure there are some more enjoyable opportunities ahead for individuals who read carefully your post as well. [url=http://fashiondesignslatest2012.blogspot.com]latest bridal dresses[/url]

You described it very beautiful. your writing style grabbed my intentions,would love to read more about it…
<a href="http://fashiondesignslatest2012.blogspot.com/"> latest bridal dresses </a>

I think this is among the most vital info for me. And i am glad reading your article. But want to remark on some general things, The site style is great, the articles is really great : <a href="http://clothingpk.blogspot.com">modern hijab styles</a>

Really informative. You are doing great job. Fashion is very necessary in every part of life in cell phones to technology and dress up. So keep you up to date about new fashion trends with http://clothing9.blogspot.com Thanks

So, Winter has come again and everyone is looking for Winter Dresses, you can get the best collection from here. http://dresseskhazana.com/
Android Central Newsletter
Get the best of Android Central in in your inbox, every day!
Thank you for signing up to Android Central. You will receive a verification email shortly.
There was a problem. Please refresh the page and try again.