Lookout for Android gets a redesign and dialer threat protection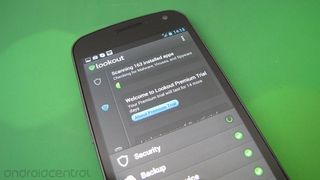 As mobile devices become smarter and more prolific, mobile security threats are continuing to diversify. And with more and more of us becoming more security conscious these days, mobile security apps like Lookout are becoming increasingly popular.
The latest update to the popular security app, now available on Google Play, includes a fresh coat of paint, as well as new features. Most notable is the "safe dialer," which protects against that nasty USSD code exploit on certain Samsung phones.
Intuitive user-friendly design.
A new Activity Feed – an intelligent dashboard which allows you to see your mobile activity and how Lookout protects you in one glance.
Signal Flare – allows you to locate a missing device, even if the battery has died.
Safe Dialer – protects against a new mobile threat: dialer-based attacks. It scans every phone number you click to call from your mobile browser, alerting you to potential threats.
You can grab the latest version using the Google Play Store link above. Check past the break for the full presser.
London, UK — 9th October, 2012 — Lookout Inc., the mobile security leader, today announced the availability of the redesigned Lookout Mobile Security for Android. The new Lookout Mobile Security has a sleek design and smart additions, including an intelligent dashboard of mobile activity and protection, a way to locate a missing device with a dying battery, and protection against click-to-call threats, an emerging new mobile threat category. With more than 25 million users worldwide, Lookout protects mobile phones from threats like malware and spyware; backs up personal data and can find a lost or stolen phone.
What's New with Lookout Mobile Security:
· Lookout's New Look. The Lookout app takes advantage of the latest Android OS design conventions, making phone protection a seamless, consistent experience. The design is now more intuitive making it simple to access the features you want, stay informed and take action if there is a threat to your phone. Lightweight and mobile-optimised, the app keeps speed and battery life at the forefront.
· Protection at a Glance. The more you rely on your phone, the more you want to know what is happening on your device. To keep you informed, the app now has Activity Feed: a dashboard that displays of all the ways Lookout is protecting you. It intelligently categorises updates, so with a quick glance, you can be notified of threats, app download history, data backups and security notifications.
· Lost Phone + Dead Battery = No Problem. Lookout locates thousands of phones every day, but when a phone can't be found, a dead battery is often the culprit. In fact, nearly 30 percent of people who reported they could not recover a lost or stolen phone said a dying battery was to blame[i]. To solve this problem, Lookout created Signal Flare, a first-ever capability that automatically flags the last location of a phone if it has a low battery. If you lose your phone after a battery has died, Signal Flare improves your chances of getting it back.
· Click-to-Call with Confidence. Lookout added Safe Dialer protection against dialer-based attacks, a new category of mobile threat. It scans every phone number you click to call from your mobile browser, alerting you if dialing the number might have unintended consequences, including wiping your phone without your permission.
Lookout Mobile Security for Android is available in Free and Premium versions. For more information, please visit the Lookout blog or you can download the app.
Get the Android Central Newsletter
Instant access to breaking news, the hottest reviews, great deals and helpful tips.