Kobo announces three new Android tablets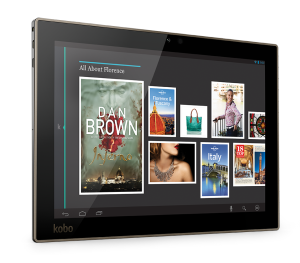 New Android 10 and 7-inch Android tablets, including a Tegra 4-powered high-end model
E-reader maker Kobo has announced three new Android tablets, expanding its "Arc" range of products. The Kobo Arc 7, Arc 7 HD and Arc 10 HD all support Kobo's reading platform, and come with high-end, mid-range and budget-level specs.
First up, the Kobo Arc 10 HD features an NVIDIA Tegra 4 processor and a 10-inch 2560x1600 display, 2GB of RAM and Android 4.2.2 Jelly Bean. It also comes with a special software "reading mode," which the manufacturer says can extend battery life to more than 10 days — presumably by dialing back the CPU, display and other features. The Arc 10 HD is to be priced at £299.99 in the UK.
Occupying the middle ground, the Kobo Arc 7 HD sports a Tegra 3 CPU, 1GB of RAM and a 7-inch 1920x1200 display. The manufacturer promises up to 8 hours battery life on this model, which retails for £159.99 with 16GB of storage and £189.99 with 32GB.
Finally there's the entry-level Kobo Arc 7, selling for £119.99 with 8GB of storage. That's packing a MediaTek MTK 8125 1.2GHz quad-core processor and a 7-inch 1024x600 display — pretty standard cheap Android tablet fare.
Kobo's press release states that the new tablets support content from Google Play as well as the company's own book store, which has been expanded to include a range of magazine content and kids books. All three tablets are set to launch in the UK from Oct. 16.
Toronto Canada/London UK, 28th August 2013 – Kobo, a global leader in eReading, today announced its new lineup of eReading devices, featuring the new Kobo Aura 6" E Ink eReader and the Google-certified Kobo Arc 10HD and two Kobo Arc 7 tablets. Designed for readers, the new lineup is built on Kobo's unique user experience, Reading Life, enabling the collection, curation and discovery of content, delivering on the company's promise to put reading first.
"Kobo remains focused on reading; a time-honoured passion that keeps people informed, lets them escape, learn about new cultures, see things from a new perspective, travel back in time, and imagine new worlds," said Michael Serbinis, CEO, Kobo. "With magazines joining our eBookstore, a new kids experience, and the best eReading devices possible, we will help readers find more of what they love – taking them beyond the book."
To best showcase the company's world-class bookstore with 4-million titles, which now includes magazines and a dedicated Kids Store, the NVIDIA®-powered Kobo Arc 10HD and Kobo Arc 7HD tablets offer beautiful and responsive high definition displays and uncompromised access to Android™ 4.2.2 Jelly Bean and the Google Play™ Store. With Reading Life, Kobo's reading-first user experience, readers can discover more of the content they're interested in with new ways to organise and curate collections of eBooks, magazines and other multimedia content from across the Web including movies, music and games. Kobo's new Reading Mode feature eliminates distracting notifications and pop-ups from email, apps and social media, optimises the lighting settings, and extends the tablet battery life from hours to days.
For readers who prefer a dedicated reading experience, Kobo has created the beautiful Kobo Aura 6" E Ink eReader, which boasts a stunning edge-to-edge, high-resolution (212 dpi) display. The Kobo Aura leverages a new low-flash screen technology to virtually eliminate ghosting and page refresh for the best book-like reading experience, and holds up to 3,000 books and lasts more than two months on a single charge. Plus, for the first time ever, readers can now send articles and webpages to read on their E Ink devices through the company's partnership with Pocket.
Across its new lineup of eReading tablets and E Ink eReaders, Kobo is helping readers discover more of the content they're interested in with the company's all-new Beyond the Book experience, which highlights key topics within a book and provides aggregated content from across the Web known as Collections. To share Kobo's own passion for discovering great reading materials, Featured Collections are personalised with Kobo's own editorial voice as well as respected influencers including authors, publishers, and other notable people who are experts in their field.
UNITING BEAUTIFUL DESIGN AND IMMERSIVE READING – COMING SEPTEMBER 16
KOBO AURA
Hot on the heels of the limited-edition Kobo Aura HD, the new 6" Kobo Aura eReader is a beautifully designed, front-lit E Ink eReader. Available in black and pink, the Kobo Aura features a high-resolution, edge-to-edge display and the most even front-lit ComfortLight technology, wrapped in a contemporary aesthetic to keep people passionate about reading books – day or night.
The sophisticated design of the eReader delivers the closest experience to print-on-paper with a 212 dpi and Pearl E Ink screen. With pinch-and-zoom capabilities for FLePubs/PDFs, Kobo Aura creates a great print-on-paper reading experience with a low-flash waveform screen to virtually eliminate page refresh and ghosting. Readers will never be at a loss for compelling reads with access to 4-million titles, curated Collections from Kobo, and the new Pocket partnership. With 4GB of storage (up to 3,000 books), expandable up to 32GB with a microSD card, Kobo Aura has a battery life of up to two months, making it perfect for passionate readers. The Kobo Aura retails for £119.99 MSRP and is available in North America, the United Kingdom, Australia and New Zealand for pre-order at www.kobo.com.
THE BEST HIGH-DEFINITION TABLETS FOR READERS – COMING OCTOBER 16
KOBO ARC 10HD
Kobo Arc 10HD celebrates reading with Kobo's Reading Life platform, a compelling reading dashboard that is part of the user interface, with full access to the content people love to consume including books, magazines, news, and social media. With an NVIDIA® Tegra® 4 1.8GHz quad-core processor and 2GB of RAM, the Kobo Arc 10HD tablet is the best 10-inch HD Google-certified multimedia tablet on the market today for readers. The Kobo Arc 10HD tablet boasts a stunning 2560x1600 high-definition display with up to 1080p video playback, making it the perfect companion to enjoy the rich content from Kobo's bookstore like magazines, as well as the 1-million+ games and apps from the Google Play Store. The Kobo Arc 10HD tablet also includes a front-facing 1.3 MP HD camera, dual stereo speakers, WiFi 802.11, Bluetooth 4.0, and Miracast connectivity support for Wi Fi media streaming. With Reading Mode, the battery life is extended from 9.5 hours to more than 10 days. Available in black, the Kobo Arc 10HD retails for £299.99 MSRP.
KOBO ARC 7" TABLETS
The Kobo Arc 7HD tablet leverages the beautifully designed Reading Life platform that makes collecting, curating, and discovering content easier for readers.
The Kobo Arc 7HD tablet is powered by the NVIDIA® Tegra® 3 1.7GHz quad-core processor and 1920x1200 display with up to 1080p video playback delivering a crisp, seamless viewing experience. The HD tablet has a 1GB of RAM, a front-facing 1.3 MP HD camera, and a battery that lasts up to 8 hours so readers are never at a loss for words. Available in black, the Kobo Arc 7HD retails for £159.99 MSRP with 16GB and £189.99 MSRP with 32GB.
For those readers new to tablets, Kobo is offering the Kobo Arc 7, perfect for first-time users and families. With a 1024X600 display, MTK 8125 1.2GHz quad-core processor and 1GB of RAM, the Kobo Arc 7 offers readers a compact, multimedia tablet for reading and entertainment on the go. The Kobo Arc 7 retails for £119.99 MSRP with 8GB.
ABOUT READING LIFE
Kobo puts reading first and then takes you Beyond the Book with its enhanced Reading Life platform. Kobo's exclusive Reading Life user experience gives readers access to all the content they love to consume, and allows them to customise based on their reading habits. On the new Kobo Arc series of tablets, the home screen showcases Readers' recent activity and personalised recommendations. A swipe to the left takes readers into an uncompromised Android experience including access to the full Google Play Store. To the right of the home screen, readers discover a personalised bookshelf where they can collect and organise eBooks, magazines, and other multimedia. To maximise the tablet experience for readers, Kobo's Reading Mode provides settings to help eliminate distracting notifications from email and apps, adjust the lighting settings, and enhance battery life from hours to days.
On Kobo's new tablets and E Ink eReaders, Beyond the Book offers a way for passionate readers to discover and engage with content by discovering books, Collections, and online material related to their latest reads and areas of interests. While reading a book, readers can turn on this feature to discover content that is related to key subjects within the book. With Collections, Kobo opens the door to more reading material from across the web that is collected into themes like an author, genre, or topic of interest. Partnering with Pocket, the Read It Later feature allows readers to save articles and other content from the Web, and seamlessly access it in the "Articles" section of their Kobo libraries. Reading Life also offers:
· The option of 11 fonts (including Dyslexie, designed for dyslexic readers), and 24 font sizes
· Ability to take notes, highlight text, and make bookmarks
· Track reading with fun stats and awards, letting readers learn more about their reading habits
· Share favourite passages, quotes and books to Facebook Timeline
Alex was with Android Central for over a decade, producing written and video content for the site, and served as global Executive Editor from 2016 to 2022.
Kobo, just stop. Posted from the old Google Nexus 7 via Android Central App

Why stop? Seems like the HD versions are both pretty capable tablets from what I read on goodereader. It's full Google Play certified, and fairly vanilla if I read correctly, so you don't lose anything by using it. In fact you gain some features if reading is the majority of what you do on a tablet. The normal 7 may be better than other budget tablets, but I have no idea as I haven't tried it and I don't see any comparisons out there yet. Kobo is fairly popular in other countries from what I understand. It's really only the US market where they don't have much penetration, and that may be because their readers are only available at indie bookstores. Maybe this new generation of readers(a new ereader was unveiled at this event as well) and tablets will see Kobo make it's way back into BestBuy and other electronics stores in the US?

Why, because they aren't Google or Samsung? Should there only be two tablet manufacturers? What a ridiculous comment to make. Posted via Android Central App

I always wanted to try Kobo® … ⓖ◎◎ⓖⓛⓔ†ⓝⓔⓧⓤⓢ

I love my Kobo readers and Kobo Arc. The current Arc has a nicer display than the Nexus 7 (2012), if it had GPS, I would carry it all the time. I am looking forward to seeing their new devices. It would be nice if they could get foothold in the US and bring some competition to Amazon.

Maybe with the new generation we will see a comeback to Best Buy and other electronics stores?

Why such a low end device? Last years Kobo Arc was pretty good, so why not keep those specs with a new body and offer it at the new price? Seems like they could have done that without dropping the screen resolution(old Arc was 1280X800, new basic model is 1024X600). Even with the old resolution the new HD 7 display still would have looked great in comparison!

I just saw a banner ad for the Arc and the new price is now $129.99. I'm assuming they are trying to clear inventory but at that price it's a great deal! This also begs the question why the low end model? Again: they could have repackaged last years model and kept it at the new price with better specs.

In the interest of full disclosure, I should say that I work for Family Christian, a Kobo retailer. As the US market slowly moves from B&W ereaders to color readers, I think they need to have a lower priced entry level device. I know from experience that there is virtually no margin in hardware, so the drop in display resolution was probably necessary to get to that price.

I would feel better about the first two of they pretended they didn't even know the last one. Posted via Android Central App

I would feel better about the first two of they pretended they didn't even know the last one. Posted via Android Central App

Two nice tablets and one nice book/magazine reader. Based on specs, I'd say they nailed it.

as an owner of an arc(second one as first was replaced) and experiencing first hand the abysmal customer support,lack of product knowledge and lack of updates,i wouldn't touch them again. the original arc is still on 4.1.1 and its not even a year old.
http://www.mobileread.com/forums/forumdisplay.php?f=246 this is the biggest forum for the arc on the internet. the UX leader and a developer both posted on it. See what they had to say
Android Central Newsletter
Get the best of Android Central in in your inbox, every day!
Thank you for signing up to Android Central. You will receive a verification email shortly.
There was a problem. Please refresh the page and try again.