HTC posts countdown to March 25, will live stream event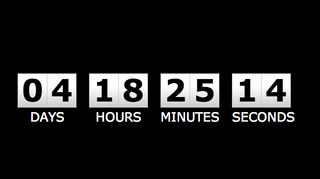 'The Best is About to Get Better' in just under 5 days from now
HTC has pretty consistently kept the hype machine rolling for the announcement of the latest in its HTC One lineup, and now we know precisely when and where we'll be able to watch the event go down live. A new page simply titled "The Best is About to Get Better" with a to-the-second countdown timer has appeared on HTC's website, indicating that a live stream will kick off when the clock hits zero — that's March 25th at 8am PT / 11am ET by our math.
To help build the hype even more, it has also embedded a Twitter stream showing all of the chatter with @HTC mentioned. March 25th is less than a week away, folks, and the excitement is building. Feel free to hit the source link and see every second slip by until we know what HTC will be launching, or get caught up with the latest rumors in our all-encompassing post below.
More: The new HTC One, what we're expecting
Source: HTC (opens in new tab)
Andrew was an Executive Editor, U.S. at Android Central between 2012 and 2020.
Awesome, but why no milliseconds? Posted via Android Central App

Well,since milliseconds are so small,it would probably be pointless to embed a stream of milliseconds in the online clock since it would go by so fast. Just. My thoughts. Posted via Android Central App

That was very illuminating, thank you. Posted from one of an unnecessarily large collection of Nexus devices because I'm That Guy

True, but it would be cool. Posted via Android Central App

I didn't think you were serious lol

Most people who will actually look at it for more than two seconds are the people who would appreciate some added milliseconds. I'm not upset or complaining, but I do think milliseconds would be cool. Posted via Android Central App

Glad they're live streaming it. With all the hype and all of the leaks it would be a shame if we had to look at still photos and minute-by-minute blog entries. Posted via Android Central App

+1 Posted via Android Central App

Awesome! Can't wait. Posted via Android Central App

I'm so there, I have the day off and Everything! :D

The Verizon stores have a place holder up on the sales floor that says 3/25 at 1PM

That's very interesting... Posted via Android Central App

I posted a comment earlier asking about the Verizon release but didn't see this...hope they do release it Tues after all!

Let's see how they improve on the camera and battery life
Basically everything that made me get a G2 instead of a M7 One

I read here on AC that some UK dealers will have this phone available the same day...is that any indication of how soon carriers here in the States will begin selling it? I am with Verizon and aware they are notorious for being last for everything, I just hope its sooner than later. I have been wanting a new phone for awhile now and waiting for this one. I became very hopeful after seeing a Verizon version of it was sold on eBay.

Has anyone in the states tried going to a Best Buy or carrier store (I'm thinking specifically Sprint) and reserving, or preordering one of these?

I don't think you can reserve or pre-order something that is not announced yet - officially anyway.

I'm ready for it, but I'm holding off a bit just to see if a Google Play edition comes out. I prefer my phones unlocked and don't want any carrier bloat on it. Posted via Android Central App

I already have sense6 rom for M7, looks good so far :)
no multitasking bug.

Where did u get the Sense 6 ROM? Posted via Android Central App

We probably know about 90% of everything to be known about this phone. Posted via Android Central App

Somebody let them know we've all moved on.

Well that's quite an ignorant statement to make, surely you don't speak for "all" of us and you certainly don't speak for me.

Yeah moved on from the S5 announcement to wait for the next big thing which comes to us in 5 days. Posted via Android Central App
Android Central Newsletter
Get the best of Android Central in in your inbox, every day!
Thank you for signing up to Android Central. You will receive a verification email shortly.
There was a problem. Please refresh the page and try again.