How to remove notification tray brightness and volume controls on the LG G3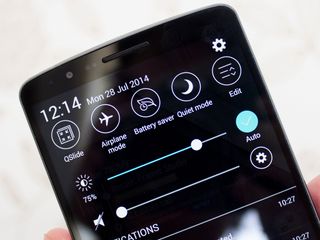 Notification tray space is at a premium, reclaim some of it by getting rid of those control sliders for volume and screen brightness
Notification tray space is at a premium on the LG G3, especially when – on some models, at least – there are slider controls for brightness and volume pre-activated in there. With these on, even that giant 5.5-inch QHD display has only about half the total space left available for, well, notifications.
Fortunately, if you don't want them, you can make them go away. Unfortunately on some of the U.S. carrier variants things are a little different to the unlocked, international model. Let's take a look at what's what.
Enabling or disabling volume and brightness controls - International, Verizon and T-Mobile models
If you're rocking one of the LG fresh, unlocked G3 models – either the 32GB/3GB or 16GB/2GB combination – or the U.S. centric Verizon G3 then this is what you need to do to show or hide as necessary:
Pull down the notification tray
Scroll all the way to the right through the quick settings toggles
Hit "Edit"
At the top of the menu displayed you'll see options for "Brightness" and "Volumes"
Uncheck the box of whichever you don't want to see in your notification tray
Success!
Other U.S. carrier variations
Sadly, some of the U.S. carriers have been fiddling around with things and the above doesn't apply. Here's how it breaks down for Sprint and AT&T users:
Sprint - The volume controls are turned on by default with no way to turn it off or to add a brightness control
AT&T - Neither volume nor brightness are enabled by default. A brightness control can be added that goes through 4 stages by tapping but doesn't resemble the slider controls seen on the unlocked models.
So, while it's sadly not the same for all people, in all of the places, that's how you can reclaim some of your notification tray space on the LG G3. Or not, as the case may be.
For more, see our LG G3 help page, and swing by our G3 forums!
Get the Android Central Newsletter
Instant access to breaking news, the hottest reviews, great deals and helpful tips.