HARMAN's new speakers work with Amazon Alexa and Google Assistant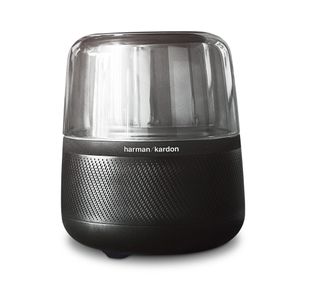 At IFA 2017, HARMAN has announced new speakers for its own brand and for the JBL sub brand. The speakers are part of the growing list of gadgets to feature Amazon Alexa or Google Assistant. First is the Harmon Allure, an intelligent speaker powered by Alexa. Harman says the speaker includes 4 microphones for far-field voice recognition, 360-degree sound and lighting to complement any decor, and Bluetooth streaming for your favorite music service.
From Harman:
The Harman Allure will be available for $249.95 starting winter 2017.
For those that prefer Google Assistant, JBL has announced three LINK speakers with the voice assistant built-in. The LINK 10, LINK 20 and LINK 300 vary in terms of size, speaker array and battery life — the LINK 300 is a stationary speaker — but all will feature voice activated Google Assistant. While other speakers have had button-activated Google Now and Google Assistant before, these are the first portable speakers with hotword activation. The LINK 10 will feature 5 hours of battery life, while the LINK 20 will have 10 hours. The LINK 10 will be available for $149, the LINK 20 for $199 and the LINK 300 for $249, beginning in fall 2017.
Are you looking forward to these new smart speakers? Let us know down below!
Learn more about Google Assistant!
Android Central Newsletter
Get instant access to breaking news, the hottest reviews, great deals and helpful tips
So many speakers with digital assistants but all under Samsung makes no sense.

Interested in some of the others, anker/sony/etc.. But not these.
Since samsung bought up Harman, they are dead to me.

I soooooo misread that title to mean that this new speaker would support both Google Assistant and Alexa, as in, I could either say "OK Google" or "Alexa" and use whichever ecosystem appealed to me at that moment. Man, give me THAT device!

I thought that at first too. I would have bought one of those lol.

See I'm not alone in this thought process. I don't think we misread the title as much as the wording is misleading.

I read it the same way-- it would have been nice to get Google Play Music and Google search in the same device as Alexa.

Same here. I was about to buy it if it had that function lol.

I thought that too. Disappointed. Lol

http://www.harmankardon.com/invoke.html Guess they're not putting all their AI eggs in one basket.

Guess they're giving up on their Cortana speaker before it even comes out.

I don't think so. I think they are just spreading themselves around.

Of course Alexa got the better one..
Android Central Newsletter
Get instant access to breaking news, the hottest reviews, great deals and helpful tips
Thank you for signing up to Android Central. You will receive a verification email shortly.
There was a problem. Please refresh the page and try again.