Glympse announces Pebble app for simple location sharing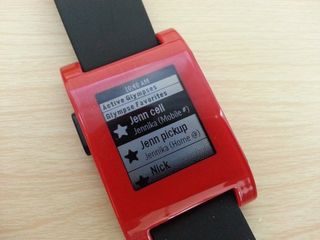 It seems like it's tough to find a platform that Glympse isn't yet on, and with the expansion today to Pebble it's one more off the list. Building on its other smartwatch integration with Samsung's Gear line and Android Wear, folks using Pebble can now load the Glympse app onto their watch and quickly share their location with friends and family.
With the Pebble app installed and Glympse installed on a connected Android phone, users can send their location to their contacts, see recent Glympse messages and quickly end or add time to an ongoing Glympse. Just as is the case with Glympse on other platforms, you have ultimate control over who can see your location, for how long and how precisely.
You can check out the new Glympse app from your Pebble Appstore today.
GLYMPSE UNVEILS PEBBLE SMARTWATCH INTEGRATION
Pebble Wearers Can Now Share Location in Real-Time While on the Move
SEATTLE – August 15, 2014 – Glympse, the pioneer of temporary location sharing technology, has just announced the availability of their award-winning application on Pebble smartwatch for both iOS and Android. With this latest integration, Pebble wearers can share their real-time location and ETA with anyone directly from their watch.
With the Pebble smartwatch, iOS and Android users who have the Glympse companion app on their phone can easily access and share their location with friends with a few quick taps. They can view their active Glympse messages and quickly expire or add additional time in 15-minute increments. Pebble wearers with the iOS app can share location with their selected shortcuts or recent Glympse messages. Android users can send a Glympse to shortcuts, recent Glympse messages, and contacts within their call log or favorite contacts. Recipients receive a live map of the sender's whereabouts as they move from location to location.
"We've been focused on making it easy for anyone to share their location at anytime. By partnering with Pebble, we are enabling their hundreds of thousands of users the ability to share their location, in real-time, wherever they are," said Rob Foley, director, partner development at Glympse. "Glympse provides the flexibility to share location in the moment, and answers the question of 'where are you?' in a simple, elegant and dynamic way."
As with all Glympse integrations, the sender's location is only available for a set period of time, for up to four hours. Once the Glympse has expired, access to their current location is no longer available. Recipients do not need to have the app or device to view the message, and they can access the live map through any web or mobile browser.
In the past year, Glympse has partnered with dozens of top tier global brands and companies, including BMW, Ford, GM, Gogo, Garmin, Mercedes, Google, Samsung and Verizon to bundle its location sharing technology into apps and devices serving millions of users globally, and the company has become the partner of choice in the location sharing space.
To download Glympse on Pebble, visit getpebble.com.
About Glympse GlympseTM is the pioneer of person-to-person time-based location sharing technology. With an intuitive design and enhanced features, the company easily integrates location sharing into everyday activities, meetings and events. Glympse has partnered with many top-tier companies, including Blackberry, BMW/MINI, Ford, Garmin, GM, Gogo Inflight, Jaguar Land Rover, Mercedes, NAVIGON, Samsung and Verizon, which have integrated the Glympse brand and enterprise platform into their own products and applications. The company is backed by Menlo Ventures, Ignition Partners, Verizon Ventures, Naya Ventures and UMC Capital.
Andrew was an Executive Editor, U.S. at Android Central between 2012 and 2020.
Come on Pebble get a color display.... just a little Posted via Android Central App

Google+ Location Sharing works4me (after Latitude was killed off), especially since it's ALWAYS ON. If Glympse got rid of their requirement to re-enable location sharing every 4 hours, I might consider it.

The first time I saw Pebble sad on kickstarter before they hit the big numbers. To this day I just don't see what the appeal of this thing is. I've seen it on a few wrists and Imo it just looks silly. I wear a Fitbit Flex and at this point that enough for me. To each his own. Posted via Android Central App from Samsung Note 3

Don't downplay the functions of a smart watch until you own one. There is a reason owners will keep using smart watches going forward.

I tried glympse for the gear 2 and it destroyed my battery life. Uninstalled it after a few days when I realized what was happening. Posted via Android Central App
Android Central Newsletter
Get the best of Android Central in in your inbox, every day!
Thank you for signing up to Android Central. You will receive a verification email shortly.
There was a problem. Please refresh the page and try again.