Gameloft, ARCHOS teaming up for preloaded content on G9 tablets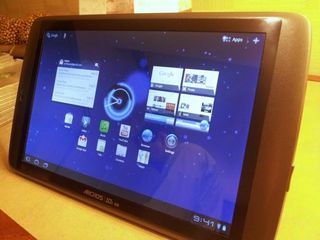 ARCHOS announced today that it has teamed up with Gameloft to preload its G9 line of tablets with two of the game maker's popular titles. Trail versions of Spider-Man: Total Mayhem and Asphalt 6: Adrenaline will ship preinstalled on all G9 tablets beginning in December 2011. ARCHOS says that both titles have been optimized for the G9 line, and that the tablets' dual-core TI processor will enhance both speed and performance. ARCHOS' full statement can be found after the break.
Swipe to scroll horizontally
Optimized Gameloft HD Games to be Pre-loaded on ARCHOS G9 Tablets
Swipe to scroll horizontally
DENVER, CO – (November 22, 2011) - Today, Gameloft, global publisher of digital and social games, and ARCHOS, provider of internet-based Android tablets, announced a joint partnership to deliver cutting-edge high definition games for ARCHOS G9 tablet users today. Asphalt 6: Adrenaline, a racing game, and Spider-Man: Total Mayhem ®, an action and adventure game, will be pre-installed as a trial on G9 devices as of December 2011. Each game has been specifically optimized for ARCHOS G9 devices to give users a rich gaming experience.
The HD versions of Asphalt 6: Adrenaline and Spider-Man: Total Mayhem ®, combined with ARCHOS G9 tablets, offer a console-like gaming experience -- whether at home or on the go. With improved 3D graphics for more realistic gaming sessions, the ARCHOS G9 tablets also utilize Texas Instrument (TI) processing chips for enhanced speed, performance and real-time game play.

Asphalt 6 : Adrenaline will also be available on the Android Market in December 2011.

"We're pleased to offer our customers the best technology, which feature graphically rich games that give them the ultimate in gaming entertainment," said Henri Crohas, CEO and Founder of ARCHOS. "We've worked closely with Gameloft to provide the best content that is engineered to the specific needs of our devices and customers' expectations."

"We are truly excited to support Archos G9 Tablets with two of our best-sellers titles. Our wish is to keep offering high quality gaming experiences on all possible platforms to gamers," announced Cyril Guilleminot, Director for France and Benelux at Gameloft.
Swipe to scroll horizontally
About ARCHOS
Archos, the pioneer in the portable audio and video player market, and now a specialist in Android powered Internet Tablets, has repeatedly revolutionized the market for consumer electronics since 1988. Today, ARCHOS offers Internet Tablets, Tablet PCs and MP3/MP4 players. In 2000, ARCHOS launched the Jukebox 6000, the first MP3 player combined with a hard disk. In 2003, ARCHOS introduced the first portable multimedia players with TV recording capabilities. In 2006, Wi-Fi was implemented, and in 2007, tablets began being built with touch screens. In 2008, Archos launched the first generation Internet Tablets, then the first ever Android powered tablets in 2009. ARCHOS has offices in the United States, Europe and Asia. ARCHOS is quoted on Compartment C of Eurolist, Euronext Paris, ISIN CodeFR0000182479. Website: www.archos.com
About Gameloft
A leading global publisher of digital and social games, Gameloft® has established itself as one of the top innovators in its field since 2000. Gameloft creates games for all digital platforms, including mobile phones, smartphones and tablets (including Apple® iOS and Android® devices), set top boxes, and consoles. Gameloft partners with leading international brands, such as UNO®, Spider-Man®, James Cameron's Avatar™, Ferrari® and Sonic Unleashed®. Gameloft also operates its own established franchises, such as Real Football®, Asphalt™, Modern Combat 2: Black Pegasus and N.O.V.A Near Orbit Vanguard Alliance®. Gameloft is present in all continents, distributes its games to 100 countries, and employs over 4,000 developers. Gameloft is listed on the Paris Stock Exchange (ISIN: FR0000079600, Bloomberg: GFT FP, Reuters: GLFT.PA).
Website: www.gameloft.com
###
Get the Android Central Newsletter
Instant access to breaking news, the hottest reviews, great deals and helpful tips.