Favstar Destroyer: Twitter API hostility claims another service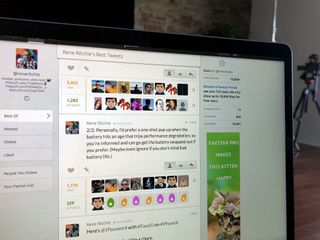 Come June 19, 2018, or thereabouts, Twitter will be stopping its streaming API. That's the application programming interface developers of third-party Twitter apps, including twitter clients and web services, used to refresh timelines and send push notifications. Twitter will be providing a new Account Activity API to replace it, but not much is known about it and time is running out for developers to be granted access so they can implement it quickly enough to avoid interruptions in service. That uncertainty is what's leading Favstar, the popular service for seeing which of your tweets were the most favorited and discovering other highly favorited tweets, to shut down.
Just like it's never safe to scurry beneath the feet of uncaring (or just plain clumsy) giants, it's never safe to build your service on Twitter (or Facebook or Google, for that matter). If it's a valuable service, there's always the chance the tech giant will want to own it for themselves. In the best case, they buy you out for some serious cash. In the worst case, they simply copy your value and make it native.
If it's not a valuable service, even if it's a beloved one, the tech giant might just end your access to its users, social graph, or other data. And then you're done.
You can say the tech giants are well within their rights to do what they want with their services. And fair enough. But many of these relationships are symbiotic and the third-parties provide experiences that, in turn, elevates the tech giant.
Twitter, infamously, achieved a lot of early success, in part, thanks to the work of third-party developers. Then it got big, decided to focus less on tech and more on the mainstream, advertising, and entertainment, and began starving out third-parties. These days, Twitter simply seems like it has no idea what it is or what it wants to do.
And Favstar is just the latest victim. There will likely be more.
Thank you, Tim.
If you used Favstar, let me know — how do you feel about it being shut down?
Be an expert in 5 minutes
Get the latest news from Android Central, your trusted companion in the world of Android
Rene Ritchie has been covering the personal technology industry for almost a decade. Editorial Director at Mobile Nations, analyst at iMore, video and podcast host, you can follow him @reneritchie on [Snapchat](https://www.snapchat.com/add/reneritchie), [Instagram](https://instagram.com/reneritchie), or [Twitter](https://twitter.com/reneritchie).