Developers can now track and respond to Google Play reviews through Zendesk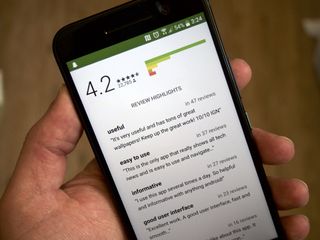 (Image credit: Android Central)
Customer service platform Zendesk has announced it is taking advantage of new Google Play integration to help developers and companies more easily track and respond to app reviews.
While developers have been able to manually respond to reviews on Google Play for some time, Google's newly announced "Reply to Reviews API" allows third-party services to streamline the process. Zendesk is one of the first companies to leverage that API, allowing its customers to more easily engage with users of their apps. From Zendesk:
Zendesk notes that this integration is currently limited to apps and games, but it should be available for Zendesk customers to try out immediately.
Press Release
Zendesk Powers New Customer Engagement Opportunities in Google Play
Halfbrick, Robinhood, and Wrike Turning Reviews into Conversations with Zendesk
SAN FRANCISCO, CA – May 18, 2016 – Today at Google I/O, Zendesk, Inc. (NYSE: ZEN) announced an integration with Google Play that will allow businesses to turn app reviews into proactive customer conversations. Companies now have the opportunity to respond directly from Zendesk every time a customer submits a review on Google Play, helping to build relationships where customers are sharing their experiences. Google Play is the largest app store with more than a million apps.
"The lines between customer service and marketing continue to blur, and ultimately, customers make the decisions about which channel they want to use for support," said Billy Robins, director of business development at Zendesk. "With our Google Play integration, we are helping businesses be proactive when it comes to interacting with their customers. Responding directly to app reviews is the perfect opportunity to let people know that someone is listening."
Game developers Halfbrick, investment platform Robinhood, and project management software company Wrike are already using Zendesk's integration in Google Play. When someone writes a review in Google Play, a ticket will be automatically created in Zendesk. Agents can then respond directly to the ticket, and the response will post back to Google Play.
"App reviews are one of the leading forums for customer feedback, and it's important that we're listening to this critical channel, said Joe Binney, VP of engineering at Robinhood. "With Zendesk's Google Play integration, app reviews now become conversations and opportunities to engage with our customers."
"Over the years we've seen Google Play morph into a huge customer service channel," said Shainiel Deo, CEO at Halfbrick. "With the Zendesk integration, we can now respond to our reviewers' feedback easily in Google Play."
"When it comes to customer service, we don't decide the channels -- our customers do," said Nic Bryson, director of customer support at Wrike. "We recognize that reviews on Google Play are one of the important ways our customers interact with us, and it's our goal to meet our customers wherever they are."
This integration, currently limited to apps and games (https://play.google.com/store/apps), with Google Play is available to all Zendesk customers immediately.
About Zendesk
Zendesk provides a customer service platform designed to bring organizations and their customers closer together. With more than 75,000 paid customer accounts, Zendesk's products are used by organizations in 150 countries and territories to provide support in more than 40 languages. Founded in 2007 and headquartered in San Francisco, Zendesk has operations in the United States, Europe, Asia, Australia and South America. Learn more at www.zendesk.com.
Get the Android Central Newsletter
Instant access to breaking news, the hottest reviews, great deals and helpful tips.