Dell announces its latest Android tablet, the 10.5-inch Venue 10 7000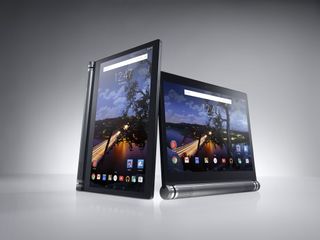 Apart from the cylindrical battery at the bottom of the device, the Venue 10 7000 is essentially a blown up version of its smaller Venue 8 7000 series sibling, featuring specs that are largely the same aside from the bump up to a 10.5-inch screen. Just like its smaller sibling, the Venue 10 7000 features a quad-core Intel Atom Z3500 series processor, and a rear camera that takes advantage of Intel's RealSense depth-sensing technology when combined with two extra cameras mounted directly below it. The display features the same 2560 x 1600 resolution as well, only spread over a 10.5-inch display. Dell also says that the tablet will sport 7 hours of battery life.
Dell is targeting the Venue 10 7000 at the business crowd. Sporting Android 5.0 with Android for Work enabled right out of the box, Dell is billing the tablet as a device that is suitable "for both work and play."
Dell says that the Venue 10 7000 is set to go on sale in the U.S., Canada, and China in May at a price of $499 for just the tablet or $629 with the optional keyboard. If you're intrigued by the Venue 10 7000, be sure to also check out our review of the smaller Venue 8 7000.
More: Check out our Venue 8 7840 review
Source: Dell (opens in new tab)
Press Release:
Dell Introduces Venue 10 7000 Tablet with Premium Design and Enhanced Productivity
Venue 10 7000 designed to impress with stunning features, best tablet display technology available and full-size detachable, magnetic keyboard
Venue 10 and 8 7000 tablets feature enhanced productivity with Android 5.0, Lollipop and Android for Work
Dell named '2014 Education Partner of the Year' by Google for Education
Dell today announced the Venue 10 7000, the latest tablet in its premium Android portfolio. The Venue 10 has a distinctive, razor-thin profile that is based on the same stunning design as the Venue 8 7000, which was the "Best of Innovation Honoree" from the Consumer Electronics Association (CEA) at CES 2015. Dell today also announced an update to Android 5.0, Lollipop on the award-winning Venue 8 7000. Now, consumers and business professionals alike have two stunning options to make a statement with their tablet.
Venue 10 7000: Impressive on the Outside, Full Productivity on the Inside
The Venue 10 7000 features a sleek, futuristic design with a barrel edge making it easy to hold and carry, or slot into the magnetic, backlit keyboard that can position the tablet in five different configurations: tablet, slate, stand, tent or clamshell modes. Users can enjoy an immersive audio experience no matter how the tablet is positioned with MaxxAudio Mobile by Waves and front-firing stereo speakers. Like the Venue 8, the Venue 10 features the best tablet display technology available today, a brilliant 10.5-inch OLED 2560x1600 screen, a quad-core Intel Atom Z3580 processor, and the Intel RealSense snapshot depth camera, which takes a depth map for every picture captured. The tablet also features the intuitive Dell Gallery application with selective re-focusing and measurement functions, as well as smart albums to automatically organize photos.
Coexist on One Device for Both Work and Play
The Venue 10 combines stunning design features with enhanced productivity for the office to provide a compelling option for the mobile workforce. Both the Venue 10 and Venue 8 will ship with Android 5.0, Lollipop, and will be enabled for Android for Work. This platform makes it possible for business and personal information to securely coexist on one device, creating a reliable method for the mobile workforce to use the tablets for work and play. Business data is separated and encrypted, so important corporate data is not accessible to personal applications. The platform leverages multi-user support in Android to create a managed profile with its own set of secure applications that can be provisioned and controlled by IT and wiped remotely without touching personal data. Dell will also be offering Office for Android on the Venue 10 and 8 7000 this summer, which will provide even more productivity and commercial capabilities on Venue Android tablets.
Dell business customers can also use Dell Mobile Management and Dell Mobile Workspace solutions to secure multiple device types and operating systems, including Android. Dell Mobile Management enables organizations to securely manage and provision access to smartphones or tablets from any device with a browser and internet connection. It also manages applications and content on the devices and enables users to self-enroll their devices for instant provisioning of corporate access and automated policy enforcement that provides added security. Dell Mobile Workspace creates a separate work environment on mobile devices. This secure workspace solution is a user-friendly application that gives users access to enterprise data and applications, while also protecting an organization's confidential information. It provides IT with the ability to remotely enforce policies and encrypt enterprise data while allowing users to maintain privacy.
"Dell customers want more from their tablets. They want to be productive and get work done wherever they are, they want a great entertainment experience, and they want to carry something that turns heads," said Neil Hand, vice president, Dell Tablet Group. "The Venue 10 7000 gives our customers all that and more: enhanced productivity with a full-sized keyboard and Android for Work, a brilliant display and innovative features like the Intel RealSense snapshot depth camera, all wrapped in a gorgeous design."
Dell Education Solutions for 1:1 Learning
Last month, Dell was recognized by Google for Work as the 2014 Education Partner of the Year at TeamWork 2015, the annual global partner summit. This award demonstrates Dell's unwavering focus on education customers and strong collaboration with Google to enable schools to deploy, manage and support Dell Chromebooks successfully.
Dell announced its latest Education portfolio in February, including the new Dell Chromebook 11, the Dell Venue 10 Pro tablet with Windows, the Venue 10 5000 tablet with Android and the Latitude 11 Education Series laptop. The Venue 10 5000 is now available in the United States and several countries around the world. With configurations specifically tailored for Education, its 10.1-inch HD or Full HD display helps bring content to life. Users have the ability to work in five different positions when configured with the optional, attachable and reversible keyboard. Based on Android 5.0, Lollipop, the Venue 10 5000 is one of the first tablets to be certified with Google Play for Education.
Supporting Quote
Navin Shenoy, Vice President and General Manager, Intel Mobility Client Platforms
"We're excited to continue our collaboration with Dell on the Venue 10 7000 tablet. Based on the Intel Atom processor, the new tablet will bring a high quality, smooth experience with long battery life in a sleek design, whether it's for work or play. The Intel RealSense snapshot technology in the new tablet will also provide people with exciting new ways to capture the world."
Pricing and Availability
The Venue 10 7000 starts at USD $499.00; $629.00 with keyboard. It will be available on Dell.com in the U.S., Canada and China in May 2015. The Venue 10 5000 is now available in the United States and select countries around the world starting at $299.00; $349.00 with keyboard.
Yikes... 2.5" of more freezing and lag... Posted via the Android Central App

@nada....lol your an idiot Posted via the Android Central App

Pro tip: when you're calling someone an idiot, use correct grammar, or you'll end up looking like the idiot.

@rgao....get a life loser Posted via the Android Central App

I was expecting you to use "looser"... True story, bro.

Stop feeding the troll. Posted via the Android Central App by OnePlus One

"Your'RE an idiot." Posted via the Android Central App

Battery life doesn't sound great for that price and given the big wart on the side. Although it probably would be comfortable to hold. Should have active stylus for note taking and drawing.

I have to agree it seems like they ought to have been able to cram a stylus somewhere in that big old tube on the side.

So they basically copied the design of the Lenovo Yoga Tablet (minus the kickstand), which I've always thought was rather clever, but with better specs. Having never used a Dell tablet before though, I wonder how heavily they "skin" stock Android?

Actually they don't skin the OS for the most part. It's pretty much stock Android. You can practically see this from the pictures provided alone Posted via the Android Central App

They copied Lenovo yoga tablet Posted via Android Central App on 1+1

That cylinder seems useful to hold in portrait and a bit of a rest in landscape. Idk I like it. Posted via the Android Central App

That's nice that it comes with LP but I still don't trust Dell with timely updates. Posted via the Android Central App

Buy it for what it is, not what it could be. Rooted Galaxy S III Stock Galaxy Note 4
Rooted LG G2
If it ain't Tech, it ain't Right!

The 7840 doesn't have Lollipop yet. I have had one for about four weeks. It's a nice tablet, stock experience. It has some strange design features. There is a larger bezel at what I think of as the "bottom" with the speaker, front facing camera and the power and audio jack. In that orientation, the power and volume are on the top left. But to use the rear cameras, Dell says to hold it 180 degrees from that. And Dell's cases and keyboard case put the "hinge" on the right if you put the bezel at the bottom. Either way, I like it. Screen is nice, it is bright in full daylight ( have not tried direct sunlight yet). I use my tablet mostly as a media device, e-reader and as a standalone GPS. The 7840 supports up to 512 GB SD cards. I want Lollipop soon for full SD card support, not just selected apps. Posted from my Dell 7840

I've never seen a site with so many authorities.. amazing! The humor is worth the reading though, I have to admit.. People that don't know the difference between word spelling (their/they're...your/you're) are hysterical!
Android Central Newsletter
Thank you for signing up to Android Central. You will receive a verification email shortly.
There was a problem. Please refresh the page and try again.