#CESlive update: Awesome guests, sponsors, a Vegas meetup and more!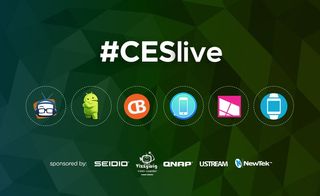 With CES fast approaching, it's time for a quick #CESlive check in! We have a few important updates to relay in regards to the awesome show coverage we'll be bringing you from the floor of the biggest electronics and tech show of the year.
In case you missed the announcement (and if you did, you should read the press release and watch this video), Mobile Nations is teaming up with Geek Beat to put on #CESlive. We have a big area in South Hall of the Las Vegas Convention Center where we'll be broadcasting a whole bunch of awesome interview from. Between the two teams we'll have THIRTY people at CES - so outside of the live stage we'll be running and gunning the best coverage you'll find at the show. It's going to be awesome.
Now onto the updates!
Update #1: SPONSORS!!
We're happy to announce Seidio, Vizzywig, QNAP, USTREAM and NewTek as sponsors of #CESlive. Huge props to these companies for stepping up to the plate. It takes $$$ to put on a show of this magnitude and we thank them a bunch. You'll be hearing more about them throughout the event, but here's an early shout out.
Update #2: AMAZING GUESTS!!
We've been lining up interview guests for #CESlive like crazy, and you'll be hearing directly from many of the BIGGEST and BESTEST companies during the show. We're talking names like General Motors, Gameloft, NVIDIA, LG, Polaroid, HTC, Samsung, HP, BenQ, Pioneer, Nikon, FitBit, Oculus VR and SwiftKey, and that's just name a few.
Update #3: WE'RE HAVING A MOBILE NATIONS / GEEK BEAT MEETUP!!
We're going to be working our butts off all day putting on #CESlive, but it's Vegas so we have to have fun at night too. To that end we're going to have a Mobile Nations / Geek Beat meetup on the night of Wednesday, Jan. 8. The initial meet up point is Planet Hollywood at the always-tasty Earl of Sandwich. Once there is tasty sandwiches in our belly, we'll head around the corner to the PBR Rock Bar & Grill where we can have some drinks and take on the mechanical bull. It's going to be a riot. Hit up the link below for more details. If you're in Vegas, we'd love to see you there!
Stay Tuned for More Updates!
We'll be checking in a couple more times before we make the trek to Vegas to take on CES. In the meantime, get excited. It's going to be a GREAT way to start 2014!
Cool Posted via Android Central App

If I cared about going, I would go. You guys can do all the work for me :-P

You guys are awesome!! I'm so glad I joined Mobile Nations, and I can't wait to see the amazing coverage that you guys provide for CES 2014!! Thanks, guys!! Happy Holidays!! Posted via my "Gift from God" Nexus 5

Maybe we can get a live feed and recorded shows on the AC YouTube

Yay. Hope to see you guys there! Posted via Android Central App

Color me jealous, lol. Have a great time out there!! Posted via my "Gift from God" Nexus 5

Have a great time guys! I wish I could go soooo bad, but I'll have to settle for video footage :D Posted via the awesome Android Central App

I am still waiting for someone from mobile nations to admit that they are staying for the convention after CES? Jerry, Phil?

Last minute contest for an all day inclusive day or two of CES? I got some time off. Consider my bags already packed lol Posted via Android Central App

The exact date CES will be is? I think us cellphone geeks would be into Mobile World Congress moreso. Posted using Android Central App on my Samsung Galaxy S4 T-Mobile

But the major players have been doing their own events.

Looking forward to watching the coverage! Posted via Android Central App on my Motorola XT890 RAZR i

What is the booth number or location in South Hall? Posted via Android Central App
Android Central Newsletter
Get the best of Android Central in in your inbox, every day!
Thank you for signing up to Android Central. You will receive a verification email shortly.
There was a problem. Please refresh the page and try again.