Amazon revealed tons of new products today, one of which was the Echo Studio. Designed to be an Echo smart speaker with a music-forward focus, the Echo Studio will release on November 7th. Its list price is $199.99, but you can pre-order it bundled with an Amazon Smart Plug to save $20 today. Since the smart plug typically costs $25, your $205 cost will save you $20 total. The purchase is backed by Amazon's pre-order guarantee, which basically means if the bundle drops again in price before your order ships, you will only pay the lowest cost.
Easy Peasy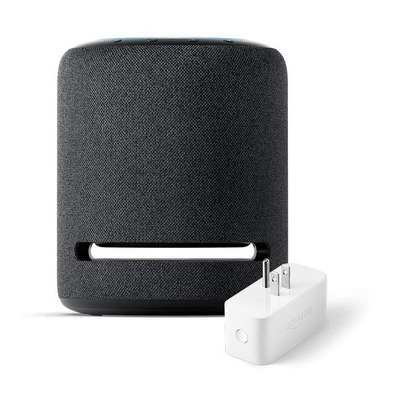 Amazon Echo Studio + Amazon Smart Plug
The Echo Studio is $200 on its own, while an Amazon Smart Plug retails for $25. Pair them both together for $205. If the price drops again before your order ships, you'll only pay the lowest cost.
$204.98 $224.98 $20 off
The Echo Studio features five speakers and Dolby Atmos for immersive, clear sound. You'll get powerful bass and crisp highs with dynamic mids and crystal-clear clarity. The speaker also intelligently senses the acoustics of the room it's in to deliver the best possible sound.
Additionally, the speaker has a built-in smart home hub that allows you to control compatible Zigbee devices. The included smart plug will help you gain even more control over your home's tech, using your new speaker to set schedules, power appliances, and more. Echo Studio also packs all the smarts of Alexa, so you can ask for the weather, read the news, set timers, and all that good stuff. This is the most model in the Echo Speaker lineup, and we're not surprised to see Amazon release a version for audiophiles since it just unveiled its Amazon Music HD service that offers lossless streaming.
The Echo Studio isn't the only new Amazon device with a special introductory deal. You can also pre-order the new Echo Buds and get a free 3-month Audible trial, plus you can order two of the new Echo Dot 3rd-Gen Smart Speakers with Built-in Clock and save $20.
We may earn a commission for purchases using our links. Learn more.