Blackphone's PrivatOS to get an update with privacy-focused app store next year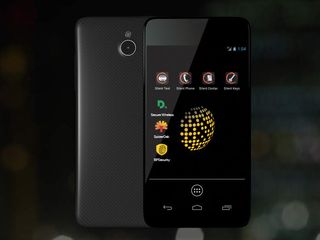 Rocking a Blackphone? The anti-surveillance device manufacturer has announced updates for its PrivatOS, a custom OS running on a forked version of Android KitKat that offers several privacy features like end-to-end encryption between two Blackphone users. The new version of PrivatOS, which will be rolling out to users next year, features an app store with content curated by the Blackphone team and a new feature called Spaces.
Spaces gives users the ability to create secure, self-contained sections on the device for different use-cases. For instance, you can differentiate your work and personal data by creating a distinct container for each. Blackphone mentions that the update will come with one container by default called Silent Suite, which hosts the vendor's suite of encrypted communication apps.
There's no clear timeline as to when the update will be available, with Blackphone stating an "early 2015" launch. Here's the press release for the all the details regarding the update:
Blackphone's New PrivatOS Enhances Users' Privacy While Granting Access To Apps
GENEVA, Dec. 9, 2014 /PRNewswire/ -- Blackphone has announced the upcoming launch of the biggest update to its customized operating system, PrivatOS, to date. Due in early 2015, this new release of PrivatOS introduces Spaces, which gives users the unique capability to create separate self-contained 'spaces' for apps, data and accounts – all on one device.
With most smartphones, separating work and play means compromising either privacy or convenience: either work apps and data live in the same place as personal games and social media apps, or users carry two devices to guarantee privacy and separation. Spaces can separate work life from personal life, a "parents only" space from a kid-friendly one, or any other separation users can dream up – no compromises needed.
A "Silent Space" is featured by default and includes the Silent Suite of apps for encrypted communication, Blackphone app store and a bundle of pre-loaded privacy apps. From there, build additional Spaces as you see fit – for whatever purpose you need – with the Blackphone Security Center and PrivatOS keeping you safe across each one.
The accompanying launch of the Blackphone app store ‐ the first one in the world that focuses solely on privacy-focused applications – solidifies Blackphone's position as a global leader in privacy and security.
Available January 2015, the Blackphone app store features curated apps specifically selected by Blackphone as the most secure privacy-optimized apps on the market. Several pre-loaded apps will be immediately available with the latest PrivatOS update in early 2015.
Speaking about the launch, Toby Weir-Jones, CEO, Blackphone, said:
"The addition of Spaces and the Blackphone app store is the most significant update to PrivatOS since its inception and is a real 'game changer' for the brand, further highlighting our commitment to placing privacy back into the hands of the user. We are delighted to have developed the Silent Space, alongside Graphite Software, who share our core values of privacy and security."
Commenting on its collaboration with Blackphone, Alec Main, CEO, Graphite Software said: "Blackphone is the only device that places privacy above everything else. The combination of Graphite's Secure Spaces as part of Blackphone's PrivatOS gives consumers the ability of a rich app experience and converged corporate device, while staying in control of their personal information."
Blackphone launched in March 2014 and is the world's first smartphone built from the ground up to maximize user privacy, putting users privacy before all else. For anyone who wants the power of control over their private information, Blackphone and its security-enhanced operating system, PrivatOS, built on Android™ KitKat, provides users with protection and control over security issues without the usual compromises.
Harish Jonnalagadda is a Senior Editor overseeing Asia at Android Central. He leads the site's coverage of Chinese phone brands, contributing to reviews, features, and buying guides. He also writes about storage servers, audio products, and the semiconductor industry. Contact him on Twitter at @chunkynerd.
If it was a fully encrypted fork of Android that supported the Google Suite and Google Apps from the Play Store, then it would start to perk my interest. But, as it would be extremely difficult to manage incoming applications and security with applications they have no control over, meh. Perhaps if I was a very limited user of apps...nah still no.

Assuming it's really secure, I imagine you aren't the target market anyway. I mean no offense with that statement; I just mean that, assuming the phone offers some real protection, the market would be people who value encrypted communications above all else. If they want a wide app selection, they'll likely carry a second device for that.

That's the "problem" with all platforms, isn't it? I don't think that's the actual purpose with this phone, not that I've looked much into it but, isn't it more about keeping corporate tracking out in the same way some people use duckduckgo?

I think it goes further than that. I would think it's designed for people who want very secure communications, such as to prevent corporate espionage. To get the most out of a device like this, you need at least two; otherwise, you won't be able to encrypt communications between you and the person you're calling.

Still question peoples need to hide what they're doing on line? Posted via the Android Central App

Even in the most liberal countries in the world, there's still discrimination against people who aren't "like us"... That's probably why. Privacy is a human right, plain and simple.
Here's one of the latest examples, Big Motor don't like gays as their Christian employees might get offended:
https://twitter.com/AlexanderProud/status/540907239536885760/photo/1

Large top bezel, gross. AC App via Nexus 5

I wouldn't be surprised if some government security services were behind this project, hoping to use the phone as bait to trap bad guys.

I figured anyone who really cared about security in a corporate environment would be deploying BlackBerry devices coupled with BES. Posted from my TARDIS!

Anyone who actually cares about privacy won't use a smartphone.

Does anyone have this phone? Posted via the Android Central App
Android Central Newsletter
Get the best of Android Central in in your inbox, every day!
Thank you for signing up to Android Central. You will receive a verification email shortly.
There was a problem. Please refresh the page and try again.