March Madness: The best Android apps for following The NCAA Basketball Tournament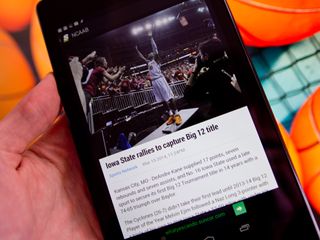 March Madness has begun! Here's how to follow the NCAA games on Android
NCAA Tournament brackets have been picked, and games start on Tuesday. It's a great time for fans, and with the help of a few Android apps, you'll never miss a minute of it. We've got apps for keep tabs on scores, stats, players, teams, news, and video of the action. There's even a game tossed in just so you can stay in the spirit between matches.
NCAA March Madness Live
The first stop is the obvious: the official NCAA March Madness app. You can mark your favorite teams for score notifications, make your picks in the official Bracket Challenge, and catch up on news and video replays. The catch is that in order watch all of the live streaming video of the games, you need to have a paid TV subscription with access to TNT, TruTV, TBS, or CBS. Games that show up on CBS don't require a paid subscription, at least. Also, if you're outside of the U.S., you won't be able to download the app
Download NCAA March Madness (opens in new tab) (Free)
theScore
For the rest of us, theScore is by far the best way to keep tabs on scores across many sports, basketball included. They've updated to include a lot of new features for NCAA. One is an upset tracker, so you can find out when a lower-ranked team is about to bust your bracket. You can get a full bracket view to figure out who's playing who next. As always, you can mark teams and players you care about, and catch up on the latest news.
Download theScore (opens in new tab) (Free)
Yahoo Fantasy Sports
If you're into the fantasy sports thing, Yahoo's Android app can help you keep tabs on your picks, results, and the latest NCAA news. You can manage your draft, negotiate trades, and deal with injured players whereever you are with the Yahoo Fantasy sports app.
Download Yahoo Fantasy Sports (opens in new tab) (Free)
Google Now
For more casual watching, you can keep tabs on what's happening in NCAA with what's already baked into your phone. Google Now can be enabled to provide final score and game reminders in the notification tray. Just hold down your home button, drag your finger up to the Google icon that pops up, and release. Scroll down to the bottom, tap the magic wand at the bottom in the middle tap Sports teams, and tap Add a team at the bottom. Rince and repeat to keep adding the NCAA teams you're interested in.
Download Google Now Launcher (opens in new tab) (Free)
NBA Jam
Okay, so it's not NCAA, but NBA Jam is a fast and fun two-on-two basketball game that should keep you pumped for the next game. Local and online multiplayer are supported, along with quick one-off single-player games and a long-term career mode. NBA Jam is an over-the-top classic that basketball fans will have trouble putting down.
Download NBA Jam (opens in new tab) ($2.49)
How are you following NCAA basketball on Android?
Those are our top picks for NCAA Android apps, but what how are you guys keeping track of everything? Who are you rooting for?
Get the Android Central Newsletter
Instant access to breaking news, the hottest reviews, great deals and helpful tips.
Simon has been covering mobile since before the first iPhone came out. After producing news articles, podcasts, review videos, and everything in between, he's now helping industry partners get the word about their latest products. Get in touch with him at simon@futurenet.com.
personally I use the CBS sports app, to me it has the best looking notifications. (basketball icon for basketball / football icon for football / etc..) Posted via Android Central App

+1 on the CBSSports app, you can follow the game with Twitter updates. It's the next best thing to an audio or video stream.

+1 Clean design, and notifications goes a long way for me.

I went to the CBS sports app after ESPN butchered the ScoreCenter app and changed it to the worthless SportsCenter version. I've really enjoyed th e CBS sports app so far. Posted via Android Central App

I don't like college sports and I go to college >_> Posted via Moto X or Droid RAZR M on the Android Central App

BEARDOWN!!! Posted via Android Central App

No love for Yahoo Sports or ESPN Tournament? At least you can create brackets with these! Posted via Android Central App on my white Nexus 4 with StraightTalk ATT

Is Yahoo Fantasy Sports not Yahoo sports? Posted via Android Central App

No, I use the regular Y Sports app, and its very good, IMO. They just updated it to allow bracket picking also, with a nice interface. Posted via Android Central App on my white Nexus 4 with StraightTalk ATT

I'm trying the March madness live app. Go Shockers!! Posted via Android Central App

Ha! I'll be shocked if they survive in that region. The committee definitely screwed WSU. Posted via AC App on HTC One

Lol love how the NBA Jam screen shot has Ewing dunking over John Stockton Posted via Android Central App

Absolutely loved the March Madness app last year, how they having screwed things up. Now, I don't mind running the errands for the Mrs. (she can't yell at me for sitting in front of the TV all weekend)

The main problem with all of these apps is that they only give you info for the men's games. Some of us are interested in women's sports too.