Barnes & Noble launches Nook for Web, gives you 6 free books to try it out with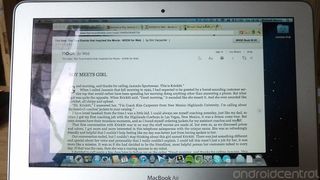 Although somewhat late to the party, Barnes and Noble has today joined the ranks of online e-reading solutions, by launching Nook for Web. No sign-in, software download or Nook account is required to start reading. Books in the Nook store can be instantly sampled online, right within the web browser by clicking the "read instantly" button. Nook for Web is compatible with both PC and Mac, and with all the main internet browsers.
We're promised support tablets and smartphones this Fall, but a quick trial using Chrome on a Galaxy Nexus, saw Nook for Web working just fine. It's not what you'd call user friendly though on a screen that size, but then it is designed for desktop browsers.
As you would expect, it syncs your position in your books with your other Nook reading applications, but now finally Nook users can read at their desktop. Amazon and Kobo in particular have had desktop solutions for a while now. Late or not, Barnes and Noble is welcome to the party.
Oh, and for good measure, Barnes and Noble is throwing six free books into the bargain, until July 26. You'll find the full presser after the break, and hit the link below to go try it out.
More: Nook for Web (opens in new tab)
Barnes & Noble Introduces NOOK® for Web,
Giving Readers Instant Access to NOOK Books™ from any Web Browser –
No Sign-In, Download or NOOK Required
Get Started Today with Six FREE Bestsellers Available through July 26
New York, New York – July 17, 2012 – Barnes & Noble, Inc. (NYSE: BKS), the leading retailer of content, digital media and educational products, today introduced NOOK for Web, an innovative and free new browser experience that offers readers the ability to explore the hottest digital titles and bestselling books right from their computer – no sign-in, software download or NOOK account required to begin reading. With fast and easy access from any PC or Mac® browser, NOOK for Web seamlessly combines NOOK's award-winning digital reading experience with access to Barnes & Noble's expansive NOOK Store™. Now, anyone who loves to read can browse, sample and become instantly immersed in a NOOK-like reading environment from any browser, with support coming this fall for Internet-enabled tablets, smartphones and other mobile devices.
Beginning today, Barnes & Noble is offering six bestselling NOOK Books in their entirety at no charge for readers to try NOOK's award-winning digital reading experience online. With popular summer titles the entire family will enjoy, customers can visit www.nook.com/NOOKforWeb to browse the list of complimentary titles available, including Map of Bones by James Rollins, Sex and the City by Candace Bushnell, The Vow by Kim Carpenter, The Boxcar Children Summer Special by Gertrude Chandler Warner, Brave by Tennant Redbank and Perfect Island Getaways by Patricia Schultz, instantly read the sample, and then download the entire book for free on any browser now through July 26.
"NOOK for Web makes it easier than ever for anyone – from NOOK customers to those experiencing digital content for the first time – to access and read books online," said Jamie Iannone, President of Digital Products at Barnes & Noble. "There's no need to download special software to access your digital library – NOOK for Web seamlessly combines Barnes & Noble's best-in-class digital reading experience and unrivaled NOOK Store to deliver an immersive, easy-to-use solution for readers to consume millions of titles right from their Web browser."
With NOOK for Web, it's also now easier than ever for NOOK customers to read their NOOK Books virtually anytime, anywhere. The perfect complement to NOOK devices and free NOOK Reading Apps™, customers can simply go to www.mynook.com to pick back up from their last page read or start reading a new book using any Web browser.
NOOK for Web features the elegant, immersive digital reading experience millions of NOOK customers have come to know and love:
Enjoy free samples of the majority of NOOK Books and begin reading with just a click on the "Read Instantly" icon. There's no need to sign in, create an account or download additional software in order to sample content. NOOK for Web supports all PC and Mac-supported Web browsers including Internet Explorer, Chrome, Firefox and Safari.
Get lost in a great read with the realistic book-like layout, including clear page numbers at the bottom of each screen and an innovative slider allowing users to easily track the number of pages remaining in a chapter or quickly scroll to another section.
Customize the reading experience using the intuitive navigation bar. Choose between 8 fonts and 8 font sizes and a single or double page layout. Simply collapse the navigation bar once preferences are selected to reveal a clean, easy-to-read page.
Rate, review and share thoughts or recommend books via Twitter, Facebook or e-mail without even leaving the book.
Access more information about the book while reading, plus thousands of helpful editorial and customer reviews at your fingertips.
Learn what to read next with personalized recommendations from Barnes & Noble's expert booksellers – from must-read new releases to up-and-coming authors – all in the customizable Shop window.
Shop from the ever-expanding NOOK Store, buy NOOK Books in seconds (the majority for $9.99 or less), and select purchases right from your personal NOOK Library™ to open and begin reading from any Web browser.
Through Barnes & Noble's free, stable and secure NOOK Cloud™ service, NOOK for Web now gives existing NOOK customers even more flexibility to Read What You Love, Anywhere You Like™ with seamless account integration and synchronization. Customers can read any book from their personal NOOK Library by signing in using a valid NOOK account. Sync the last page read from a NOOK tablet or Reader, multitude of computing and mobile devices with free NOOK Reading Apps and NOOK for Web, and keep reading virtually anytime, anywhere – all without losing the page. And customers can send free NOOK Book samples directly to an existing NOOK Library to automatically access new content on the go from any NOOK device or one with free NOOK Reading Apps.
NOOK for Web is now available at www.nook.com/NOOKforWeb with no download required. Simply browse for books in the NOOK Book Store and look for the "Read Instantly" icon to begin reading any book.
>"Nook for Web is compatible with both PC and Mac" That is only 2 of the 3 major types of computers. I just tested and the correct wording is as follows: "Nook for Web is compatible with MS-Windows, MacOS, and Linux".

Linux? Is that some Chinese or Inuit brand?

Yea dude pretty sure nobody cares.

Well, dude, obviously at least one person cares, or I wouldn't have posted. And for your information, there are millions of Linux users. They are certainly a small minority of total computer users, but they are out there (and many people I know are included in the pool).

Only going off the press release, and the fact I use a Mac means I know nothing of this Linux of which you speak ;-)

Yeah, right! Well, I am not really picking on you... just providing additional platform info. The wording of the article (which you might have picked up off the press release) makes it sound like "all bases are covered", which they are, but not because it works on "both PC and Mac", it is because it works in all major browsers. Ironically, it also works fine under Android (which is also built on Linux) but that is not mentioned as a platform it works on, either :) So really, the best rewording would be to just have this sentence: "Nook for Web is compatible with all the main internet browsers."

Yep. Unless they are using some browser plug-in like Silverlight, there's no point in metnioning the OSs. Just state "major browsers" and be done with it. Besides, Macs *are* PCs, so "PC and Mac" is redundantly highlighting Mac compatibility. And Mac OS X was renamed to just OS X recently, to further complicate listing compatible OSs. Also, in your original comment, you forgot to mention Sun Solaris and BSD ;)

Well, I didn't forget, but you gotta draw the line somewhere! Linux is already a "small" market (by percent of non-servers, anyway). Solaris and BSD are now a very tiny fraction of what Linux is.... so small that you might never meet someone who uses either.

Only works for books and not magazines :-(

Shouldn't it be compatible with Windows and Mac? After all both computers happen to be personal computers and therefore the term PC ought to include MS-Windows, MacOS, & Linux based computers...... :-)

A person after my own heart. I can't stand the term "PC", it is totally meaningless. Do they mean X86 machine? MS-Windows? What about some other OS on an X86 machine? What about MS-Windows on a non-X86 machine? Or do they mean "Personal Computer" as in it is personal? So is my home Xoom a personal computer? Is a computer at work a personal computer? What about a multiuser computer- can that be a PC? Or what about a shared/public computer? Etc...

Do we get to choose the free books?

Nope. Six crap handpicked bestsellers from Barnes and Noble.

Um. There has been a nook app for computers since it came out. So the statements above regarding "no desktop solution till now" should be corrected.
Android Central Newsletter
Thank you for signing up to Android Central. You will receive a verification email shortly.
There was a problem. Please refresh the page and try again.