Archos releases Android-powered GamePad for €149.99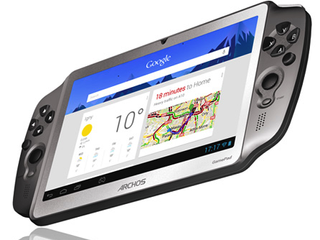 Archos announced back at the end of August an interesting product it called the GamePad. The idea was the make an Android tablet that was very gaming-focused, with a full host of physical gaming controls flanking the screen (much like a PSP or PS Vita). When it was announced, it seemed to be written off as a concept device that wouldn't make it to market. Well, here we are just three months later and the GamePad is going on sale in Europe for just €149.99.
The device has a 7-inch 1024x600 display between those controls, and is powered by a 1.6GHz dual-core processor with a Mali 400 MP GPU. The device has 8GB of internal storage (expandable by SDcard) and is running Android 4.1 Jelly Bean. The press images are flattering for sure, but the device really is quite thin at just 10mm.
The device is on sale now in Europe and is expected to hit the U.S. in Q1 2013 according to Archos. More info can be found at the source link and in the press release below.
Source: Archos
ARCHOS GamePad Available
The first true Android games console, the ARCHOS GamePad combines powerful tablet hardware with revolutionary gaming software
Denver, CO – December 6, 2012 - ARCHOS, announces the retail availability of the highly anticipated GamePad, a new type of tablet that combines physical gaming button controls and an ARCHOS patented mapping tool with a full AndroidTM-powered tablet experience. Bringing physical buttons and analog thumb-sticks to mobile gaming, the ARCHOS GamePad blends power with unique mapping software that allows you to link the virtual controls of any game to physical controls. A thin and light Android 4.1 Jelly Bean device, the GamePad also features full access to Google PlayTM and Google Mobile Services and is now available in Europe for 149.99€ with a North American release scheduled for early Q1 2013.
"Android device users spend more than 9 hours a month gaming on their devices and yet are not completely satisfied with the touch-screen experience," says Henri Crohas, Founder and CEO of ARCHOS. "We feel this area of gaming is proven and will continue to grow. With the introduction of the GamePad we are uniquely positioned to feed the demand of gamers who want a better gaming experience on a tablet."
By combining the GamePad's 14 physical buttons and dual analog thumb-sticks with the revolutionary ARCHOS game mapping tool (exclusive to ARCHOS), the GamePad brings the physical aspect back to the gaming experience. Adding to the experience is the 16 million color, seven inch, five point capacitive, 1024 x 600 pixel screen. At only 10 mm (0.3 inch) thin and with a weight of 330g (0.7 lbs), the ARCHOS GamePad is the perfect on the go gaming console.
REVOLUTIONARY MAPPING TOOL
Thanks to the revolutionary ARCHOS mapping tool, even back catalog games that weren't made for physical controls can work with the physical controls of the ARCHOS GamePad; 'map' any on-screen virtual control to the physical controls of the GamePad for hundreds of games within the tool or use its drag-and-drop interface to 'map' any game in seconds.
Check out our YouTube video showing how easy it is to use: HOW TO MAP BUTTONS
The mapping profile for each game is automatically saved so whenever that game is launched in the future, the ARCHOS game mapping tool will automatically load the corresponding mapping profile.
FEATURES & SPECS
Operating System: Google Certified Android 4.1 Jelly Bean
Smooth Gaming Experience with 3D Graphics: Quad-core Mali 400 MP GPU paired with a 1.6GHz Dual-core CPU.
Memory: 8GB of internal memory with microSD slot or up to 64GB of additional space.
Mini-HDMI: Use the mini-HDMI port to connect the GamePad to your TV for a big screen viewing experience.
Google PlayTM: 700,000 apps and games and includes DRM support for downloading books, magazines, music, movies and TV shows.
ARCHOS Media Center applications: tailor made apps for video and music that include metadata scraping, auto-subtitles and of course, the best format and codec support around including 1080p video decoding.
For more information about GamePad visit www.ARCHOS.com.
ATTENTION DEVELOPERS
Developers interested in getting their current and upcoming games mapped for the ARCHOS GamePad can contact GamePad@archos.com.
ABOUT ARCHOS
ARCHOS, pioneer in the portable audio and video player market, and now specializing in Android Tablets, has repeatedly revolutionized the market for consumer electronics since 1988. Today, ARCHOS offers Android Tablets, Tablet PCs and MP3/MP4 players. In 2000, ARCHOS launched the Jukebox 6000, the first MP3 player combined with a hard disk. Then in 2003 ARCHOS introduced the first portable multimedia players with TV recording. In 2006 Wi-Fi is implemented and then touch screens in 2007. In 2008, ARCHOS launched the first generation Internet Tablets, and then the first ever Android powered tablets in 2009. ARCHOS has offices in the United States, Europe and Asia. ARCHOS is quoted on Compartment B of Eurolist, Euronext Paris, ISIN CodeFR0000182479. Website: www.archos.com.
Get the Android Central Newsletter
Instant access to breaking news, the hottest reviews, great deals and helpful tips.
Andrew was an Executive Editor, U.S. at Android Central between 2012 and 2020.
Any chance of you guys doing a review on this at some point?

I can't lie - this is the Android device I'm most excited to see hit the market. I think it has a ton of market potential. We'll see. I wish they would have it in the US though... soon enough, I guess.

Almost the same layout as that $49.99 MOGA controller. Hmmmmm......?
(-$100)

A non-crappy version of the Wii U? Yes please!

Call me when this thing can run Arkham City at 30fps(which isn't great) without dropping resolution, texture quality, and compressing audio.

Not even slightly comparable.

I hope this is as good as the press photos make it look, but I have my doubts. I also hope that there is some software to help increase the compatibility of the gamepad controls. Cautiously optimistic.

If you look at it - Archos has control mapping so you can use it with just about every game on the market right now, or that is what the videos they have put up show.

I guess my only complaint would be resolution, 720p would have been nice, but probably not able to hit that price point. This might be a tablet worth buying.

I have to wonder how well it will work with xbox smartglass. Or if it could use bluetooth to act as a ps3 controller. The screen being so low res is disappointing though, might actually be lower than the ipad mini.

I'd like to play Horn on this or Dead Trigger. I mean there are some games I wish I had physical buttons for. I'm interested on a review for sure! ALEX!!

Considering that I often use my Kindle Fire (rooted w/ JB installed) as a portable gaming device, I am very excited to see this. The resolution is the same as that Kindle, so it'll be okay although I wish it was 720p. If the Kindle can handle everything I throw at it, imagine what the GamePad could do with a faster processor and that Mali GPU?!! The only questions I have are about memory size, bluetooth, GPS, and camera(s). If this ends up checking most of those boxes then this will be a must buy, and the first true death knell for dedicated portable gaming consoles.

I kind of wish it was more the size of the Note 2. Then it would be more portable for me. I use an Xperia Play right now without a data plan as a wifi only gaming device and it works great but the stronger internals and a slightly larger/better screen would be nice but a tablet with controls on the side, even a 7 incher, would be a little large for my portable needs. At home I use a Nexus 7 with an iControlpad and it is quite nice. Also, I am surprised there is only a render of it. Are there any actual pictures of it since it is apparently out.

Archos website has it in pictures and videos.

Great emulation device! Basically what I've been hoping for... a PSP with android!

But what CPU does it ACTUALLY have? The ghz and the core numbers says nothing at all.

Could be a ST-Ericsson Nova, but don't know if there is a 1.6Ghz variant. Same for Exynos 4. The NuSmart 2816 and Rockchip RK3066 both come with 1.6Ghz as a supported clock speed, so it's probably one of them. Edit: Actually Archos has used Rockchip before, so RK3066 is almost definitely the chip here.

"expected to hit the U.S. in Q1 2013" Too late for xmas 2012 and outdated by xmas 2013. So, another Archos device that never actually manages to become popular.

My experience with Archos over the past 6 years is this: Revolutionary products, horrible build quality. I would love to see them succeed, because they always make the products I can't live without. Problem is, I can't get their products to last more than one year. Hope this is different.