Adobe Flash 10.3 available in the Android Market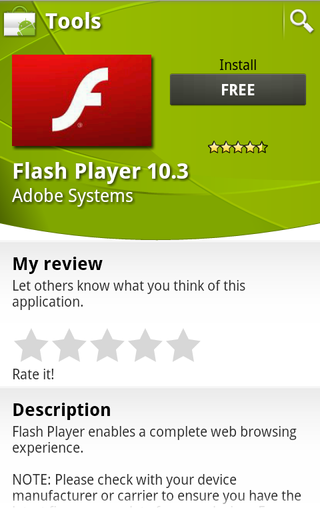 Adobe Flash 10.3 has been released into the wild, and is now available for download in the Android Market. This update bumps Flash up to version 10.3.185.21, and after sifting through the changelog, it's safe to say the release is comprised mostly of bug fixes. Flash 10.3 is available for Froyo, Gingerbread, and Honeycomb 3.0 and 3.1 users, and you can grab it from the Market after the break. Hit the source link for the official changelog with a full list of fixes -- or the shortened version after the break is also available.
Source: Adobe
Flash Player 10.3 for Android Release Notes
Welcome to Adobe Flash Player 10.3 software! This document is for users installing Flash Player 10.3 on devices and for developers creating content for Flash Player 10.3. It addresses issues that are not discussed in the Flash Professional or Flex documentation. This document may be updated periodically for updated releases, and as more information becomes available.
Read these Release Notes carefully before downloading Flash Player 10.3 for Android.
The current build number for Flash Player 10.3 for Android 2.2 and above is 10.3.185.21. Flash Player 10.3 is a production GA (General Availability) release for Android 2.2 (Froyo), 2.3 (Gingerbread), and Android 3.01 (Honeycomb) devices.
Table of Contents

System Requirements
System Requirements

For current Flash Player system requirements, visit http://www.adobe.com/products/flashplayer/systemreqs/index.html#mobile.
To view a list of certified devices, visit https://www.adobe.com/products/flashruntimes.html
Features and Enhancements

Flash Player 10.3 is the newest runtime release of the Open Screen Project that enables uncompromised Web browsing of expressive applications, content and video across devices. For a general overview of new features and enhancements, visit the Flash Player 10.3 Desktop release notes: http://kb2.adobe.com/cps/901/cpsid_90194.html.
Fixes and Enhancements in Flash Player 10.3.185.21
Adobe Flash Player 10.3.185.21 includes security enhancements described in Security Bulletin APSB11-12.
Fixes and Enhancements
Enabled NEON optimizations for OMAP4 (Cortex A-9) based devices. (2853030)
Corrected an issue on the Samsung Galaxy S where H.264 video at resolutions of 720p and below was not displayed. (2852889)
Android Apps using Browser Plug-ins like Flash Player in WebView no longer need to set android:hardwareAcceleration to True in their AndroidMainfest.xml for plug-in output to be rendered. This was previously an issue on Android 3.0+ only. (2834793)
Fixed a crash on the HTC EVO that some users encountered with specific video. (2855425)
Fixed an issue that caused video frames to stop rendering on long streaming videos (> 1 hour) on some Motorola devices. (2855957)
Known Issues and Limitations

This section documents known issues and limitations specific to Android. For additional information on known issues and limitations for Flash Player 10.3, visit the release notes. [http://kb2.adobe.com/cps/901/cpsid_90194.html]
Audio/Video:
A driver bug on the AT&T version of the Samsung Galaxy Tab disables Hardware Video Decoding. (2867155)
When playing multiple H.264 videos simultaneously on the Nexus One, only the first video will use the hardware decoder. All other instances will be decoded in software. (2824867)
A problem with some firmware versions on the HTC Desire and HTC Desire HD can cause video playback to hang when changing between Full-Screen and Embedded mode. (2834740)
A recent firmware update to the CDMA version of Samsung Galaxy Tab (Model: SCH-I800) breaks RTMP video playback. (2851870)
When resuming video playback from sleep mode, the frames in the video buffer are rendered rapidly until the video catches up with the audio stream. (2856597)
Due to a limitation in the power management APIs in Android, streaming video will continue to play audio while the device is in sleep mode. (2856595)
Browser Integration:
An Nvidia driver bug on the Motorola Xoom can cause the browser to become unresponsive if the browser is put in the background while Flash Player is in Full-Screen mode. (2851889)
Input:
On the HTC G2, flash stops responding when the keyboard is out (2847470)
Reporting Issues

Found a bug? Please send the detailed bug information via the online Adobe Bug and Issue Management System
SWF-based H.264 video may be decoded by your graphics hardware. There may be video bugs that can only be reproduced with your particular video card and driver. When reporting a bug involving video, it is essential to note your graphics card and driver, along with your operating system and browser, so that we can reproduce and investigate issues. Please be sure to include this information as described in Instructions for Reporting Video Bugs.
Note: Due to the high volume of email we receive, we are unable to respond to every request.
Thank you for using Adobe Flash Player and for taking the time to send us your feedback!
Sign up for Black Friday email alerts!
Get the hottest deals available in your inbox plus news, reviews, opinion, analysis and more from the Android Central team.