You can use the Nexus 6P in Daydream, but you really shouldn't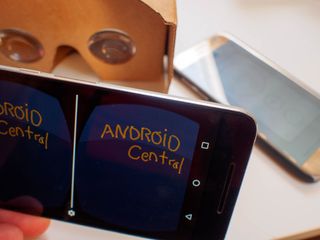 Google has not been at all shy about whether the Nexus 6P is a good phone to use in their new Daydream headset. The big warning on the side of the Google Developers site letting you know this phone is only useful as a development model for future Daydream products should be enough. On the other hand, if all you have is a Nexus 6P and you want to see what you're missing out on, Google didn't work too hard to stop you from trying.
You don't actually need the Daydream View headset and controller, but it certainly helps. Much like the Daydream demo Google unveiled back at I/O, all you really need is a pair of phones and simple Cardboard headset. The Daydream app can be sideloaded onto your primary phone, and Google's Daydream Controller Emulator can be installed on the second phone if you don't have a View. Daydream will start up and give you access to all of the same things you'll get on the Pixel and Pixel XL. If it sounds clumsy, that's because it is.
You're only going to get about 5 minutes into Daydream on the Nexus 6P before performance takes a hit. The phone will overheat, the processor will slow down to compensate, and the apps and VR motions will stutter. This isn't just a bad experience from a visual experience, it's one of the fastest ways to experience nausea through VR. a consistent framerate and accurate head tracking are two of the most important parts of a successful VR experience, and Daydream on the 6P guarantees neither of these things.
So like I said, it's possible to take a look but you probably shouldn't.
Get the Android Central Newsletter
Instant access to breaking news, the hottest reviews, great deals and helpful tips.