US Cellular launches Wi-Fi Now app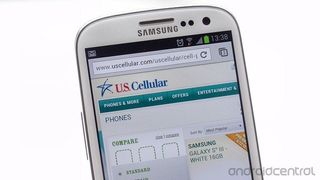 U.S. Cellular is taking steps to help its customers find public Wi-Fi hotspots when they're out of the house by launching their own Wi-Fi Now app. The app, which is available for download from the Google Play Store (and soon Amazon App Store) for current customers, runs on the device and will automatically connect to known good Wi-Fi access points. The app can also be configured to automatically connect to Wi-Fi at home after manually entering the connection information. U.S. Cellular also states that it will be loading the Wi-Fi Now app on all Android devices it sells from this point forward. If you're willing, using an app like this can really help cut down your monthly data usage.
Compared to having a persistent Wi-Fi button in your notification bar bugging you all day like some recent Verizon and AT&T devices, we think that U.S. Cellular has a better approach here. Giving the user the choice on whether or not to automatically connect is a good thing.
Take a look at the full press release after the break.
U.S. CELLULAR LAUNCHES FREE "WI-FI NOW" APP
Devicescape app helps customers seamlessly connect to Wi-Fi hotspots to manage data usage
CHICAGO (September 13, 2012) – With millions of Wi-Fi hotspots available across the country, it is becoming easier for smartphone and tablet users to stream a baseball game or download important documents while managing their data usage. U.S. Cellular has worked with Devicescape, a leader in Wi-Fi offloading services, to simplify the process even more with the launch of Wi-Fi Now, a free app that allows customers to easily connect to Wi-Fi hotspots wherever they are.
Customers can use fast Wi-Fi Internet connections on their smartphones and tablets in their home, hotels or favorite coffee shops and not worry about using their data plan allotment. Wi-Fi Now detects and automatically connects U.S. Cellular customers to the Wi-Fi hotspot, making a seamless transition from the cellular network to Wi-Fi.
"Wi-Fi Now complements our high-speed nationwide network and allows customers to easily get the data they want when they need it," said Edward Perez, vice president of sales and marketing operations for U.S. Cellular. "Our goal is to create a better wireless experience and with the surge in demand for more data, this free app will help customers manage their usage and save money."
U.S. Cellular customers can download the free app from the Google Play store on their Android-powered device, such as the Samsung Galaxy S III or Samsung Galaxy Tab 10.1, and it will be available soon on the U.S. Cellular shelf in the Amazon App Store. It will also be preloaded on future U.S. Cellular Android-powered devices. The app prompts users to add their own home Wi-Fi networks and automatically connects them to quality public hotspots when they are available.
In addition to Wi-Fi Now, U.S. Cellular provides additional resources for customers so they can personally manage and monitor their data usage and help ensure they are on the right plan for their needs. These tools include a data estimator on its website, data tracking on My Account, a web page dedicated to helping customers manage their data usage and recently launched data overage alerts to go along with the company's free Overage Protection program for voice and messaging.
To say hello to a better wireless relationship, visit any U.S. Cellular store, go to uscellular.com or check out U.S. Cellular on Facebook.
About U.S. Cellular
U.S. Cellular rewards its customers with unmatched benefits and industry-leading innovations designed to elevate the customer experience. The Chicago-based carrier has a strong line-up of cutting-edge devices that are all backed by its high-speed nationwide network that has the highest call quality of any national carrier. Currently, 31 percent of customers have access to 4G LTE speeds and 58 percent will have access by the end of 2012. U.S. Cellular was named a J.D. Power and Associates Customer Service Champion in 2012 for the second year in a row. To learn more about U.S. Cellular, visit one of its retail stores or uscellular.com. To get the latest news, promos and videos, connect with U.S. Cellular on Facebook.com/uscellular, Twitter.com/uscellular and YouTube.com/uscellularcorp.
About Devicescape
Devicescape, The Wi-Fi Offload Company™, connects more devices to more Wi-Fi hotspots than any other offload service because Devicescape manages the largest virtual network of hotspots worldwide. Devicescape, which serves mobile operators with advanced Wi-Fi solutions, is headquartered in California, privately held by leading venture capital companies including Kleiner Perkins Caufield & Byers, August Capital, JAFCO Ventures, and Enterprise Partners. Online at www.devicescape.com.
Andrew was an Executive Editor, U.S. at Android Central between 2012 and 2020.
Huh?
All the wi-fi enabled phones I've EVER owned, automatically connected to available wi-fi spots. My S3 does it all the time. What they *REALLY* need is a way to auto-answer that very annoying "user agreement" screen. Let's face it... you are going to always answer "yes" without reading the agreement... no matter what it really says.

How is this different from the normal wi-fi search on all Andriod devices? I am still running a Moto Electrify from USCC and I can easily put in the trusted wi-fi spots that I use and I can set it up to only pick up the secure on spots I approve. What would be more useful is a wi-fi map showing you the free/pay-to-play hotspots around you.

The idea is that it'll only connect to known, trusted good public WiFi hotspots that US Cellular maintains a list of. You will connect to it the first time without issue because US Cell knows it's good. And then at the same time, the phone will ignore the bad hotspots.
Android Central Newsletter
Thank you for signing up to Android Central. You will receive a verification email shortly.
There was a problem. Please refresh the page and try again.