Toshiba announces the Thrive 7" Android tablet, available in December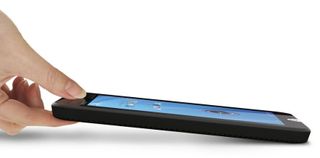 The Toshiba Thrive was one of the first 10-inch Android Honeycomb tablets with full-size port -- and it'll be joining the expanding ranks of 7-inch tablets come December.
Officially dubbed the Toshiba Thrive 7", it'll sport a 1280x800 resolution with Toshiba's Adaptive Display and Resolution+ video enhancements, stereo speakers, a 5MP rear camera and 2MP front camera, and be available in either 16- or 32-gigabytes. It'll run Android 3.2, powered by an NVIDIA Tegra 2 dual processor.
But back to the size. It'll weigh less than a pound at 14.1 ounces and is 0.47 inches thick. It's not skimping on ports, either, with miniUSB, microHDMI and a microSD card slot.
Pricing has yet to be announced. The full presser is after the break, and you can find more images here.
TOSHIBA EXPANDS TABLET FAMILY WITH NEW 7-INCH MODEL
Thrive 7" Tablet, Powered by Android, Features Brilliant Hi-Res Display in Compact, Lightweight Design for Consumers On-the-Go
IRVINE, Calif. — Sept. 27, 2011 — Toshiba's Digital Products Division (DPD), a division of Toshiba America Information Systems, Inc., today announced the addition of the Thrive™ 7" Tablet to its expanding line-up of consumer tablet devices. Featuring a brilliant hi-resolution seven-inch diagonal touch display[i], the Thrive 7" Tablet offers a complete tablet experience with entertainment-optimized features in an incredibly portable design that weighs under a pound[ii] and fits comfortably in the palm of your hand.
"This is a seven-inch tablet done right," said Carl Pinto, vice president of product development, Toshiba America Information Systems, Inc., Digital Products Division. "The Thrive 7" Tablet is the first seven-inch tablet in the U.S. market to offer a true HD display that when combined with the selection of ports, premium audio, and a better, more robust Android experience make it a great choice for on-the-go consumers looking for a no-compromise tablet."
Optimized for HD Entertainment
The Thrive 7" Tablet's LED backlit AutoBrite™ multi-touch display features a stunning 1280x800 resolution, putting bright and crisp images from movies, photos, books and games right in your hand. The tablet also incorporates Toshiba's exclusive Adaptive Display and Resolution+®[iii] video enhancement technologies. The tablet includes stereo speakers tuned with sound enhancement technologies from Toshiba and SRS® Labs that deliver richer audio in music and movies with more natural sound and enhanced clarity.
Powered by Android™ 3.2 and the NVIDIA® Tegra™ 2 platform, this tablet delivers a dual-core processor[iv] for blazing-fast performance for web browsing and multitasking, plus NVIDIA GeForce® graphics[v] for console quality gaming. A built-in Gyroscope offers hands-on motion control for the latest Android games. The tablet also includes two HD cameras: a five megapixel camera with an LED flash on the back for capturing high-quality pictures and video on the go, plus a two megapixel camera on the front for video chatting. Toshiba will offer the tablet in two configurations, 16GB or 32GB.
Compact, Lightweight Design
The Thrive 7" Tablet weighs only 0.88 pounds2 and measures just under half an inch thin (0.47 inches), allowing it to fit easily into a bag or jacket. Not just lightweight and easy to carry, the tablet is built for handheld comfort and on-the-go durability, featuring Toshiba's stylishly durable and slip-resistant Easy Grip finish.
Better Connected
Designed for continuity with other digital devices, the Thrive 7" Tablet includes a selection of built-in ports, including Mini USB, Micro HDMI® and a Micro SD card slot, giving consumers the ability to easily sync and share their content. The tablet also includes Toshiba's exclusive File Manager utility that gives users the power to easily move and manage files.
Offering convenient Wi-Fi® and Bluetooth® connectivity, the Thrive 7" Tablet delivers all the essentials needed to stay connected at home or away. Users can browse the web with Adobe® Flash™ support, take advantage of maps and location-based apps with integrated GPS and enjoy the full suite of popular Google™ Mobile Service applications and Android apps via the Android Market™.
Availability
The Thrive 7" Tablet will be available in December at major U.S. retailers, e-tailers and ToshibaDirect.com.
Very nice... Can't imagine it'll be cheap with those specs, though. High-end 7" tablets are going to be a tough market to crack with so many $250 options (*coughAMAZONcough*) out there.

Amazon tablet.. no Google Market access out of the box will make it fail for regular people.

Right! Also, I read online that the Amazon customized Android O/S is based on 2.1 (Eclair). It will not have access to your typical every day Android app (GMail, Maps, etc.) and will not have any cameras. It's more of an advanced ebook reader like the Nook Color. The latter is supposed to be upgraded with a dual-core processor soon so users may want to hold off from the Amazon Kindle Fire... love the name though.

Dec there will b some ice cremation sandwich yea

Price is key here or it will be a FAIL!

The 10 inch Thrive is going for $399. What makes you think this will be $300 more?

That's a massive resolution for a 7 inch screen. I wonder how much it costs.

that's the bbw of tablets! that thing is chunky....

Actually, yes. Yes, it is. According to Amazon, the Galaxy Tab 10.1 is .3 inches thick and the Transformer is around .5 inches thick. Relatively speaking, .5 is still quite thick.

"Relatively speaking, .5 is still quite thick." That's what you wish she said.

Nahh ill wait for the samsung Amoled 7" tab

Given that the 10-inch Thrive isn't doing well in the market, I can't see how a seven-inch version will do much better. Just ask RIM how badly people wanted a tablet with less screen area.

I think that was more because the Playbook didn't even have a native email app... Oh, and the ridiculous price point. Wouldn't buy this either though. I think the Samsung 7.7 is worth the wait if you want quality.

umm... come on Toshiba... be more creative than that? jeez.... http://blog.phoneslimited.co.uk/files/2011/03/ipad-2-ad.jpg

haha wow, now THAT is blatant copying.

I just bought the 10.1-inch model and I'm not regretting it. But good for people who want a smaller screen. The more options, the merrier.

i cant see this being more than 250. the 10 inch is $380 for the 8gb.

This looks cleaner than the 10" thrive. We need more pictures. But this, the HTC Flyer, and the Samsung Galaxy Tab 7.0 Plus might be the small tablets to watch this Christmas shopping season.
Android Central Newsletter
Thank you for signing up to Android Central. You will receive a verification email shortly.
There was a problem. Please refresh the page and try again.