This discounted Apeman Dual Dash Cam will back up your insurance claims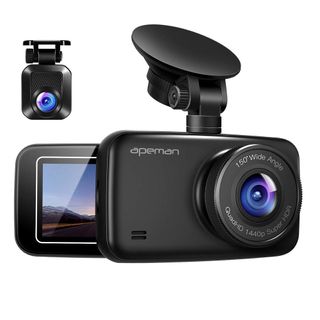 Update: This deal just got much, much better. You can now add this second dash cam (opens in new tab) to your cart and it will become free with purchase of the dash cam below! It's not as fully-featured, but it's still highly rated... and free! Using the promo code still works to save $20 too.
In the checklist of everything you need in your car, I'd argue that a dash cam is at the top. Luckily you can use code 4BM4Y7OJ to score $20 off the Apeman 1080p Dual Dash Cam (opens in new tab) via Amazon. Today's deal beats any other we've seen for this product.
Dash to the Deal
(opens in new tab)
Apeman 1080p Dual Dash Cam

Every driver should have one of these, and today's price is the lowest we've seen yet.
$80 $100 $20 Off
Let's just say that you're the vicim of a hit-and-run, and you don't have the time or wherewithal to catch the culprit's plates. Or some ne'er-do-well decides to egg your car and slash your tires, but your insurance just kicked in and you're worried it will look fraudulent. Or you're turning through an intersection, someone speeds through a stop sign and totals your car, and says the accident is your fault. All of those scenarios are plausible, and all of them are examples of why a dash cam is essential.
This specific model features two lenses, one for the front view and one for the rear. Both record in 1080p for high definition, at a 150-degree angle for a clear view. It also has a built-in G-sensor to automatically detect a shake or collision, and if that ever happens, the camera automatically starts recording. While footage is automatically overwritten once the camera's memory is full, those G-sensor files are always locked until you delete them. You'll want to supply a microSD card (opens in new tab) to ensure that your camera has enough space to record and save what it sees. Your purchased includes a one-year warranty.
Louryn saves money on everything she buys (which is a lot.) In between waiting for Amazon deliveries, she pines for the next Elder Scrolls installment and checks Reddit for gaming rumors. She also loves Hearthstone, makeup, and beer. Find her on Twitter: @lourynstrampe
Android Central Newsletter
Get the best of Android Central in in your inbox, every day!
Thank you for signing up to Android Central. You will receive a verification email shortly.
There was a problem. Please refresh the page and try again.