Retailers are not waiting around for Black Friday to hit this year. We're seeing some insane price drops already in many product categories, including smart home security. Take the Eufy eufyCam E Wireless Home Security Camera System for example. This one-camera kit usually sells for $229.99 at Amazon, but using promo code EUFY86CM during checkout drops its price to just $129.99 for a limited time. That saves you $100 and brings this kit lower than it's ever reached otherwise.
To give you an idea of how great this deal is, consider that the system above comes with one camera and the required Base Station which connects to Wi-Fi and other cameras you might buy in the future. Just the camera alone normally sells for $179.99 if you were to purchase one separately; today's deal saves you $50 off that cost and also scores you the Base Station in the process.
Secure These Savings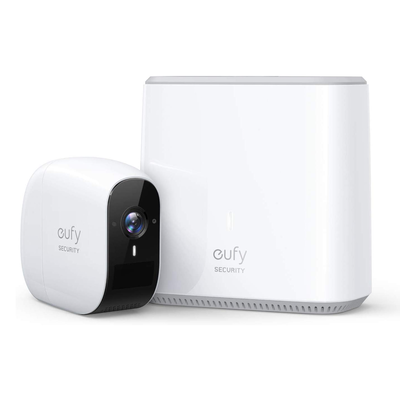 This 1080p wireless security camera system lets you view its live stream using an app on your phone or tablet. Plus, the weather-proof camera is suitable for use both indoors and outside and comes with mounting hardware.
$129.99 $229.99 $100 off
For those looking for a home security system with cameras that are suitable for both indoor and outdoor use, look no further than the eufyCam E. This wireless security system features an IP65 weatherproof-rated camera that can run for a full 365 days on a single charge, and up to three years in Standby Mode. It records in 1080p too and lets you watch live footage using an app on your phone. With the single add-on camera priced at $180, this isn't exactly an inexpensive system to get into, but today's deal is one of the most affordable entry points in history.
There are no monthly fees to worry about to use the cameras and the EufySecurity app, though you do have the option of purchasing cloud storage to save recordings. Alternatively, a 16GB microSD card is included with today's purchase which can store up to a year of recordings on its own. Eufy also includes a magnetic indoor mount and secure outdoor mount with the two-cam kit.
Have an Amazon Alexa device with a screen? You can even view the camera's live video feed right on devices like the Echo Show 5.
We may earn a commission for purchases using our links. Learn more.