Slacker Radio celebrates Lollapalooza 2012 with dedicated station and contest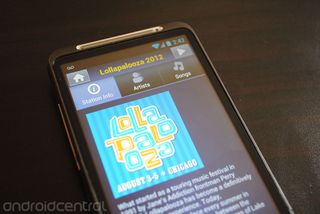 The stages will soon be set for Lollapalooza 2012, and to help kick things off the folks from Slacker have now launched their Lollapalooza 2012 radio station. Featuring headlining artists including Red Hot Chili Peppers, The Black Keys, Black Sabbath, Jack White, Florence + The Machine, At The Drive In and exclusive content just for Slacker, it's the perfect way to get yourself amped up for the event if you're attending or if you're not, you can still enjoy all the great content.
If you're already a Slacker Radio user you'll find the station under "Festivals/Events". If you're not a Slacker user, you can hit the break to get it loaded up. Plus, to celebrate the launch, Slacker is giving music fans the chance to win a VIP trip for two to Lollapalooza, airfare and hotel included - you can visit Slacker's Facebook page to enter to win.
Android Central Newsletter
Thank you for signing up to Android Central. You will receive a verification email shortly.
There was a problem. Please refresh the page and try again.