Round 'LG G Watch R' teased ahead of IFA unveiling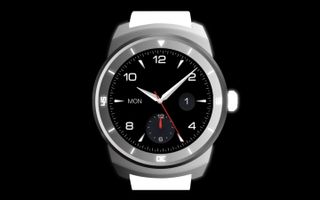 Teaser video gives us the quickest of glimpses at LG's next smartwatch
We've heard rumors from the Korean press in the past week that LG may be about to unveil a new wearable at IFA 2014, and now it seems we have conclusive proof. The official LG teaser video below makes it pretty clear that the company will indeed show off a new smartwatch at the Berlin trade show in just over a week. The "LG G Watch R teaser comes to us courtesy of LG's global YouTube channel, showcasing (in super-fast, blink-and-you'll-miss-it flashes) a rounded design, a side-mounted button and features like a step counter and compass. And rounded bends, whatever that means.
An IFA unveiling would pit the LG G Watch R against the Moto 360, as well as ASUS' new smartwatch — not to mention Apple's rumored iWatch. It also represents an incredibly quick turnaround from the company's first G Watch, launched in early July and powered by Android Wear; right now it's unclear whether this new watch might see the original being positioned as more of a budget offering, or if a replacement is on the cards already.
In any case, we'll be live from Berlin in early September to bring you full coverage of LG's new rounded smartwatch. Thoughts or speculations of your own? Share 'em down in the comments.
Source: LG YouTube; via: Engadget
Get the Android Central Newsletter
Instant access to breaking news, the hottest reviews, great deals and helpful tips.
Alex was with Android Central for over a decade, producing written and video content for the site, and served as global Executive Editor from 2016 to 2022.
Still no ambient light sensor? :p Nice that it at least looks like a proper watch, let's hope it brings their abilities, too. I'd never get a splash resistant watch like the ones that are out now.

That is one vague and hideous rendering. Posted via Android Central App

Honestly it's nice to see that more watches arrive to the game, but I think it's kind of a dick move of LG to premiere a new watch right after the last one...

I really don't get that complaint. Especially when they want to take business away from the established watch makers. It's not like Casio or Citizen only release one model per year. People has different tastes, let them buy different products and keep that herd mentality for the Apple fans.

Unless he paid for the first LG watch already.....

No, not unless that. That's the herd mentality I really don't mind seeing these companies throwing out the window. Especially with something like wrist watches, which are a lot more individual than a phone as they're visible all the time.

This is a very good thing, we need more choice in products these days, not less. Posted via Android Central App

This is not the smarphone business. Companies can and will come out with multiple watches every year.

How do you think us OG Gear owners feel.... Posted via Android Central App

If you bought the LG watch, good for you. If enough sold for LG to keep their feet planted in the smartwatch space then its good for all of us. If you wait to buy a laptop always looking for the next thing, then you'll never buy.

This Posted via the Android Central App

You bought a watch with a freaking camera wart on it... You get what you deserve. Posted via Android Central App

None of the android wear watches have cameras. Posted via Android Central App

The Galaxy Gear does, he bought an original Gear, which is the Galaxy Gear. Posted via Android Central App

Galaxy Gear isn't an Android Wear watch....

Nobody is arguing that it is... Posted via the Android Central App

By OG Gear watch, he meant the OG Galaxy Gear watch. It does in fact have a camera and was featured in a couple cheese commercials where people took pictures with it.

How will this new watch diminish the functionality of the original G watch? Posted via Android Central App

It doesnt. People who were early adopters of Android Wear are just having buyers remorse and are sorry they bought so early while only 2 watches were available. To say any company can only release one watch per year is foolish and ignorant. Unless of course they are Apple. Because Apple knows what everyone wants, and everyone wants the SAME thing. So expect that apple will come out with one watch per year. Posted via Android Central App on the Moto X

My G Watch will suit me just fine. With the kick ass band I have on it, it looks better then this round ones would anyways. I will sell it and reup if I feel there's one that I must have. Pretty simple. Posted via Android Central App

Anyone who buys nice watches will not have a problem with new releases. I plan on having more than one. Posted via Android Central App

Exactly. People bought the G Watch knowing exactly what it was, and more watches would inevitably be released. That's part of the cost of early adoption. Posted via the Android Central App

I don't understand how it would. Different watches for different styles. I would get both. The square sporty one for more casual things and going to the gym, and the round metallic one for a more dressy style. It is a match man. All watch makers have different models for different styles.

Yeah right because if I buy a product they shouldn't release another one soon? We all knew that smarwatches is a new market and we will see quick iterations for a year or two. And companies like LG, Samsung are know to throw stuff and see what sticks. Posted via the Android Central App

Well that would be HIS problem at being an early adoptor. You live with the choices you make when jumping on something that's brand new like this.

I don't understand why it is a dick move. It is a different watch with a different style. Some will prefer the square one, and others will prefer a metallic round one. I can see the square one for a more sporty look and the round metallic one for something more dressy. By your logic, it is a dick move for anyone to release multiple things with different styles for different tastes or occasions.

Unfortunately, early adopters run that risk of being disappointed in some way. LG has to do something to compete with the buzz of the Moto 360. But your point is duly noted.

I'm rather getting the g watch or 360 gna wait now for the g watch to go down Posted via Android Central App

This might make me wait on the Moto 360. I'll really have to see both but I love my G3 and my love for LG as a company is growing every day. I guess we'll see. Posted with my LG G3.

Love the minimalistic look it has. Hope it's cheap. :-) Posted via Android Central App on my LG G2

That is hardly minimalistic compared to the Moto 360.

Yup. If he thinks this is minimalist, he doesn't know what the word means. Posted via Android Central App

If there ever an iwatch..... Posted via the Android Central App

Nobody cares about the iwatch Posted via Android Central App

Yes you are absolutely correct... Lol Posted via the Android Central App

Except the millions of people that own an iPhone. My AC App signature lacks a witty comment.

Even iPhone users know the smartwatches aren't exactly necessary we they already have smartphones. Posted via Android Central App

It will suddenly become a necessity when apple brings one to the market. Although, at the pace they move now, Smartwatches would already be on the wrists of most people anyway. Posted via Android Central App

Polls show very little interest in the iWatch despite Wall St's optimism. http://www.valuewalk.com/2014/06/apple-iwatch-survey/ Nice jab at 360 LG with the true circle, still going to be tough to beat its design. Looking forward to Sept Posted via Android Central App

Thank you sir. Posted with my LG G3.

OMG! OMG! OMG! OMG! Hoozah! ka-plunk! :)

https://www.youtube.com/watch?v=yzLncSb--vc

Bronyxus? Posted via Android Central App

All aboard the Hype Train! CHOO CHOO!! Seriously, I'm glad that there will be choices for people. Nothing drives innovation like competition.

"Perfect Circle"...shots fired.

Yes, I thought that was cute. No missing little section on the bottom of THEIR display, apparently.

Yes just some big-ass bezels instead. Thing looks massive! Posted via Android Central App

Looks like a watch. Not just a circle thing with a screen (which is also pretty large) ;-) Posted via Android Central App

True! It is hard to tell from the "rendering" if that ring of numbers with the triangle on top is part of the display or not. That would make a huge difference in usable screen size and such. If it is not, that is going to be either one really huge watch or one rather small screen.

My thoughts exactly! Posted via Android Central App- Via HTC One

I think they meant "Fill" the gap.

If it actually looks like the render I'll be impressed. The 360 was so underwhelming when I actually saw the real deal with that black bar at the bottom.

The black bar at the bottom is actually a deal breaker for me Posted via Android Central App

If the connections for the screen are a deal breaker for you, then you're an idiot. Posted via Android Central App

If he knows what he wants and the design is off to him, so be it. You're an idiot for stepping on other's standards.. Posted via Android Central App

He's an idiot for not understanding the technical requirements of a piece of technology. Posted via Android Central App

Who said he doesn't it? Maybe it just annoys him that it's not a full circle? I bet if Apple releases a smartwatch, it would haven't that black bar at the bottom either. They will eventually find a way.

It's pretty understandable that he knows the black bar is necessary, but he doesn't like the aesthetic look of it. Brendilon, you need to stop acting like everyone here is an idiot and stop being so damn offensive to others. Posted via the OnePlus One

Are you saying it is impossible to make a fully round screen? Take a look at the Nest. Posted via Android Central App- Via HTC One

It's obviously not a requirement if their competitor figured out how to make a full round screened watch.

It's necessary if you want to have "zero" bezels. Here, LG is probably putting that part in the housing were the band connects or something.

It's bland and ugly. The render gave me so much false hope. I hope Sony can bring something to the table just bought their z2 and its beautifully made. Posted via the Android Central App

It looks ugly to me. Just my 2¢. nexus_logic - Working on his HTC One Max in the Nexus Lab

I love choices. thanks Android Wear. Looks like I won't have to buy a 360 after all. Posted via Android Central App

So, either the screen is a lot smaller than the Moto 360, or the whole watch is a lot bigger.

Neither of which is a good thing. Posted via Android Central App

Well, it is rounded but it has the (fairly large) flanges on it, whereas the Moto version is purely round. The flanges can certainly make extra room for the electronics and keep away the "black bar issue", but it sort of misses the point of what Moto is doing. That said, I do think it looks nicer than their original offering. The original wasn't bad, and I cannot criticize square too much as I currently wear a Sony SW2 for my daily driver smart watch, but this new one is "better". No mention though if it is Android Wear based or something else. Probably AW as they already have experience with that, but one never knows until the real deal arrives. I still plan to get the Moto360 though, and am also waiting the delivery of my Kairos.

Better because of a render? Do tell why.. Posted via Android Central App

"Oh, come on!" - Arrested Development Posted via my Nexus 5 in the Android Central App

AD ftw!! Kaw ka kaw Posted via Android Central App

I actually like the 360's chin. Gives the light sensor a home & a bottom for notification cards. This round G watch is interesting. LG will have to make a strong case for it (price, battery) Posted via Android Central App

The more choices the better. I love my pebble, but voice commands for texting while driving are a feature I want!

hey something good coming out of IFA Posted via the Android Central App

I feel bad for Motorola now. They spent so many months building hype only for LG to take it away. It will only get worse once ASUS and HTC release their watches. They will all undercut Moto. Posted via Android Central App

I was gonna say something like this but you beat me to it. It is their own damn fault for waiting so I do not feel all that bad

Yeah, that is a bit annoying/sad. But that is the way of business. Motorola is waiting too long to release, their competitors see the huge pent-up demand for round, and bam. We all knew Motorola was not going to be the only one with a round watch. If widely shared and promoted by LG before Motorola gets the 360 shipping, it is likely to take a lot of the wind out of Motorola's sails.

Oh, let me add that this was a somewhat risky move for LG to make.... because it not only could cut into potential 360 sales, it can and will have the immediate effect of people not buying the "old" LG watch... so those sales will take a nosedive. And postponing those consumers' purchasing won't necessarily be a slam dunk for LG, we don't know how many will still choose the buy the 360, anyway.

Impatient early adopters are voluntary lab rats. Lab rats are a necessity for research and development.

I don't feel bad for them, it's the price that's paid for playing games. There's nothing wrong with generating a little hype, but at this point they're oneplusing people. Just launch the damn product. Posted via Android Central App

This makes me wonder how long the G watch was in development. however the fact that more people are jumping on this sweet Android Wear bandwagon means more choice and better watches for us...
I'm going to wait until after Christmas see what there is and what sales i can find then... Posted via Android Central App

What, no gap at the bottom?? I remember folks saying that Moto did not have a choice, there HAD to be a gap :)

For the light sensor, this might not have one. Still I loved the subtle jab at the 360 in the teaser

You can have a gap at the bottom or the sizable bezel around the entire edge of the LG R. I choose edge to edge screen of the 360.

Hurray for someone who understands how these things work! Posted via Android Central App

Thank you for acknowledging that! I try really hard! :D

Well then I guess it's time I invested in a new watch Posted via Android Central App

The thing that is confusing, is there was no mention of Android Wear. All I saw was a digital watch, so assuming absolutely nothing, LG is trying to sell me a digital watch.....I'll stick to my $20 Timex and wait for Asus, HTC, or the 360. Maybe not the best marketing preview by LG, for a random somebody who knows nothing about the new smart watch fad, they would not get the point.

You're aware this was on Engadget? Not exactly the place Average Joe that's looking for a digital watch would go.

And as we all know, teaser videos always reveal every single detail about products...smdh

Why would it have to be a "replacement" for the G Watch? Why can't LG have two watches? Posted via Android Central App

IMO, this watch looks more like a man's watch. The Moto 360 looks like a woman's watch. The 360 looks like a watch Kim Kardashian would wear. I'll probably stick with my Pebble steel for a while. Posted via the Android Central App

So the 360 looks like a watch a whore would wear? Posted via Android Central App

She's famous for a sex tape... Do the math Posted via Android Central App

wtf was that Posted via the OnePlus One

No ugly wart at the bottom. And it looks like a watch. Starting to get really interesting. Gen 2 came faster than I thought. By next spring, these should be quite good.

Watch companies put out more than one watch a year. This isn't "Gen 2" this is just more of Gen 1 Posted via Android Central App

Yeah this close together and without a significant update to Wear, this is Gen 1

I'm waiting for the implant...

I'm glad that there's more competition coming up. It drives innovation. I'm already neck deep in the Motorola kool-aid. So I'll still buy the 360, but I'm not opposed to buying something else if it proves itself to be superior.

Anyone notice what they did with the bottom part of the watch in the video? Lol

I sure did notice. Posted via the Android Central App

I'd say this looks more like an actual watch than the 360. (Which is not to say it necessarily looks better, before anyone grabs a pitchfork!) Still not sure about these round screens though. Posted via Android Central App

No thanks... LG, Samsung make crap as usual. Moto 360 design is the real deal not this crap from LG or Samsung. Posted via the Android Central App

Don't even hold out for this watch, google is still yet to make android wear worth having if your a casual buyer. For people waiting wait for android L to land and give it until at least next summer for improvements to wear. I'm happy with the G watch design and don't regret jumping in, but for everyone else wear has a long way to go, rooting and modding the current system solves some issues but still it needs time to mature. Posted via Android Central App

You don't think Google isn't working on improving Wear as we speak? You know how they are. Release the beta first, improve continually afterwards. Posted via Android Central App

Round but ugly Posted via the Android Central App

So you can choose bezel (G Watch Round) vs little bezel (Moto 360) but you've to sacrifice some pixels are the bottom.

The display is actually a complete circle! Posted via Android Central App

Could definitely give the Moto360 a run since it appears to have a full circle display. I bet Moto is cringing right now...

Full circle, complete with bezel! It' a tradeoff, one or the other. Posted via Android Central App

The bezel doesn't look that bad at all. Posted via Android Central App

Looks good, wonder what it will cost. Still want to get asus watch Posted via Android Central App on 1+1

Hahaha what a great dig at Motorola!! Posted via Android Central App

Round with no black bar... Win. Posted via Android Central App

In your face motorola. The point is this lg watch is round. Case closed. Posted via the Android Central App

Planned obsolescence can i engrave htc one m8?

Looks like a watch, jewelry, instead of a smartphone strapped to a wrist.

I don't mind a small bezel. Gives a little more protection. Of course I work in a Shipyard and use a Casio G-Shock. Big shock absorbing bezel. No scratches... Posted via Android Central App

Bye bye Moto 360. We hardly knew thee. Posted via my Nexus 7 2013 :)

Completely ROUND and with all the new Android Wear watch faces that will be available with Android L in a couple of months, this looks to be a very nice Android watch.

A circle that's a circle? A watch that looks more like a everyday watch? Watching this space... Glad to see more product choices esp with Moto still yet to launch theres

So where's that pesky dead black area on the watch face that everyone says on the 360 is an absolute necessity? Posted via the Android Central App

Its built into this bezels that are significantly bigger than the 360s. You either get big bezels all around or the cut out on the bottom of the 360. Posted via Android Central App

Have to admit it looks very nice. I just might buy this. The wow factor is there compared to the 360. Posted via Android Central App

This looks like any cheap Casio g shock you can get for $50. Its got the wrong kind of wow factor. Posted via Android Central App

To each his/her own. I like the G-Shock line.

Does nobody understand that the dead space on the moto 360 is due to the lack of bezel which is very prominent on this watch. I like both but open your eyes before complaining people. Posted via Android Central App

I hope they get the 03, I mean 30 fixed before this watch gets launched. No one I know thinks of 30 as 03. Upside down or right side up.

That's pretty much how it is on regular watches in this style.

kinda looks like a sports watch with all the extra bulk around it, waiting for details but probably wont be to my taste

I hope they don't do what Motorola did and announce an amazing smartwatch but then not release it for like 4 or 5 months. :-)

Perfect circle, so no bezel rubbish down the bottom that looks worse when you see it from an angle like the Moto360 then. fantastic.
I doubt it will come with any kind of game-changing function though. So far only Pebble went forward by going backwards.

hrmmm don;t like the look of it from the images and video... don't like the dial... and the don't like the extensions off the face of the watch where the straps link to... Moto 360 for now.

Wow. The more you break apart that video the better it gets. I like what they are doing. Not a lot of bezel, and the strap mounts give you better durability in my opinion. If the screen is domed like a divers watch and they use sapphire crystal, this could be a great and strong watch. Parts of the clip look like you may be able to custom order those strap mounts in different colors or even ceramics.