ASUS teases something about time (i.e. a watch) for IFA 2014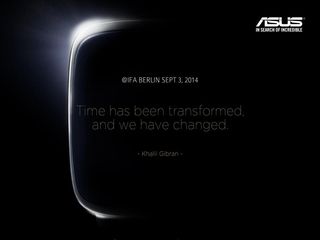 Asus CEO Jerry Shen told an investors' conference earlier this month that the company could reveal an Android Wear smartwatch at IFA, and today its Twitter account this morning offered a teaser that likely points to such an announcement in just a few of weeks.
The shape in the Twitter image certainly screams "smartwatch" to us. Then rhere's also the quote about, "Time has been transformed and we have changed", which again could be something related to a watch. Since, you know, watches are used to tell time. The reveal event itself will be held on September 3.
All in all, everything points to Asus showing off its Android Wear device at IFA 2014, and we'll be on the ground in Berlin to check it out ourselves. What do you think about Asus joining the Android Wear family?
Source: Asus (Twitter)
Michael Bay will be doing the reveal.

Looks like a jj abrams poster to me n5

I think Pytt's referring to the actual text...

"Time has transformed and we will make it as a square" ~ Square shape seen ~ Posted via Android Central App On My T-Mobile LG G3

This could be my purchase since I tend to shy away from first gen. If it comes in at 150 or less it would be worth it for the experience if nothing else Posted via Android Central App

Exactly what I was thinking. I love my pebble but I wanna try out Android Wear to see how it compares.

Isn't this Asus' first gen though? n5

Hate to break it to you big guy, but this IS Asus' first gen. Soooooo... O_o Posted via Android Central App

Yeah but it could be cheap enough that it will not matter if I think it sucks and do not use it. Posted via Android Central App

Looks ugly Posted via the Android Central App

Most likely it will be unless you like the look of the current crop of AW devices (sans 360). If the price is a low as expected it could still be a big hit.

Will still wait to see what Sony, HTC, and hopefully Fossil will offer. Was very excited about 360 but glad of the delays cause it calmed my hype to buy one and now can wait to see what else comes out before years end. Posted via Android Central App

Now This is the watch i'm waiting for. And if the rumors are true that this smartwatch will come in at $99 to $150 then i'm all over this thing.

The watch slides into a phone, which slides into a tablet, which slides into a laptop, which slides into a desktop.

which slides into a mainframe, which slides into the internet, which slides into the smartwatch display.

Coming full circle........ummmmm square. Posted via Android Central App

This is the winning comment. Really though, I do think those phone/tablets are awesome. I could have used one last night with my power out to keep my phone going.

Hahaha lol of the morning :-D Posted via Android Central App

Asus Transformer watch. Option to buy a full size keyboard dock.

Well I will be getting it if it is $150 or less Posted via Android Central App on 1+1

I've been waiting for this because (I know I can't be the only one...) I really don't pay $150+ for a watch. Posted with my Nexus 7 2012 or Moto X via the Android Central App

Nope, your the only one. I'm in the same boat. I can't justify paying over $150 for a smart watch. Posted via Sony Xperia Z Ultra on Metro-PCS

as long as its not super ugly or Huge, and the price is right, I could see myslef getting one.

If it's $100 or less, and has reasonable functionality, then I'm sold! Posted via Android Central App

Motorola may have shot themselves in the foot delaying the 360 as long as they have. I passed on the LG and Samsung offerings for the 360, but as a huge Asus fan, I will most likely be getting this one over the 360. Posted via Android Central App
Android Central Newsletter
Get the best of Android Central in in your inbox, every day!
Thank you for signing up to Android Central. You will receive a verification email shortly.
There was a problem. Please refresh the page and try again.