Roku's earnings dwarfed by it giving users even more free content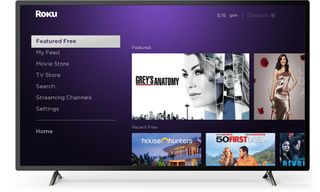 Roku today announced its earnings for the second quarter of 2018. From the company's letter to shareholders:
The big news, though, is that you no longer even need a Roku device — either one of its streaming boxes or sticks, or a Roku TV — to watch free content from Roku. All you'll need is a Roku account, and to head to TheRokuChannel.com from a web browser to watch the free Roku Channel online, which features free news, movies and other TV shows.
Is this a ploy to get folks to sign up for a Roku account? Absolutely. And it's a good one. In addition, Roku is changing up its home screen on its devices to surface free content from The Roku Channel, ABC, Fox, The CW, Freeform, Pluto TV, and more, under the "Featured Free" umbrella.
From the announcement:
Check out The Roku Channel for free
Here's what else you need to know:
Roku now has some 22 million active accounts, up 46 percent year over year for the quarter.
That's up from 20.8 million active accounts at the end of Q1.
Roku has added nearly 7 million net new active accounts in the past 12 months.
Platform revenue was up 96 percent YoT at $90.3 million.
Gross profit landed at $77.8 million for the quarter — up 107 percent YoT.
(That's counting an expected extra $8.9 million from "potential IP licensing liabilities that have not materialized.)
The number of hours of TV streamed was up 57 percent YoT at 5.5 billion hours.
The fastest growth for those streaming hours came from Roku TVs, which doubled their streaming time YoY.
Isn't this what leeco was trying to do?

"The Roku Channel is now available to everyone — for free — via a website." - Not quite everyone: In the UK I get "Not available in your region
The Roku Channel is currently not available in your region. Please visit the TRC help page check on supported regions."
Not sure what the supported regions are since the link (https://support.roku.com/en-gb/article/115012374788-what-is-the-roku-cha...), returns article not found.
Android Central Newsletter
Get the best of Android Central in in your inbox, every day!
Thank you for signing up to Android Central. You will receive a verification email shortly.
There was a problem. Please refresh the page and try again.