Reminder: Enter to win an ASUS Transformer and keyboard from Nvidia and Android Central [contest]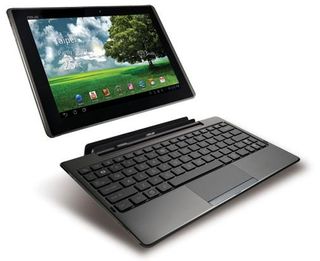 Everyone love the Asus Transformer. It's rocking the Tegra 2 chip so it plays games and does media like Honeycomb was designed to do, has all sorts of ports for connectivity, and there's a cool keyboard dock for easy typing. Asus seems to be on the ball and keeping things updated as well, so it's the right choice for many. And you can enter to win one, with the awesome keyboard dock, in Nvidia and Android Central's Tegra Madness giveaway!
Winning one is easy, just hit the forums and drop a note in the contest thread, and you're entered. We'll pick the winner at random, and announce them all in one big blog post next Sunday (Sep. 18). Good luck to all, and be sure to enter all week!
Win an Asus Transformer and keyboard dock
Android Central Newsletter
Get instant access to breaking news, the hottest reviews, great deals and helpful tips
Senior Editor — Google Ecosystem
Jerry is an amateur woodworker and struggling shade tree mechanic. There's nothing he can't take apart, but many things he can't reassemble. You'll find him writing and speaking his loud opinion on Android Central and occasionally on Twitter.
I already did! I hope I will be picked!!!

I'm ready for another one.

This is my only chance to have a Tegra device because I am unemployed and cant afford to buy a device, unfortunately.

Please please me!! ::looks around hoping he doesn't sound desperate ::

I would love one of these!

ur supposed to post in the forum

I'd be THE HAPPIEST android tablet owner in the UNIVERSE if I won!! I'd be ok if I didn't win but HAPPIEST if I did!!

I would love to have that.

So cool! I'd really like one!

sign me up for free please! Great combo there!

Me me me!! Just got an ASUS laptop this would be icing on the cake!! Please pick me :)

Games? Tegra-2? Yeah baby. Hook me up.

I would like the transformer please!

not if you're a dumbass like me and looked at a 2010 calendar :p +1 for reading it, and thanks for letting me know lol

I've played with one of these and they are sweet. Please pick me!!

This is sweet. I could really use this tab and keyboard. It would be much appreciated if I was chosen. Long live Android Central!

Yeah, hoping I will win. Been trying to sate my tablet crazing for weeks now.

Dibbs, now I can't wait for the Kal-El Transformer.

Pick me, pick me, over here... Please pick me.

Would love to win this awesome prize

This is a great tablet! I have one but could use the dock. I would give the other tab to my husband.

Don't have a tablet, would be a great addition!

Yes Please would work great for my new business

Can't afford a tablet right now. Crossing my fingers to win this one.

Been wanting one ever since I first read about it!

Wow, an actual keyboard, great design, gimme one

does no one notice their supposed to post in the forum????

Sexy tegra 2 gear whoo!!!!!!

I am pretty sure this would complete me.

You guys are great! I am so in! Would be happy with any of these products.

Been dieing for a transformer. You guys rock, I'm addicted to the site.

Please consider me as a winner.

I played with one at Bestbuy and I loved it. I really want one. Thanks.

Please pick me. I've been wanting one of these for a long time.

This would be the perfect gift for my daughter!

I really want to win this tablet

Always wanted one, but money is tight.

Always wanted one, but money is tight.

Entering the contest Y? me wants one bad very bad!!!!!!!!!!!

This is one of the coolest tablets around. I would love to have one.

Would really appreciate if I did not win...

Gotta love Android Central's contests!

Please please please random computer gods pick me!!!

Is this just limited to US residents, hope not would like to win this little bundle...

the transformer is epic, i hope i win!

Great tablet, would love one.

My daughter is android phobic! I want to give her a fun tablet to change her mind!
Thanks

I alrrady posted...... Hope I win something, anything....

This guy could really use one right about now..

The ASUS Transformer would be in good hands when it arrives here

Please pick me! The Transformer looks like the ultimate companion for myself, being a new college student, without a laptop!

Would love to have a transformer. Please pick me.

Yes please! My eight and a half year old laptop has finally crapped out.

Got a Xoom and a Touchpad... this would go great along side them!

Gosh I wanna win so I can ditch my wifes ipad for sweet tegra powered honeycomb!

I bought one of these for my gf and she loves it. Please.

I need to upgrade from my maxiPad. This would be wonderful!

Very cool! I've been keeping my eye on this device. Great contest!

I have a break in an the a** stole mine. Sickie AllState sucks. This would be nice.

1...2...3...4...I love the Marine Corps!!! And Android Central!!!

The transformer looks like a sweet device

Oh man, how I would love to win a Transformer! Pick me and I'll write a regular Joe's review for androidcentral!

Where do I pick it up....he he he

I would love a Transformer. Asus makes great stuff.

Thanks for doing this. Hope I win.

I have a break in an the a** stole mine. Sickie AllState sucks. This would be nice.

Been wanting one of these. Too bad I'm a poor graduate student.

I love Asus, I wanna win!

Thank you for this cool opportunity AC - but I say give away UNLOCKED Transformers - that is what would really make this giveaway really really special! Congratulations to you lucky winners in advance. Enjoy a knockout Honeycomb Tablet...

I'm sorry for the duplicate post - I don't even know how that happened! Update: I edited the duplicate post in an attempt to nullify it.

Well can't always win, but good luck all, one day ill own a tablet
I'll enjoy as much as my Evo 4G, ;)

Well, alright, if you really must give me one...
I'll take it!

This is my favorite tablet. I would love to win it!

Pick me and I'll be your best friend!

The thread is closed. Bummer. Does this post cont for the contest?

yse please - btw the forum link is closed.

I have the worst luck in the world.... The thread closed as I was posting my comment and it didn't get in on time. :'(

Pick me please...i never win anything=(

I would really love to win this, gotta make the wifee jealous. She owns a iPad.

Why is the thread closed when you can "enter all week"?

would love to win one of these

I'm Optimus Prime! Pick me!!!!

Pick me, I would love a Tegra device!

Pick me, Pick me!! It would be nice to just once in life win something. Especially something with a Tegra 2

Ooooh....nice! Pick me please! Pretty please!

Ooooh Groovy, good luck to all!

If I win I'll name my first child tegra

I checked my inbox, no winning notice... A mistake maybe?, oh well
This will do nicely.

I just started school and I've been sooooo looking to get one of these for my classes...pick me, and help the education of America!

OOo PICK ME I really need a tablet.

Would be nice to win something in my life.

pleeeeeeeeeeaaaaaaaaaaaaaaaasssssssssssseeeeeeeeeeeee!!

Im not going to try and be funny and witty in my comment cause I know it might not even be read. I would just like to have TF Tablet becasue my wife took mine and was just going to wait for the
TF 2 but if I could win one I wouldn't have to wait longer. Thanks Android Central.

1 Asus Transformer for me please. Thanks in advance. :-)

Thread was closed, but I'd like one! ;-)

Thread closed, really wanted to enter too. Guess I was a bit to late.

Though I already own this combo, this would make a great opportunity to provide my son with a very helpful tool. Beings as my son has a learning disability, he could take advantage of the applications that I have let him use on my Xformer and have the added convenience of using it at will while I am out trying to find a job. He also would use it for reading his comics through the komik app and keeping up on his favorite books through the amazon store. Not to tell a sob story, but I have been wanting to get him something nice since before his birthday this year, and with me out of work for the majority of the year, money has been tough to come by. We find ways to make it through though. Catch you on the flipside!

This time I know it's mine.

I so need this piece of kit!

I would use it for the betterment of mankind.

PICK ME!!! PICK ME!!!! THANK YOU... PLEASE PICK ME. DONT MEAN TO SOUND ANNOYING OR DEMANDING BUT PLEASE PICK ME!!!!

Oh please oh please I ain't never won anything

Hopefully will get to rollout one of these. Hooray

Thread closed? Just got off work and read this. I have been wanting one of these bad. I live in a town with a tiny "Large chain electronics store"and they haver have thus combo in stock. I would love to be included if possible. Thank you.

If there is an office supply store around check it. The ones in my area keep the keyboard and tablet in stock.

Love it! It's the best one in my opinion...

Me me so excited!!! Transformer!

Great looking hardware. Good luck everyone!

The best ever. Count me in.

I've been looking to get a tablet for awhile now, it would be nice if I won one.

This would absolutely hook me on Andriod...just after I jumped from BB to the Photon!

Guess I was too late would have loved to throw my name in the hat.

This is awesome...I would love to get one.

THRED CLOSED first thing in the morning. Way to go guys! LOL!!!

yup would be nice to have one!

I've been holding off on getting a tablet due to all the good ones being so expensive. This would be ideal and make an excellent birthday gift

This is hands down THE BEST Android Tablet around...and it will be mine...

Good luck to all. This is a cool tablet.

Having one of these for school help so much. The Transformer is amazing!

Oh, hybrid sweetness!! I want some of that! Pick me! Pick me!!! :P

Android Central, Please hook my wife up! She is a stay home mom of twin 2 year olds and needs this to update her blog!! Please Help!

Thats one sharp tablet...

Why did you put this up yesterday if the thread is already closed? Never had a tablet and have seen this at BJ's looks very cool.

It would be great to be the winner, but my luck is always bad in contests, You will see when i dont win. But there is alway hope,I HOPE!!

Awesome give away! Thanks Android Central! Hope I win!

Someone stole my ipad2 now its time for a upgrade!!!!!!!!!!!

Android is the best! Android with Asus, even better!!!

Can you hook a Brother up? I need this man.

This would be soooo sweet! I need a freebie because I'll never be able to afford a decent tablet!

I've been reading about this device ever since it was announced. I would love to have one.

I would like to win this too..
its cool device and i like Asus and ofcourse love Andriod

I would love to win one of these. Thank you for all your great giveaways.

Sweet prize! Love to get this!!!

I want a tablet so bad it hurts. Pretty Pretty please with sugar on top and a cherry with whipped cream. I am your girl:)

I would love to be the owner of an ASUS! Thanks for the chance!

Would love to have a Transformer.

All your base are belong to us!

Oh please tell me I'm not too late! I plan to use it to find the answer to life, the universe, and everything. It would go great with my other Asus products!

Need to win one for work! Down with the iPad! I've been trying to prove why Android is so much better, and this is the machine to do it.

In need of a good 10" tablet. This would be great!

I would like to win one, please, but the thread appears to be locked. How can one enter the contest?

Just send this one to Eugene. I'm in!

says "enter all week" but the thread is closed? FAIL

Would love a chance to win this fantastic tablet. Here is to hoping AC pick me!

I'll take two. Ok ok I'll take one but you're busting my ba....

Please open the thread again. I want to enter!

Is it too late?? :( ... well i't would have been nice to have one of these in my hands :D:D:D
BTW... you made a great site... very entertaining to read :D

You guys have a great podcast, I listen all the time. Think it would great to listen to it on the ASUS Transformer. Thanks.

I thought I had successfully commented earlier but it's nowhere to be seen, guess I need a good tablet huh?

this would be great for when in on the traveling so I dont have take my laptop.

it's about time i have some good luck and win something!

I want it! Especially not having to pay for it.

I will trade you my first born.... seriously, I would be a terrible parent anyway. Evidence: I just offered to trade my unborn child for a tablet.

I love free stuff and Winning!!!

My wife would love to win. I am slowly "transforming" her into a techie...

The secret of getting ahead is getting started. Owning one of these will surely get me started! Thanks for the opportunity to win one!

There is more to the Asus Transformer than meets the eye!

I would love to win an Asus Transformer for my wife!

pick me, I never win anything lol :P

I want one! would be awesome to have a tablet!

I'm an alien and need to see if your technology is superior then ours.

My laptop just died - hope odds are on my side!!!

Winner, Winner, Chicken Dinner! Pick me!

Contest is closed?!? Sad face :(

As far as impossible is nothing I am sure I'll be the one to get it.

Oh please choose me.....I really need one of these....blessings to everyone entering these contests.

Android tablet is my favorite, I want the freedom and customization on the Honeycomb

I would so love to win this. I really need one because my other one broke. I have been trying to win one on Sweepstakes Advantage.

asus transforms your life
open your eye to the future
asus Transformer

Oh PLEASE Oh PLEASE Oh PLEASE Pick me!!!!! :-)
Android Central Newsletter
Get instant access to breaking news, the hottest reviews, great deals and helpful tips
Thank you for signing up to Android Central. You will receive a verification email shortly.
There was a problem. Please refresh the page and try again.