Qualcomm's S4 developer tablet packs meaty specs and a high price, but it's not for us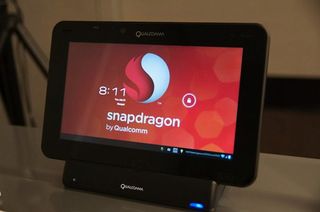 Qualcomm's developer tablet certainly packs a punch in the specs department. But, before we go any further, we need to point out clearly and concisely -- this isn't a commercial product, it isn't meant for consumers. That doesn't mean it doesn't interest us though. Far from it.
The APQ8064-based Snapdragon S4 Pro Mobile Development Platform / Tablet as it's full title reads -- we'll call it the S4 Pro from now on -- is Qualcomm's latest efforts at a developer device. This time, it's showing off their first attempts at a quad-core processor, and developers keen to get in on the ground floor can pick one up for a cool $1299. Remember, this isn't a retail device.
Alongside the 1.5 GHz quad-core processor, the S4 Pro also packs 2GB LPDDR2 RAM, 32GB of storage space and Android 4.0. There's also the new Adreno 320 graphics engine, 7 mics, stereo surround sound and a 13MP main camera. Wowzas. In the right hands, a device of this magnitude is sure to be an impressive development tool. Interested developers can purchase one at the link below, and the full press release is after the break.
Source: BSquare
Bsquare Announces Availability of the Quad-Core Snapdragon S4 Pro Mobile Development Platform for Tablets
Snapdragon S4 APQ8064-based Developer Tool Gives Access to Android 4.0 platform for application and game development
Bellevue, WA – July 24, 2012 – BSQUARE Corporation (NASDAQ: BSQR), a leading enabler of smart, connected devices, today announced general availability of the next generation Mobile Development Platform (MDP/T) for Android tablets based on Qualcomm's Snapdragon™ S4 Pro Processor. The MDP/T provides application developers and device manufacturers with access to a high-performance Android 4.0 platform for developing, testing, optimizing and showcasing applications and games.
The MDP/T is the first Snapdragon based Mobile Development Platform in a tablet form factor available to developers, middleware vendors and others. It's also the first to feature the Snapdragon™ S4 Pro APQ8064 processor by Qualcomm with asynchronous Quad CPU cores, running up to 1.5 GHz each. The tablet development platform offers powerful built-in graphics enabled by the Adreno™ 320 GPU, which is over two times faster than the 225 GPU on previous Snapdragon-based MDPs. Power management and multimedia efficiencies are also increased over previous MDPs due to the 2GB LPDDR2 RAM and 32GB Storage. The device also features a higher resolution 10.1 WXGA Multi-touch Display.
"Access to the APQ8064 processor with its asynchronous Quad CPU cores gives Android application developers a powerful platform to develop their differentiated applications for rapid market release," said John Traynor, vice president of products, Bsquare. "This access, combined with best-in-class engineering support and testing solutions from Bsquare, provides a major benefit to application and game developers developing for a wide range of pre-commercial devices."
"It's exciting for us to make available the first tablet form factor Snapdragon -based development platform with Bsquare," said Tia Cassett, senior director of business development, Qualcomm. "The combination of a powerful developer device in the Snapdragon APQ8064-based MDP/T and industry-leading services from Bsquare means faster time-to-market for Android developers."
The Mobile Development Platform (MDP/T) based on Snapdragon S4 Pro Processor is available now at www.bsquare.com/qualcomm. Bsquare will support developers and manufacturers using the APQ8064-based MDP/T with engineering services and technical support. Customers of the tablet device also have 24/7 access to the Bsquare Knowledge Base, technical documentation, complimentary tools and Snapdragon MDP software updates. Users of the APQ8064-based MDP/T can also benefit from the industry-leading TestQuest automated testing technology from Bsquare, which supports testing of Android software and hardware.
Get the Android Central Newsletter
Instant access to breaking news, the hottest reviews, great deals and helpful tips.