Phones 4u offering free Samsung Galaxy Gear with Note 3 on contract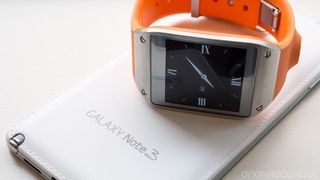 UK retailer Phones 4u has announced that it's running a week-long promotion, starting today, to give away free Samsung Galaxy Gear smartwatches to customers who buy the Galaxy Note 3. The Gear, which usually sells for £299 in the UK, will be offered for free to customers who buy the Note 3 on-contract from brick-and-mortar Phones 4u stores (excluding Dixons) from today until next Thursday, Nov. 14.
In addition, the retailer is today kicking off a similar promotion for the Galaxy S4 Zoom — Samsung's phone-camera hybrid with 10X optical zoom. Buy the imaging-centric device online or in-store between now and the end of the year and you'll receive a free GS4 Zoom accessory pack, featuring a flip case, tripod and "charging unit."
The Galaxy Gear in its current incarnation isn't perfect, and we've said as much in our review of the device. Nevertheless, you can't argue with free.
More: Galaxy Note 3 review, Galaxy Gear review, Galaxy S4 Zoom review​
Alex was with Android Central for over a decade, producing written and video content for the site, and served as global Executive Editor from 2016 to 2022.
Alex.....gut shot.....Nexus 5 or Note 3? Which would you prefer?

Both very different devices, and depends what you want out of a phone.

I think if youve owned a note in the past and liked it you probably will choose another note. If it came down to off contract pricing then the n5 is better especially if you want to use google wallet on att or tmobile. But they are definitely different types of phones. You either like the note 3 or you don't. If note 3 was $400 off contract I would buy over n5 anytime.

"Can't argue with free"
Sure you can, people do it all the time.

Thats a hell of a deal if your in the UK and looking at getting the Note 3

It's not free. Wearing that monstrosity will cost me my dignity.

SEE!
And I agree. Nothing is free, you pay for it somehow.

What dignity? You're on Android Central...

Lol, wow. Posted via Android Central App

Lmfao Posted via Android Central App

Why can't US carriers EVER offer something like this? Why must they be so greedy???

Selling a product for a profit is greed?

I don't mind making a profit, even though the bulk of the Gear's price is in advertising. If they gave the Gear at a lower price to Note 3 owners, then my idea would be the Note 3 owners are the advertising. Raving about how great their Gear is. Posted via Android Central App

That is a great deal. Especially if your going to sign a contract anyway. Not bad at all. That would almost make me want to stay with sprint if they offered it here. Only problem is I would never have a decent data connection.

This offer should of been available at launch, seeing they were paired, before recent updates that now allow the gear to work on the S3 & S4 ect. Posted via Android Central App

I really want to win i am not rich. I am actually poor. I have been asking for a phone fo. A year dat calls. I know i might not win but i stiill have hope. I will believe hard and mak ethe satrs shine. Brighyer than they already are. I really really wan to win
Android Central Newsletter
Thank you for signing up to Android Central. You will receive a verification email shortly.
There was a problem. Please refresh the page and try again.