Samsung Galaxy S4 Zoom review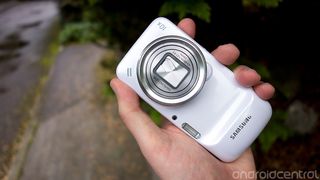 With the arrival of handsets like the Nokia Lumia 1020, Sony Xperia Z1 and HTC One, it's officially the year of the cameraphone. As smartphone designs have become more homogenous, manufacturers have looked towards advanced imaging capabilities to differentiate their devices.
Phones like the Galaxy Note, Galaxy Beam and Galaxy Mega have proved that Samsung is a company willing to try any crazy idea once. Sometimes, as in the case of the Note, the result is a runaway success. In other instances, like the long-forgotten pico-projecting Galaxy Beam, it's a quickly-discarded flop.
Which brings us to the Galaxy S4 Zoom, Samsung's interpretation of what a camera-centric phone should be in 2013. Smartphone on the front, camera around the back, the Zoom was one of the more interesting products to launch at Samsung's busy Premiere 2013 event back in June. But having spent a couple of weeks with the handset, we're not sure it exceeds the sum of its parts. Check past the break to learn why, in our full review of the Galaxy S4 Zoom.
Swipe to scroll horizontally
Video walkthrough​
Galaxy S4 Zoom h​ardware
The Galaxy S4 Zoom's hardware is best described as a head-on collision between the Galaxy S4 Mini and the Galaxy Camera. From the front, it's the spitting image of Samsung's 4.3-inch miniature S4; from the back, it resembles a point-and-shoot camera, with a hefty protruding lens and plastic grip. As such, the "phone" side of the phone needs little introduction — we're looking at the usual Samsung stuff arranged in the usual way. Below the 4.3-inch touchscreen there's a central home button and two capacitive keys for "back" and "home." Volume and power on the right side, speaker grille up top. We've been here before multiple times in the past year.
It's the back of the Galaxy S4 Zoom that gives us the most to talk about. It's dominated by the camera module, which consists of a 16-megapixel sensor behind a 10X Samsung Zoom lens. The outside of the lens ring can be rotated to access a camera shortcut menu — or, if you're already in the camera app, it can be used to Zoom in and out (there's no traditional zoom control to be found here — though you do get on-screen zoom controls.) To protect the shutter and lens while it's stowed in a pocket or bag, there's a clear plastic layer in front of both — a sensible addition, we think, though it's possible this could get scratched up over time, to the detriment of your photos.
The positioning of the grip and the buttons evidences a rather bizarre design decision. To hold the device one-handed, as you might a normal camera, you have to place your thumb over all three of the front buttons. For obvious reasons this presents some pretty severe usability problems when holding the device in one hand. By design, a single press of the back key won't throw you out of the camera app, but this is a messy software workaround to a glaring hardware oversight.
And we can't talk about design and ergonomics without mentioning the Galaxy S4 Zoom's bulky, bulgy appearance. The inclusion of optical zoom necessitates some extra moving parts, but we can't excuse the phone's thickness and various protrusions. Holding it normally involves placing your index finger over the lens, and the distance between this and the base of the device makes it awkward to hold in both portrait and landscape orientations. And both the lens and the grip make the Galaxy S4 Zoom awkward and unwieldy to remove from a jeans pocket — arguably more so than a standalone point-and-shoot camera. All of this makes the camera bulge of the Nokia Lumia 1020 seem insignificant by comparison.
A clip-out area on the plastic grip houses the battery — a 2330mAh unit — along with the microSIM card slot. Unfortunately the current Galaxy S4 Zoom model maxes out at HSPA+ data speeds, though a 4G LTE-capable model was recently announced for Europe. As for the model we're reviewing, the lack of LTE support has to be considered a major disadvantage for any phone shipping in mid-to-late 2013.
Another plastic cover on the side of the device provides easy access to the microSD slot, with cards of up to 64GB in size being supported. And that's a good thing, because like a couple of other Samsung phones we could mention, the Zoom's internal storage is relatively anaemic — a little under 6 out of the base 8 gigabytes is available after initial setup. Most standalone cameras have only a small amount of internal storage, but in the Galaxy S4 Zoom's case the internal flash has to accommodate apps, music and other data, as well as photos. So naturally, Zoom owners will want to invest in a sizeable microSD card.
The left edge of the device also houses a tripod connector, which is covered with a tiny plastic stopper when not in use. And it really is tiny. If you're going to be connecting the phone to a tripod regularly, there's a good chance you'll lose it.
The S4 Zoom's display is effectively identical to that of the Galaxy S4 Mini. It's a qHD (960x540) SuperAMOLED panel that, having an RGB subpixel arrangement, provides generally accurate colors and decent brightness levels, even when outdoors. But it's the resolution we take issue with, particularly since we're dealing with an imaging-centric handset. The qHD panel is a tiny fraction of the phone's 16-megapixel output resolution, making it more challenging to view fine details in your photos. By contrast, the year-old Galaxy Camera display as much easier on the eyes, with a 1280x720 resolution and 4.7-inch screen size.
On the inside, there's a 1.5GHz dual-core Exynos 4212 CPU running the show, together with 1.5GB of RAM. As we've seen before, this combination provides more than enough computational horsepower to run Samsung's TouchWiz UI at full speed, with absolutely no lag or slowdown.
Galaxy S4 Zoom software and OS​
The Galaxy S4 Zoom runs Samsung's latest TouchWiz UI atop Android 4.2.2 Jelly Bean, and if you've read our reviews of the Galaxy S4 or Galaxy S4 Mini, you'll mostly know what Samsung's software suite delivers. TouchWiz is as big, bright and bold as ever, though on the Zoom it's not quite as feature-packed as we've come to expect.
Specifically, many of the high-profile Galaxy S4 features like multi window, air view and air gesture are not included on the Zoom leaving you with a more basic, but still capable smartphone experience.
As we've already mentioned, performance is fluid across the board, same as on the S4 Mini. And despite the dearth of more advanced bells and whistles, the basic TouchWiz-plus-Android combo works as well as it does on other S4 devices. Samsung's bright colors and plentiful sound effects won't suit all tastes, but the more offensive stuff is easy to turn off.
The metal ring around the outside of the Galaxy S4 Zoom's lens ties into a couple of software functions. In the camera app, you can turn it to zoom in and out; this requires more force than a traditional zoom switch, but fortunately there are also on-screen controls. Turn the zoom ring elsewhere in the UI and you'll get a shortcut menu, allowing you to jump straight into one of the main shooting modes. Similarly, holding down the shutter key will also launch the camera app at any time.
Imaging-specific software highlights include the Video editor — not actually installed out of the box, but available through Samsung apps. As we've seen before on other Samsung devices, the video editor can turn your phone into a powerful mobile content-creation platform. It's an ideal companion app for the Zoom's above-average video camera.
There's also "Photo suggest," a location-based map that shows you nearby photo spots that may be of interest. This can be found from the app drawer, or a shortcut directly within the camera app. It's a nice little addition that plays to this cameraphone's strengths.
Camera app and image quality
So here's where we get to what really counts on a device like this, as the 16-megapixel sensor and 24mm lens with 10X optical zoom set the Galaxy S4 Zoom apart from other handsets. The S4 Zoom's sensor and optics are a close match to last year's Galaxy Camera, and so the device produces images of similar quality — impressive by smartphone standards, but relatively pedestrian when compared to other point-and-shoot cameras. Unsurprisingly for a P&S-class shooter, there's no option to save images as RAW, and photos are spat out in JPEG form — at 12MP in 16:9 orientation, 14MP in 3:2 orientation or 16MP in 4:3.
Like the Galaxy Camera, which possesses a similar 16-megapixel, 1/2.3-inch sensor behind a different lens, the Galaxy S4 Zoom's "auto" mode does a good job of capturing decent photos in most lighting conditions. The inclusion of OIS — optical image stabilization — helps out too, though we found it was easier to get blurry zoomed-in shots on the Zoom than it was on the Galaxy Camera. In fact, we found OIS to be most useful when recording video, where it was able to dampen shaky hand motions and produce smooth-looking footage.
Like its larger sibling macro shots are a particular strength of the Galaxy S4 Zoom — the "macro" smart mode always worked well, and even the "auto" shooting mode adapted to close-up shots without issue.
The fact that you're shooting photos at such a high megapixel count tends to result in decent-looking images when reduced down to web-friendly resolutions. But look up close and you'll witness a significant amount of visible noise, and even in well-lit shots. In darker scenes, fine details quickly become diminished. The Galaxy S4 Zoom does have the advantage of a more powerful Xenon flash, which is better at providing much-needed illumination compared to the LED flashes used by most smartphone cameras. In "expert" mode, you can even take granular control over the flash, with slow sync — letting you use the flash with longer shutter speeds — and options to reduce red eye.
We found low light performance to be decent, but not outstanding, and again, performance in this area closely tracks that of the Galaxy Camera. It's easier than we'd like to get blurry night-time shots, even with OIS, and you'll need a steady hand if you want to use optical zoom in a night-time scene. The camera app's "night" mode mitigates these problems somewhat, but in any shooting mode you'll find yourself running up against the limits of the S4 Zoom's hardware when taking night shots.
While the camera's optics are nothing special, the same isn't true of the software backing it up. Samsung has one of the best Android-based camera apps around, and the Galaxy S4 Zoom's camera app incorporates many of the features from the original GS4 and Galaxy Camera — including animated photos, "drama shot" for capturing action sequences in a single image, and dedicated modes for food, sunsets and night photography. In traditional Samsung style, you're presented with a smorgasbord of settings, features and modes.
The camera's many "smart" shooting modes let you select the type of shot you're taking, and let the app worry about tweaking settings to produce the best image. First introduced on the Galaxy Camera and now a standard feature on Samsung phones, the list of "smart" modes has grown to include everything from HDR to kids and pets to sunsets and sunrises. It's also where you'll find Galaxy S4-specific features like "sound and shot," which lets you record a short audio clip alongside your photo, and "animated photo," which spits out an animated GIF. As we've found during our time with Galaxy Camera and Galaxy S4, in the right situation it's possible to get some really compelling shots using these modes. Helpfully, it's now possible to "star" some of these smart modes for quick access through the "My modes" menu.
In addition, the new Smart Suggest feature can analyze the photo you're about to take and suggest one of three smart modes that may be of use. This is often easier than navigating through the lengthy list of shooting modes.
There's also an "expert" mode that lets you switch between manual, program auto and "color wizard" mode, with the latter enabling you to tweak color balance, sharpness, saturation and other properties. As on the Galaxy Camera, expert mode also unlocks more options in the main camera menu, including an always-on macro focus mode and metering options. Curiously, however, aperture priority mode seems to be absent.
The S4 Zoom is a competent video performer, being able to shoot video at up to 1080p resolution with 30 frames per second. Generally speaking, the camera produced good-looking footage without any of the aberrations or noise we've seen from cheaper phone cameras and point-and-shoots. As we've already mentioned, OIS was also useful in reducing the shakiness of moving footage. And even when shooting video at night, the Zoom managed to produce clear-looking footage, though with some additional image noise. In overcast conditions, we did notice some instances of narrow dynamic range, though that's by no means unique to this device.
While the camera's optical zoom capability worked well enough in video, we found the amount of effort required to turn the zoom ring often produced unavoidable shaking in video footage. At the same time, the lens's various motors can clearly be heard when adjusting zoom levels while recording, an issue which doesn't affect the Galaxy Camera.
So overall, the Galaxy S4 Zoom delivers a more comprehensive camera experience than you'll find on most smartphones, which you'd expect considering the ergonomic and usability issues presented by its size and bulk. But we'd hesitate to call it a revolution in mobile imaging for exactly that reason — the device isn't significantly more portable than similarly-capable point-and-shoot cameras.
Sample photos​
Image 1 of 30
Battery life
Smartphone battery life can be tricky to quantify at the best of times, and a device like the Galaxy S4 Zoom throws some new variables into the mix. With mixed use, we found that the phone's 2330mAh battery provided more than enough juice to get us through the day — unsurprising since similarly-specced smartphones get by with much smaller batteries.
Inevitably, the camera itself ended up being the biggest battery drain, particularly when using the large Xenon flash mounted to the back. After an hour or two of vigorous photography you'll easily find yourself down to 75 percent charge — though the battery's larger overall capacity should help you reach the end of the day without having to plug in. If you're taking photos and video all day, every day, though — and you might well, if you're purchasing this kind of phone — you may need to think about a mid-day charge.
The bottom line
Having spent two weeks with the Galaxy S4 Zoom, we're not convinced that it represents the future of smartphone photography. It doesn't do any one thing poorly — it's not a bad phone, and it's not a bad camera — but we're far from compelled by the package as a whole. Putting a camera on a phone like this just doesn't make much practical sense. What we see isn't a revolutionary smartphone, but a phone that desperately wants to be a camera. If you were to buy it and use it as a point-and-shoot camera, you'd probably have a good experience, despite the awkward button placement. But the Zoom's relatively high price tag (£350-400 in the UK) makes this uneconomical.
It's got a great camera app, and it can shoot photos that exceed the quality of most smartphone cameras. But the Galaxy S4 Zoom remains an average camera and an average smartphone when considered as a whole. And there are just too many usability issues here for us to recommend picking up the Zoom over competing phones with high-quality cameras — unless you absolutely must have optical zoom on your phone at all costs.
In much the same way that the Galaxy Mega makes more sense as a tiny tablet than a giant phone, the Galaxy S4 Zoom is more compelling as a miniature Galaxy Camera than an imaging-centric smartphone. And so if there's a lesson for Samsung here, perhaps it's that not everything needs to be a phone.
Thanks to Clove Technology for providing the Samsung Galaxy S4 Zoom for review.
Get the Android Central Newsletter
Instant access to breaking news, the hottest reviews, great deals and helpful tips.
Alex was with Android Central for over a decade, producing written and video content for the site, and served as global Executive Editor from 2016 to 2022.