Samsung Galaxy Camera review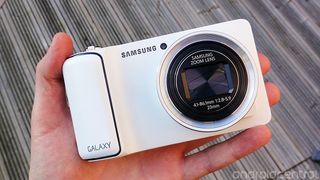 On a sweltering August afternoon, Samsung ushered a handful of tech journalists into a conference room in Berlin, Germany, to show off two new mobile devices. The first, the Galaxy Note 2, was much as we'd expected it to be. But the second would've come as a complete surprise were it not for a last-minute online leak. As we frantically took notes, Samsung reps doled out what seemed to be a Galaxy S3 bolted to the back of a digital camera. This, we were told, was the Samsung Galaxy Camera.
An unusual product, the Galaxy Camera was introduced as a "convergence device," a smart camera powered by the latest version of Android, but with sufficiently advanced optics to push it beyond the performance of high-end smartphone cameras. All the imaging, sharing, video and photo editing prowess of Android and Samsung's TouchWiz software were present, put behind a real dedicated camera with a 16-megapixel sensor, 21X optical zoom and optical image stabilization. The popular reaction was split into two camps -- some dismissed it out of hand, others, like ourselves, were cautiously optimistic.
Days later, I wrote that the Galaxy Camera makes perfect sense. I still think it does, but Samsung's initial implementation is not flawless. And the finished product, though promising, is some way off being a perfect union of smartphone and camera.
Read on to find out why.
Pros
Attractive design. All the software and hardware benefits of a Galaxy S3, including photo and video processing and sharing apps. Impressive 21X optical zoom and optical image stabilization. Full-featured, touch-based camera app. Great macro and video performance.
Cons
Photo quality, though decent for a point-and-shoot, lags behind other cameras at this price point, particularly in low light conditions. Some software issues with white balance in places. Battery life suffers during extended periods of use. Some instances of lag in the camera app.
The Bottom Line
Swipe to scroll horizontally
Galaxy Camera video walkthrough
Hardware and b​uild quality
The Galaxy Camera is a classy-looking point-and-shoot. Its sturdy, matte-finished chassis is lended a futuristic vibe by the 4.8-inch glass-coated touchscreen around the back. Ours is the white model, though in some markets it also comes in black, red and orange. (Check our hands-on gallery for shots of all of these color options.) The black trim around the screen and grip contrasts pleasantly with the white body, and complements the other black accents on the lens and manufacturer logos. The grip itself has a textured finish similar to the "hyperglaze" back of phones like the Galaxy S2, which helps to avoid slippage.
The business end of the Galaxy Camera is dominated by the 23mm f/2.8-5.9 Samsung zoom lens, which boasts similar stats to another Samsung point-and-shoot, the WB850F. (That is to say it's likely the same under the hood.) The lens boasts a 21X optical zoom, which sits towards the high end of what's available on P&S cameras. And it also features optical image stabilization (OIS), which helps avoid motion-blurred shots, and has immense benefits when it comes to video recording. (That's the same tech Nokia's managed to pack into its Lumia 920 Windows phone.) Behind the lens is a 16MP BSI (backside illuminated) sensor.
Located to the top-left of the lens is the autofocus light; the rest of the front face is relatively clutter-free. Assorted ports and connectors can be found at various other points around the chassis. On the right of the grip is a headphone jack, which can also be used with an external mic, a microUSB/charging port behind a plastic cover, and a metal connector for use with the bundled wrist strap. And on the right edge is the push control for the pop-up Xenon flash. (It kind of looks like a button when it's tucked away in the camera body.)
Up top is where you'll most of the camera-specific controls. There's the power button, along with shutter and zoom controls. Note that there are no physical controls for selecting shooting modes or adjusting image settings -- Samsung's opted to do all this stuff in software via the touchscreen. (Incidentally, the zoom rocker also doubles as a volume control when you're not in camera mode.)
Down below there's a tripod connector and a clip-out area, behind which sit even more connectors and ports. In the middle, and accessible via a separate plastic protector, is a microHDMI port, flanked on either side by microSIM and microSD card slots. No SD card is provided with the camera, though you do have 8GB of internal storage, which is pretty generous for this type of product. There's also a removable 1650mAh battery, held in place by a plastic clip. This looks much the same as Samsung's phone batteries, though obviously we're dealing with a smaller capacity here. We'll discuss battery life in greater detail later in this review.
Internally, the Galaxy Camera is basically a Galaxy S3. It's powered by a 1.4GHz Samsung Exynos 4 Quad CPU, same as the international GS3, and that's backed up by 1GB of RAM and 8GB of storage. Samsung's Exynos SoC is proven high-end mobile hardware that should have no problem handling this kind of device. There's plenty of horsepower here for running apps, editing video and even gaming, if that's what tickles your fancy. It also supports both Wifi and 3G/HSPA connectivity. We're using the unlocked international Galaxy Camera, which is virtually identical to the AT&T model sold in the U.S. That means you get HSPA+ data speeds at up to 21 Mbps down and 5 Mbps up -- no LTE or 42 Mbps DC-HSDPA here, unfortunately, though a Verizon LTE Galaxy Camera is now available stateside.
The screen technology used on the Galaxy Camera diverges from Samsung's smartphone range. Whereas the GS3 uses Samsung's HD SuperAMOLED tech, the Camera is fitted with a Super Clear LCD. The resolution is the same, at 1280x720 pixels, but the LCD trades saturation for brightness and outdoor visibility, which are obviously greater priorities on a dedicated imaging device. It's a decent-looking display, which no noticeable visual aberrations to interfere with the photo-taking process, but it doesn't quite compete with the latest LCD/IPS smartphone panels in terms of overall fidelity.
So here's the bottom line -- at the hardware level, the Galaxy Camera combines high-end smartphone internals with mid-to-high-end point-and-shoot optics. It's a good-looking piece of kit, but a side-effect of the 4.8-inch screen is additional bulk and weight compared to traditional consumer cameras. That doesn't affect usability to a huge degree, but it does mean it's a good deal less pocketable than the competition.
In the box​
The Galaxy Camera is boxed up just like a Samsung smartphone, and it comes with a similar array of accessories. Tucked away beneath warranty and support documentation is a wall charger (1.0A, in case anyone was wondering), USB cable, Samsung earbuds and a leather-effect wrist strap.
The earbuds are identical to those bundled with leading Samsung smartphones, and are packaged with replacement covers in varying sizes. The wrist strap is rather large, and the material somewhat rigid, meaning it may be of limited use. It's also non-adjustable, which doesn't help. (For day-to-day usage, we'll probably be fitting a different wrist strap.)
There are no external battery chargers or protective cases included, although based on what we saw at its IFA 2012 booth, Samsung is likely to offer a wide range of official accessories for the camera.
Software and OS​
The Galaxy Camera ships with Android 4.1.1 Jelly Bean and Samsung's TouchWiz Nature UX, which is similar to the manufacturer's smartphone software, but with some important distinctions. The first you'll probably notice is the inclusion of on-screen buttons. As the display occupies almost all of the back face, there's no room for physical or capacitive keys, so Samsung's opted for virtual home, menu and back buttons. The lack of a task-switching key in lieu of a menu button might seem like an oversight at first. But it's not entirely surprising considering the Galaxy Camera is more of a single-function device than a smartphone, and that Samsung's TouchWiz UI is built around traditional Android menus. (And that said, all you have to do is long-press the home button to quickly switch applications.)
The home screen launcher takes its visual cues from the Galaxy S3 and other TouchWiz phones, but there are a few functional alterations. The app dock at the bottom of the screen now houses just two icons -- "Camera," and "All Apps," and the launcher now operates in either landscape or portrait mode, which makes sense considering you'll be in landscape most of the time anyway. We should add that although the option is present, the Galaxy Camera is a little awkward to use in portrait orientation, as you might expect. Fortunately all of the built-in apps, with the exception of the portrait-locked Instagram, work just fine in landscape mode.
In some apps, including Camera and Gallery, the on-screen keys will disappear, allowing the entire display to be reclaimed to show full-screen images and other software controls. Where this happens, back, home and menu buttons are often incorporated into the action bar along the top of the screen. This is a little incongruous, but it makes sense when you consider how to make best use of the full 16:9 aspect ratio display.
So this is full-blown Android 4.1 on a dedicated imaging device, and as a result you're able to instantly share shots through the usual Android sharing intents, and process photo and video content on the device. This can be achieved through the bundled Photo Wizard app, which allows you to tweak attributes such as contrast, brightness and saturation. Images can be cropped, rotated and resized, and there are various Instagram-style filters included. (Instagram itself is of course pre-loaded, too.)
Samsung's full-fledged video editor is also included, allowing you to cut shots together and apply transition effects, before exporting at up to 720p resolution. Encoding video directly on a mobile device might sound like a chore, but the Galaxy Camera handles it with relative ease. A 1 minute, 21 second-long sample video took just 1 minute and 40 seconds to encode at 720p resolution.
Dropbox is pre-loaded, and being a Samsung device, you'll qualify 50GB of free storage for two years if you buy a Galaxy Camera. This has been our go-to method for getting images and video off the Galaxy Camera. We're used to being able to take a photo using a smartphone and have it instantly materialize in the cloud, but this feature really comes into its own on a dedicated imaging device. If you own several Samsung devices, you might also find Group Cast useful for sharing photos between family or friends.
Things get even more interesting when you add third-party apps into the mix. Google's Snapseed app offers even more ways of fine-tuning images directly on the camera. And for journalists and bloggers, or anyone who's ever had to report from a major live event, the ability to rapidly watermark and resize pictures before uploading them using an app like "Add Watermark" could be indispensible. Samsung's software lays the groundwork, and there are plenty of apps on Google Play that can expand the Galaxy Camera's capabilities even further.
While there are many genuinely useful apps included on this device by default, there's also a modicum of left-over smartphone and tablet stuff. For instance Google Play Books, Samsung's Game Hub, S Planner and ChatOn are bundled on the camera, and we'd imagine most users probably won't go anywhere near those features. On the other hand, there's something to be said for not removing software features just for the sake of it.
Camera app​
For obvious reasons, the camera app is where you'll spend most of your time on the Galaxy Camera. It's arranged differently to smartphone camera apps, though the entire interface is operated using the touchscreen, including touch focus, which is supported in still shots.
At the most basic level, the Galaxy Camera supports stills up to 16MP in 4:3 aspect ratio, or 12MP in 16:9, and a variety of lower resolutions. Video recording is supported at up to 1920x1080 with 30 frames per second, and it's also possible to shoot slow-motion video at 120fps at 768x512 resolution, though this results in greatly reduced picture quality. In addition to the physical shutter button, there are on-screen buttons for taking still shots and recording video, as well as an option for voice-controlled recording. These options can be useful if you want to avoid blurring a motion-sensitive shot by pressing the main shutter button.
The app is arranged into three main modes -- auto, smart and expert. Auto is the go-to setting for taking quick, easy shots -- select it, and the camera will automatically adjust settings and generally leave you with a decent-looking shot. In auto mode there's also a menu down below with various image filters, from conventional ones like sepia, black and white and negative, to more visually complex effects like comic, pastel and impressionist modes. These are more of a gimmick than a practical tool. After all, there are plenty of ways to add filters to your photos after the fact, especially on a device like the Galaxy Camera.
As is the case with any camera, you'll be able to get better quality images if you're more adventurous with settings. The easiest way to do this is through smart mode, which lets you switch between sixteen presets designed to deliver the best photos in certain situations. These include the standard macro, panorama, night mode, and landscape, in addition to more exotic offerings like "beauty face," which automatically corrects imperfections.
Experienced photographers may want to live in expert mode, however. This gives full access to ISO, EV, aperture and shutter speed settings, and the option to choose between manual, program, aperture priority and shutter priority modes. These varying levels of control make it easy to dip your toe in expert mode for certain types of shots without becoming overwhelmed. Expert mode also grants access to more options in the in-app settings menu. Auto and smart modes hide some of the more advanced options, and bizarrely, white balance is one of these. The camera's automatic white balance setting works well enough most of the time, but when it doesn't, it's a little frustrating to have to venture into expert mode to correct it.
You're also prevented from using certain combinations of features unless you're in expert mode. For example, optical zoom is no-go in macro mode, but you can enable macro focus while zoomed in expert mode. Continuous shooting is unavailable outside of the dedicated smart mode of that name, but can be selected from the settings menu in expert mode. And flash synchronization, too, is only visible in expert mode. Essentially, expert mode places everything within your control, whereas the other two try to hold your hand a little more.
Our greatest complaint with the Galaxy Camera's camera app concerns the subtle but noticeable lag present in all areas of the app, but particularly noticeable in expert mode. Unfortunately there's a noticeable delay when selecting certain on-screen buttons in the camera app, especially the wheeled controls for ISO (100-3200), EV, etc. used in expert mode. This is all the more strange considering the rest of the TouchWiz UI is buttery smooth.
Performance and image quality​
The Galaxy Camera is a point-and-shoot camera, and produces images generally typical of that class of device. That means despite the high price tag, you're not going to get photos that compare to the DSLR and micro four-thirds competition.
All things considered, the Galaxy Camera's image quality is decent -- nothing more, nothing less. It's certainly far beyond the capabilities of even the most advanced smartphone cameras, but in the point-and-shoot arena, there's nothing outstanding to see here. Images are spat out as JPEG files at all times, and unfortunately there's no option to save as RAW.
Like all cameras, it has its strengths and weaknesses. We found macro performance in particular to be excellent, and most of the time the "auto" setting did an adequate job of working out what we wanted to shoot and turning it into a good-looking image. The 21X optical zoom performs fantastically, and the Galaxy Camera was always quick to focus, even at maximum zoom. The camera's optical image stabilization also helps out here, making it easier to capture crisp shots without motion blur, even when zoomed in. The pop-out flash works well within the usual range, but get too close and images become drowned out. (No surprises there.)
Click to view full size
The sheer megapixel count guarantees that just about every shot you take will look decent when compressed down to web-friendly resolutions, or when viewed at a distance on the camera's 4.8-inch screen. But zoom in, and you'll see that fine detail tends to evaporate quickly in less than ideal lighting conditions, particularly in auto mode where the ISO number is ramped up fairly aggressively. We also noticed that images shot in cloudy conditions came out looking more washed out than they should. It was possible to mitigate both of these issues by fiddling with the white balance in expert mode and manually lowering the ISO, so we can't help wondering if there are some software issues holding the Galaxy Camera back in these areas.
In even darker conditions, auto mode trades brightness for clarity, while the "smart" night mode does the opposite. Neither is ideal, but with patience a steady hand -- or a tripod -- the dedicated night mode seemed to produce more vivid photos, as you'll be able to see in our sample shots.
And that sentiment is true of the camera as a whole, really. It is possible to coax some great-looking shots out of it, it just takes more effort than it should for a camera in this price range.
Image 1 of 32
More: View full Galaxy Camera sample image gallery​
We found the Galaxy Camera's video performance impressive across the board. The camera produced consistently produced clear, sharp-looking video at both 720p and 1080p resolutions, with good dynamic range and a smooth, consistent frame rate of 30fps. Video is encoded in H.264, and file size-wise, you're looking at around 120MB per minute for 1080p, or 85MB at 720p. Audio is encoded in AAC with 48KHz; a left and right channel are output, but as far as we can tell the camera merely duplicates the output from its single microphone.
Footage shot at 1080p did appear to suffer from some very minor over-compression issues, resulting in some slight artifacting in places. We also noticed a few instances of white balance going slightly awry, resulting in colors being more muted than expected in cloudier daylight scenes. The slow-motion 120fps video mode, while a neat gimmick, reduces the overall video quality so much that it's of little practical use. (We've uploaded a short 120fps sample reel here.)
But the Galaxy Camera's optical image stabilization and 21X optical zoom really come into their own in video mode. The OIS means it's possible to move around while recording video without sacrificing picture quality, and when coupled with the optical zoom, it allows the camera to capture steady, high-quality footage of distant objects and scenes. (The audio does become slightly muffled if you zoom while recording, on account of the vibrations produced by the internal motors.)
The video camera performed well in low-light conditions too, even at 1080p resolution. As evidenced by our sample footage, the picture stays sharp, and the frame rate remains smooth even in scenes illuminated by streetlight. Overall, there's only a slight loss of fine detail in night-time footage, accompanied by an increase in autofocus times.
Power management and battery life​
The Galaxy Camera includes a 1650mAh removable battery, which by smartphone standards is rather anaemic. But that's an apples-and-oranges comparison, really. With a smartphone, there's the expectation that it'll stay powered on constantly in order to keep the user connected. But with a specialized device like a camera, there are times you'll want it to be powered down to conserve battery power.
Fun fact: The Galaxy Camera has the same battery as the Galaxy S2 (model number EB-F1A2GBU), which means you can buy spares pretty cheap at this point.
Samsung has reached a good compromise with the Galaxy Camera's power management, which allows the camera to go into a deep sleep mode when it's been inactive for a predetermined period of time (one hour by default). Once it does this, you'll need to long-press the power button to wake it up, but when you do the camera springs to life in just a couple of seconds. This is a great way of ensuring a single charge can last through multiple days of light use, and that's exactly what we've found during our normal day-to-day use of the Galaxy Camera.
Battery concerns only arise when you're out and about for hours at a time, constantly taking pictures, and jumping in and out of the camera app. When this happens, the camera doesn't have a chance to enter deep sleep mode, and that quickly takes its toll on the battery.
We spent a day in the field with the Galaxy Camera, taking around 300 photos and shooting six minutes of video, in addition to a small amount of web browsing and uploading of selected shots to Instagram. With this kind of heavy use -- and a little cheating in the middle, where the camera was connected over USB for half an hour or so -- we managed to squeeze just under 7.5 hours of life out of a single charge. That's noticeably less than a "dumb" point-and-shoot would give you, but of course we were also using the Galaxy Camera for tasks that would be impossible on such a device, so that's a tough comparison to make.
Should you find yourself running low on juice with photos still to take, TouchWiz's battery saving mode can be useful, allowing you to scale back the smarter parts of this smart camera. Similarly, turning on airplane mode will prevent the Galaxy Camera from wasting valuable charge on background data.
The bottom line​
Let's just say right away that there is undoubtedly a future in cameras with smartphone tech. As we see it, there's no way the Galaxy Camera is going to be a one-off device -- smart cameras are here to stay, period. In recent days we've already heard rumors that the likes of Polaroid are preparing to compete with Samsung in this arena, and more are sure to follow in the year ahead.
But where exactly is this new category of device headed, and is it worth getting in on the ground floor with Samsung's offering?
By all accounts, the Galaxy Camera is a perfectly good point-and-shoot camera with some excellent smartphone brains backing it up. But its main problem is price -- at $500-550 in the U.S., and £350 in the U.K., it ain't cheap. And the reality of the technology inside it forces the Galaxy Camera into an awkward place. It's too expensive for casual buyers, and the optics aren't quite up to snuff for professionals.
That leads us to the natural conclusion that for the money, you could write easily get a better standalone camera. All of the major gripes we've mentioned can be traced back to the Galaxy Camera's small sensor, and if you were to trade the fancy smartphone internals for a better sensor, you'd certainly come away with better looking photos.
But remember that the smartphone chips, 3G connectivity and high-resolution screen don't come for free. Buy a competing camera at this price point, and you'll get a better camera. But that's all you'll get. No intuitive touch interface, no apps, no 3G, perhaps even no Wifi. That's what you're paying for if you decide to drop five hundred notes on a Galaxy Camera. The image quality might not be the best, but the software and hardware most certainly is.
To be appealing to the mass market, the Galaxy Camera needs better optics or a lower price tag. The former will take a design revision -- and how we'd love to see this kind of device paired with micro four-thirds or better optics. The latter will take time.
The current Samsung Galaxy Camera is a "version 1.0" product, a device for gadget enthusiasts. It offers a tantalizing glimpse of the next generation of digital imaging, but with certain flaws and quirks, and at a price that'll turn many away. If you need, or want a highly connected camera supported by a robust app ecosystem, right now the Samsung Galaxy Camera is the only game in town. Just be prepared to pay a hefty early adopter tax to get this first look at the future of photography.
Be an expert in 5 minutes
Get the latest news from Android Central, your trusted companion in the world of Android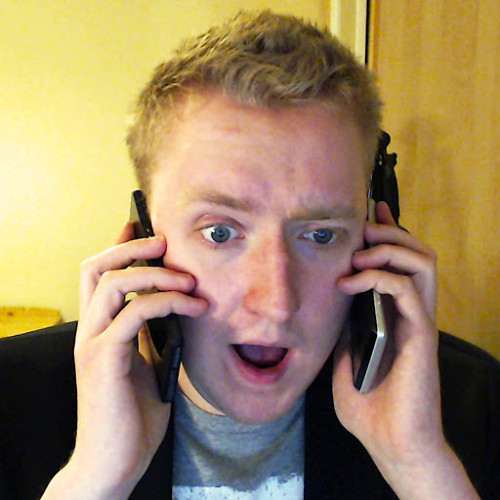 Alex was with Android Central for over a decade, producing written and video content for the site, and served as global Executive Editor from 2016 to 2022.