Nvidia announces the Tegra 3 -- Kal-El brings PC class performance to Android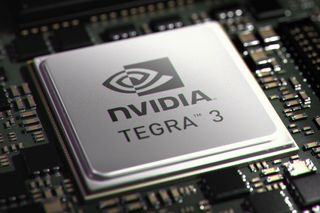 Nvidia has done it again -- they have lifted the curtain and we now know everything there is to know about the Tegra 3 quad-core chip. We first heard about project Kal-El (Nvidia's code name for the Tegra 3) back in February, and since then we've gotten a good many of the technical specifications and white papers, but now we know what it is, when it's coming, and how much ass it's going to kick.
As we learned back a few months ago, Tegra 3 tablets will be coming very soon -- as in this holiday season -- and phones will follow sometime around Q1 of 2012. You can learn more about the first one available to us mere mortals -- the Asus Transformer Prime -- right here. Go ahead, have a look, then come back and read on past the break to see just how much awesome Nvidia has crammed into that little square of silicon, as well as check out some video and pictures, and the full press release.
More: Nvidia (opens in new tab)
Hardware overview
When Nvidia first briefed us about the Tegra 3 and released the technical documents, we learned all about the huge boost in performance and battery life we were to expect. Now we know just what the performance boost means to the things we want from our devices. Not only will we see things we expected, like better HD video rendering (1080p HQ profile at 40Mbps) and up to 3x the GPU performance from the duodecacore GPU (that means 12, I looked it up!), but things we never considered will be improved as well. The Tegra 3 enables support for faster RAM (DDR3L 1500), delivers 7.1 channel audio, and even improves read/write to your storage by up to 6x. This thing is going to scream -- it's going to be like running Android on an Intel Core2 duo laptop. And it's going to do it all while using a lot less of our battery. If you like to geek out a bit, here's the highlights in handy bullet-point form:
The world's first quad-core ARM Cortex A9 CPU
New patent-pending vSMP technology, including a fifth CPU core that runs at a lower frequency and operates at exceptionally low power
12-core GeForce GPU, with 3x the graphics performance of the Tegra 2 processor, including support for stereoscopic 3D
New video engines with support for 1080p high profile video at 40 Mbps
Up to 3x higher memory bandwidth
Up to 2x faster Image Signal Processor
The folks at Nvidia have released a demo showing how the CPU cores interact with the system and apps, and it's definitely worth a watch:
Youtube link for mobile viewing
Content is king
If our time with the current crop of Honeycomb tablets has taught us anything, we know that all this means little without content to take advantage of it. Nvidia continues their trend of providing incredible games and apps that take full advantage of the hardware with the Tegra 3. 15 new Tegra 3 games are currently in development, and the Tegra Zone will have over 40 apps available by the end of the year. This is in addition to all the rest of the content in the Android Market, which will run just fine on the T3 if our experience with the current Tegra 2 chip carries over, but the optimized content will steal the show. Nvidia is more than happy to work with developers and help their applications and games take full advantage of the Tegra 3 instruction set, bringing awesome games and apps to Android. The new crop of games really take the cake. Feast your eyes below, first with a all new demo of Glowball, then a demo of of some of the amazing Tegra 3 games in development, and finally how current games will be improved by the new beastly chip.
Glowball demo -- Youtube link for mobile viewing
Next generation Tegra games -- YouTube link for mobile viewing
Side by side comparisons -- Youtube link for mobile viewing
This is what we've all been waiting for, and the Tegra 3 is the game changer. Nothing in the mobile space comes close to this. Plainly put, apps designed to take advantage of the Tegra 3 are going to be amazing. Even the stills make us all drool, check them out below -- unbelievable detail and console quality.
If I sound excited, that's because I am. A tablet doesn't really fit into my arsenal of work-related tools, but it's a damn fine way to consume content. I do all my reading, web surfing, Twittering and Google-plussing, as well as play games on my Galaxy Tab 10.1. It looks like I'll be able to do all those things even better in very short order. The official press release follows, and if you'll excuse me, I'm going to watch the videos again.
NVIDIA Quad-Core Tegra 3 Chip Sets New Standards of
Mobile Computing Performance, Energy Efficiency
Tegra 3's fifth 'companion' core enables ultra-low power consumption, while
advanced quad-core processors drive record-breaking performance
SANTA CLARA, Calif.—Nov. 8, 2011— NVIDIA today ushered in the era of quad-core mobile
computing with the introduction of the NVIDIA Tegra 3 processor, bringing PC-class
performance levels, better battery life and improved mobile experiences to tablets and
phones. The world's first quad-core tablet with the Tegra 3 processor is the ASUS Eee Pad
Transformer Prime.
Known previously by the codename "Project Kal-El," the Tegra 3 processor provides up to 3x
the graphics performance of Tegra 2, and up to 61 percent lower power consumption. This
translates into an industry-leading 12 hours of battery life for HD video playback.
The Tegra 3 processor implements a new, patent-pending technology known as Variable
Symmetric Multiprocessing (vSMP). vSMP includes a fifth CPU "companion", specifically
designed for work requiring little power. The four main cores are specifically designed for
work requiring high performance, and generally consume less power than dual-core
processors.
During tasks that require less power consumption – like listening to music, playing back
video or updating background data – the Tegra 3 processor completely shuts down its four
performance-tuned cores and, instead, uses its companion core. For high-performance tasks
– like web browsing, multitasking and gaming – the Tegra 3 processor disables the
companion.
"NVIDIA's fifth core is ingenious," said Nathan Brookwood, Research Fellow at Insight 64.
"Tegra 3's vSMP technology extends the battery life of next-generation mobile devices by
using less power when they're handling undemanding tasks and then ratcheting up
performance when it's really needed."
The Tegra 3 quad-core CPUs are complemented with a new 12-core NVIDIA GeForce® GPU,
which delivers more realism with dynamic lighting, physical effects and high resolution
environments, plus support for 3D stereo, giving developers the means to bring the next
generation of mobile games to life.
For the millions who play games on mobile devices, the Tegra 3 processor provides an
experience comparable to that of a game console. It offers full game-controller support,
enabling consumers to play games on their tablet or super phone, or connect to big screen
HDTVs for a truly immersive experience. It also leverages NVIDIA's award-winning 3D Vision
technology and automatically converts OpenGL applications to stereo 3D, so consumers can
experience 3D on a big screen 3D TV (via HDMI™ 1.4 technology).
The Tegra 3 processor provides the industry's….
Fastest web experience - with accelerated Adobe Flash Player 11, HTML5 and
WebGL browsing, and an optimized Javascript engine
Fastest applications - with blazing performance for multimedia apps, such as photo
and video editing
Fastest multitasking – for switching between common uses, such as playing music
and games, and background tasks
Fastest, highest-quality gaming – including new Tegra 3 processor-optimized NVIDIA
Tegra Zone™ app games such as Shadowgun, Riptide GP, Sprinkle, Big Top THD,
Bladeslinger, DaVinci THD and Chidori.
Highlights / Key Facts:
The Tegra 3 processor redefines power consumption and mobile-computing
performance with:o The world's first quad-core ARM Cortex A9 CPU
New patent-pending vSMP technology, including a fifth CPU core that runs
at a lower frequency and operates at exceptionally low power
12-core GeForce GPU, with 3x the graphics performance of the Tegra 2
processor, including support for stereoscopic 3D
New video engines with support for 1080p high profile video at 40 Mbps
Up to 3x higher memory bandwidth
Up to 2x faster Image Signal Processor
40 games are expected to be available by the end of 2011, and over 15 Tegra 3
games are under development for Tegra Zone, NVIDIA's free Android Market app
that showcases the best games optimized for the Tegra processor.
The Tegra 3 processor is in production. Developers can order the Tegra 3 Developer
Kit to create applications for devices with Tegra such as tablets and super phones, at
developer.nvidia.com/tegra.
Quotes:
NVIDIA, ASUS
"The Eee Pad Transformer Prime is a category-defining product. Powered by Tegra 3, it launches us into a new era of mobile computing, in which quad-core performance and super energy-efficiency provide capabilities never available before. With Transformer Prime, ASUS has once again led the industry into the next generation."
- Jen-Hsun Huang, President and Chief Executive Officer, NVIDIA
Tegra 3 is a marvel. Its quad-core CPU, 12-core GeForce GPU and vSMP technology are revolutionary. We worked closely with NVIDIA to build the ultimate tablet – the
Eee Pad Transformer Prime – that delivers a magical, uncompromised experience to consumers."
- Jerry Shen, CEO at ASUS
Thanks to Tegra 3's quad-core CPUs, Shadowgun looks and plays the best on Tegra. Consumers are going to love the quad-core Shadowgun version – which features rag
doll physics, console quality water simulation, particle effects, enhanced shaders, dynamic textures, and more."
– Marek Rabas, CEO of Madfinger Games
"Riptide GP showed how Tegra brought mobile gaming on Android to new heights. Tegra 3's quad-core performance has allowed us to add a whole set of exclusive new features -- improved water visuals, splash effects, motion blur -- that pushes the experience to an entirely new level."
- Matt Small, Creative Director at Vector Unit
"Working with NVIDIA makes the impossible possible. Our Tegra 3 optimized game DaVinci THD will look brilliant when it comes out, with mind-blowing 3D graphics and intuitive touchscreen interface. DaVinci THD will leverage Tegra 3 for its multithreading capabilities, so we can scale across all four CPU cores and deliver the ultimate console-quality performance. As a result, DaVinci THD will be more realistic, interactive and challenging than anything we've done before."
- Kijong Kang, VP and Executive Producer at Bridea Corporation
"Combining BitSquid's tech engine with Tegra 3's quad core architecture means a gaming experience like no other. Gamers are going to really see the next-generation gaming experience in Hamilton's Great Adventure THD."
- Martin Wahlund, CEO at Fatshark
With Tegra 3, NVIDIA has shattered the usual constraints on the quality of mobile device experiences. By enabling tablets and smartphones to operate at an exceptional level, it allows developers like Zen Studios to create console-quality experiences that can be enjoyed anywhere, anytime. The quad-core fueled graphics and physics in Zen Pinball THD are simply incredible and represent the premier mobile pinball experience. You can only get that on devices built on Tegra 3.
- Mel Kirk, Vice President of Marketing and Public Relations at Zen Studios
"Quad-core chips are raising the stakes for mobile gaming. With Tegra 3, we can render even more content with better animations on Bladeslinger THD – all while consuming less power. This is a recipe for all-day game play."
- Sam Williams, General Manager at Luma Arcade
"Tegra 3 is making much more complex gaming environments possible on mobile platforms. Gamers are going to be amazed by the level of graphical detail and realistic physics that come through in quad-core enhanced games like Soulcraft THD."
- Karsten Wysk, CEO of Mobile Bits
"As we've seen on Big Top THD, gaming performance on Tegra 3's quad-core architecture is unmatched. From the high quality shadows to improved tent animation and high-dive splash effects, Tegra 3's 12-core GPU delivers the best gaming experience and uses the lowest power you'll see on a mobile device."
- Robert Troughton, CEO at Pitbull Studio Ltd.
"Tegra 3's quad-cores bring out the best in our Substance smart texturing engine. The CPU and GPU parallel processing allows mobile game developers to add never seen animated visual effects and textures to their games, translating into an absolutely stunning visual experience on mobile."
- Sébastien Deguy, CEO and Founder at Allegorithmic
"Tegra 3's quad-core processor and 12-core GPU allows developers to port PC and console game titles using BitSquid Tech for the same great experience on any device. From a hard-core gamer's customized PC to a phone or tablet with Tegra, you'll get identical game play and buttery smooth graphics, anywhere any time."
- Tobias Persson, Co-Founder and Rendering Architect at BitSquid Tech
"We're excited to bring the definitive version of Siegecraft to Tegra 3. Its amazing graphics performance and quad-core scaling let us amp up the game to the max - more physics, more units, more Siegecraft!"
- Benjamin Lee, Managing Director at Blowfish Studios
"Thanks to Tegra 3's fantastic GPU performance we were able to use the same quality textures in Zombie Driver THD as on the PC. The outstanding quad-core CPU performance makes it possible to support Tegra game development in parallel to other high-end platforms."
- Pawel Lekki, Chief Operating Officer at Exor Studios
"Quad-core technology has changed how we approach mobile game development. Tegra 3 helped us create Jett Tailfin Racers THD - an eight-player game with the
highest resolution textures, underwater caustics and anisotropic shading we've ever seen on a mobile device."
- Manny Granillo, President at Hoplite Research
"Mobile gaming is about to take a huge leap forward with Tegra 3. Its GPU gives us access to higher-resolution textures and far better effects. And its four CPUs make Euphoria's gameplay smoother, more interactive and quality that's close to a console."
- Keiichi Yano, Co-Founder and VP of Development at iNiS
"It's incredible what Tegra 3's quad-core architecture bring to mobile gaming. As good as Combat Arms looks on a tablet, it looks 1000 times better when you connect it to your HDTV, strap on game controllers and sit back to enjoy a real 3D console-gaming experience with Combat Arms: Zombies THD."
- Albert Rim, CEO at Nexon Mobile Corporation
"With the Tegra 3 processor, NVIDIA is once again painting new horizons for technology on wireless platforms. We're excited to see how the thousands of developers using Unity to create interactive 3D content will take advantage of the extra power that NVIDIA's quad-core technology provides."
- Tony Garcia, Vice President of Business Development at Unity Technologies
"Tegra 3 is equivalent to a console game machine, and we believe devices with it will play an important part in next-generation games. We've been working on optimizing our cross-platform engine Chidori to fully support Tegra 3. To support Tegra's 3 multi-core engine, we've optimized our 3D effect tool. And we've adapted our high-quality shader library, Aoi, to Tegra 3, allowing truly beautiful imagery."
- Katsunori Yamaji, CEO and Executive Producer at Premium Agency Inc.
"By harnessing the strength of Tegra 3's 12-core GPU in our multiplatform middleware, game developers can easily port titles to Tegra 3 and achieve true console-quality graphics. Tegra 3's quad-core architecture and Orochi's multicoreenhanced, game-engine technology is going to spur the evolution of games on quadcore mobile devices."
- Takehiko Terada, President and CEO at Silicon Studio Corporation
"We're totally pumped by the potential of Tegra 3's quad-core CPU and 12-core GPU. They'll bring console-quality experiences to mobile devices, and we're working to bring an amazing title to the Tegra platform. Stay tuned for our announcement of a great Tegra 3-optimized title in the coming months."
- Richie Casper, Creative Director at Acquire Corp
"NVIDIA's GPU architecture delivers the best gaming experience, bringing true console-quality games to mobile devices. Our Lost Planet 2 test demo makes it clear - the quad-core muscle of Tegra 3 brings hyper-realistic visuals, smooth frame rates and sharp images. The result is a whole new level of realism to content for smartphones and tablets."
- Jun Takeuchi, Deputy Head of Consumer Games at Capcom
"Tegra 3 is a huge leap forward in mobile computing. Using its quad-core capabilities, we were able to improve all of Sprinkle's visual effects, plus add a whole new layer of smoke simulation."
- Dennis Gustafsson, Co-Founder of Mediocre
"We're floored by everything we've seen in Tegra 3. Its four cores, coupled with amazing graphics performance, will let us bring awesome gaming experiences to the
Tegra platform next year."
- Carlo Perconti, CEO at HyperDevBox
Key Content Partners
"Flash-based apps packaged with AIR allow content creators to deliver premium gaming and video experiences, while HTML5 apps built with PhoneGap enable fantastic, general-purpose mobile apps. We continue our close partnership with NVIDIA to ensure that these visually rich, highly-interactive apps can significantly benefit from Tegra 3's enhanced CPU and GPU horsepower."
- Jennifer Carr, Senior Director, Business Development at Adobe
"We've been developing multimedia applications on Tegra 3 for some time now. The quad-core processing muscle will allow some new apps and use-cases that
consumers are going to love."
- George Tang, General Manager and VP of the Video and Entertainment Group at ArcSoft
"Tegra 3's quad-core performance makes a huge difference for photo and augmented reality apps. Our Photaf Panorama Pro THD app runs more than 40% faster, and Face Costume gets over 60 percent speedup over comparable dual-core processors. Quad core opens up new possibilities for future application development, especially in the field of computer vision."
- Oren Bengigi, CEO at Bengigi Studio
"Tegra 3 gives us the quad-core horsepower to really push the envelope on cool video editing effects, smooth video playback, augmented reality camera and other challenging applications. With Tegra 3, we're delivering real-time compositing and preview of simultaneous 1080p HD streams and graphics on a mobile device – that's amazing."
- Alice H. Chang, CEO at Cyberlink
"Seamless, compelling Augmented Reality (AR) experiences demand that all of the pieces of a mobile device work together. Metaio's AR software requires optimized mobile hardware to make the way we access digital information a more natural experience. Tegra 3 delivers the multi-core CPU performance required for advanced vision processing while bringing a tremendous boost in GPU performance. Working with Tegra's software stack will make it possible for us to utilize all of those capabilities towards building an Augmented World."
- Dr. Thomas Alt, CEO at metaio
"Tegra 3's combination of HD video playback performance and extended battery life will give Netflix members a fantastic experience as they watch movies and TV episodes streaming from Netflix via their Android devices."
- Bill Holmes, Vice President of Business Development at Netflix
"Tegra 3 gives us the horsepower we need to bring a PC-quality photo editing experience to mobile devices through applications like Snapseed, by Nik Software."
- Michael Slater, President and CEO at Nik Software
"By collaborating with NVIDIA, we are able to bring advanced multi-touch and pen capabilities to the tablet market, providing the Android user with a smoother and richer user experience, and enhancing the tablet from a basic consumption device to one that offers more personal and creative capabilities. The processing strength provided by Tegra 3's additional cores will enable application developers to dedicate CPU cycles to UI processing and provide an enriched pen solution for artistic, enterprise and educational applications."
- Amichai Ben David, CEO of N-Trig
"The tablet and mobile device market are exploding and productivity applications are central to this growth. As the most widely distributed mobile office software, we are excited to partner with NVIDIA to take advantage of the enhanced capabilities inherent in the Tegra 3 quad-core chip to bring continued innovation in the marketplace."
- David Halpin, VP of Engineering at Quickoffice
"Splashtop plus Tegra 3 offers users an unparalleled cross-device experience. Splashtop enables sharing content among smart phones, tablets, and TVs, and combined with Tegra 3's quad-core processing muscle, it can support 30 framesper-second video with extremely low latency – perfect for games and multimedia!"
- Mark Lee, CEO and Co-Founder of Splashtop
"WebGL is being rapidly adopted on HTML5-capable desktop, laptop and netbook systems, and now NVIDIA is helping to bring WebGL to Android. Tegra 3 delivers an incredible level of performance -- the four cores provide the multi-threading horsepower needed to drive a complete browser stack including highly interactive 3D."
- Ken Russell, Chair, WebGL Working Group
"Tegra already provides the fastest platform for silky smooth magazine reading on Android. The quad-core capabilities of Tegra 3 will help us further accelerate and enhance the complete browsing, downloading and reading experience."
- Vandan Parikh, Director, Reading and Mobile Technologies at Zinio
Jerry is an amateur woodworker and struggling shade tree mechanic. There's nothing he can't take apart, but many things he can't reassemble. You'll find him writing and speaking his loud opinion on Android Central and occasionally on Twitter.
This... Is Why I said "NO" to the Galaxy Nexus Prime... My Customized Droid Charge @ 1,300 mhz on Verizon's Unlimited LTE 4G Network will do just fine... Until this HITS about Tax Time... And I Mean HITS.. HARD.. This is Revolutionary Technology and Worthy of My $700.00 Dollars.. Not The Nexus.. This Technology On Verizon with my Unlimited 4G LTE will make my Mutiplayer Gaming, Slingbox & Netflix T.V. Experience Just Incredible... Now I am like the Rest of you.. I.. CAN'T... WAIT..

I'm with you Rock my Cappy till this Beast is freed.

Maybe That Post Wouldn't Be So Annoying If Every Other Letter Wasn't Capitalized. In all seriousness, have fun. I'm sure that the .3ms less it takes to make a phone call will be worth the waiting and extra money. Not to mention the extra 10 FPS you get off of those HD games. I can barely handle how revolutionary this will be. Now that Android has hardware acceleration, there's really no point to try to max out on all the available specs. Unless you use your tablet/mobile phone as a PlayStation 3 and/or Xbox 360. In which case you should instead get a PlayStation 3 and/or Xbox 360.

I agree. The whole point of having a great processor and a great gpu for android was to counter the fact that android, in its open sourced goodness, was not optimized for multiple cores, nor did it have hardware acceleration. Now with ICS, everything OS wise will be smooth, so the only noticeable (or maybe it won't be noticeable) difference is how fast things open. In addition, with all of the RAM phones now have, a lot more time is spent switching to an app that is already running, rather than opening it for the first time, and switching is instantaneous. In terms of games, the only things that will need this kind of gpu, it sounds stellar. I would love to see console quality games on my phone, especially with screens becoming HD. Bottom line though, Tegra 3 in a phone sounds great, but it's not a game changer for me. And here's why: 5% of the my phone time is spent playing games, and which ones get the most attention? That's right, the most addicting. Not the best looking. If I wanted to play a shooter or a story game where I feel overwhelmed by the graphics I'd stick to my PS3/Roomate's 360/PC. You know, where we have legitimate controllers and none of this onscreen nonsense. Just my opinion, though. Oh, and this only goes for phones. Tablet's are a slightly different story.

you are forgetting ICS supports controllers and hdmi out the box.. Which yes HC did.. But like you said.. Tablets are another story..

Im excited for Tegra 3, but my Incredible has ran its course...Im hopefully going to get the Galaxy Nexus as a place holder...then down the line get the Galaxy SIII when and if it comes to Verizon and if it even has Nvidia...I cant get anything else but Samsung now, because I hate MotoBlur, there is a uncertain future of updates for HTC Sense and also HTC doesnt use AMOLED, after having AMOLED on my Incredible, I cant get anything else...Samsung has finally hit the spot as far as Skins go and they use AMOLED

Doing thing's like a BOSS!

first of all its been said nvidia lied about its processor being faster than a core2duo and in reality the core2duo they used is 40% faster than its tegra3 http://news.softpedia.com/news/Nvidia-s-Kal-El-Quad-Core-ARM-Chip-Is-Act... Anyways this seems to be very promising but i dont know if that much power is really necessary for devices like those. The iphone 4 for example, because it has hardware acceleration even with a single core its totally smooth when browsing the web, the UI and pretty much any app. I prefer optimized software than lots of horse power with poorly optimized software

I took out my Tegra 2-powered OG Transformer recently and was aghast at how sluggish and choppy it was compared to my Galaxy S II Long-Name. It was actually painful to scroll around and wait for something to happen. Animated wallpapers are like slide shows. I don't know if ICS will make it feel better, but I certainly wouldn't try to scare off an iPad user with it.

Arm cortex a 15 processors are coming out next year though... A9 is gonna be abit old...

You've said it... "next year." Tegra will be the best for a long time, and even then, the GPU on other chipsets may not be as good. Plus Tegra Zone compatibility.

Listen...simply put, it sounds like people are splitting off into two categories here. The workers and the gamers. I think Smart phones are taking the perfect path as COMPUTER REPLACEMENTS. In the truest sense of the word. So now a smart phone can...edit documents, create PDF's, schedule events, set alarms for those events...store important information, use Webex, and a ridiculous amount of other business things that are needed for a business class mobile COMPUTER phone...BUT ALSO, nvidia and all the other players of the mobile computer world decided...why not pump up the power and give these mobile devices gaming abilities. It's rather easy enough right? After all, the idea here is to replace a computer with a mobile device capable of being accessed anywhere at anytime which ends up being ESPECIALLY important for those travelling types. And now...you have some downtime? on a plane? in a cab? here...let me pop in a sweet HD game. I am travelling so freakin much that my PS3 sits at home and collects dust. How I would LOVE TO play it. But I cant. But you know what I can do? While taking the 4 hour flight and in the airport, i can open a slew of High End games that will make my time go sooo fast. Computer replacements people. Mobile Computer Devices. Computers with the ability to make phone calls. There is no limit to imagination and what can be done with them...embrace the pure amazement of what these companies are doing. It really is unbelievable. I am playing Order and Chaos on my phone, a Very similar game to World of Warcraft for regular computers. A WORLD OF WARCRAFT LIKE GAME ON MY PHONE! its ridiculous. Technology is moving crazy fast. All the things we can do...and how everyone moves to still make it power effecient. This is a great step. I for one am excited about the steps that the smart phone has taken and i am sure i am going to be floored in 10 years with the continued advances we make in tech. And if that particular technology is not for you? you aren't a gamer? well...then dont partake, and enjoy the many business and OTHER personal aspects... Facebook
Movies
Music
Browsing
Streaming
You Tube... Whatever your fancy is, because smart phones can do SO MUCH MORE than just make calls right? :)

+1 To this. I'm partially into having the biggest and baddest but honestly this bump is not necessary for me. The Galaxy Nexus will do everything I want extremely well and is future proofed on updates for a few years however, I'm excited about the advancement and mobile gamers or people that want to edit video/photos on the go will be benefitting drastically from this step.

TOO FUNNY.. THE NEXUS JUST GOT PIMPED..........PERIOD! INFERIOR 2011 TECH...... WELCOME TO 2012 TECH.. AS I SAID.. I... CAN'T... WAIT. TRY TO CONVINCE YOURSELF THE NEXUS IS STATE OF THE ART...NOT! NOT ANYMORE...
Android Central Newsletter
Get the best of Android Central in in your inbox, every day!
Thank you for signing up to Android Central. You will receive a verification email shortly.
There was a problem. Please refresh the page and try again.