Nook Video UK launch announced with UltraViolet support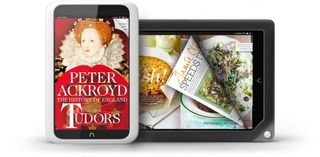 Good news for Nook HD and HD+ early adopters in the UK -- Barnes & Noble has announced the launch of its Nook Video service for British Nook owners. The move brings B&N's tablets up to speed with the latest Amazon, Google and Apple tablets, all of which offer their own on-board video services.
The move is made possible through new, expanded UK licensing deals with content owners such as BBC Worldwide, HBO, NBCUniversal, Sony Pictures Home Entertainment, STARZ, and Warner Bros. Entertainment, Barnes & Noble says. Individual TV shows and movies highlighted by B&N in today's press release include --
Both high and standard-definition video content is available through Nook Video, with streaming and downloading supported on the service. Downloads are linked to the Nook Cloud service, allowing them to be played on other supporting devices.
What's more, Nook Video will also tie into the UltraViolet video system, allowing those who've purchased Blu-ray or DVD versions of titles to view a digital copy of this content on their Nook tablets.
You'll find more details in the presser after the break. If you've picked up a Nook HD or HD+ tablet in the UK recently, let us know how you're getting on in the comments.
LONDON–(BUSINESS WIRE)–NOOK Media LLC, a subsidiary of Barnes & Noble, Inc. (NYSE: BKS), the world's largest bookseller and leading retailer of content, digital media and educational products, today announced its NOOK Video offering of films and TV shows is available in the UK for NOOK HD and NOOK HD+ customers through new and expanded licensing partnerships with major studios and leading content providers including BBC Worldwide, HBO, NBCUniversal, Sony Pictures Home Entertainment, STARZ, and Warner Bros. Entertainment. Barnes & Noble is also the first digital retailer to offer UltraViolet titles in the UK, bringing unmatched convenience and portability to customers' compatible digital video collections.
NOOK Video features a diverse digital collection of popular classics, blockbuster hits, new releases, original television series and local favourites available for streaming and download. NOOK customers across the UK can now shop and experience their favorite movies and TV shows like never before seen in spectacular colour and stunning definition on NOOK HD, the world's highest-resolution 7-inch HD tablet, and NOOK HD+, the lightest full HD tablet, for an unparalleled portable entertainment experience. Offered in standard and HD formats, videos that are streamed and downloaded from the NOOK Store will be stored safely and securely in the NOOK Cloud, so NOOK Video content can also be enjoyed on other devices via soon-to-launch free NOOK Video apps.
NOOK Video offers something for everyone in the family to enjoy, including Sherlock, Call the Midwife, Game of Thrones®, True Blood®, Ted, The Bourne Legacy, The Amazing Spider-Man™, The Girl With the Dragon Tattoo, Men in Black 3, Spartacus, Party Down, The Dark Knight Rises, Inception, Happy Feet Two, and many more. The company is also planning to make content available from other leading studios, to be announced.
The launch of NOOK Video makes it the first digital retailer of UltraViolet titles in the UK, making it easier than ever for UK customers to integrate compatible physical DVD and Blu-ray Disc purchases and digital video collections across their devices. As the first UltraViolet-enabled tablets to seamlessly integrate a customer's compatible digital video collection across their devices right out of the box, NOOK HD and NOOK HD+ customers can now easily link their UltraViolet accounts to the NOOK Cloud allowing them to view their previously and newly purchased UltraViolet-enabled movies and TV shows via NOOK devices and NOOK Video apps. In addition to purchasing a digital version via NOOK Video, customers can shop for DVDs and Blu-ray Discs with the UltraViolet logo, add them to their digital collection, and instantly watch compatible titles from the NOOK Cloud.
"We purposefully designed our new NOOK HD and NOOK HD+ tablets with stunning high resolution displays for unmatched reading and entertainment experiences, and we're excited to expand our content partnerships to bring NOOK Video to our growing base of UK customers," said Jonathan Shar, Vice President & General Manager, Emerging Digital Content, NOOK Media. "NOOK Video provides customers with the flexibility to enjoy their favorite movies and TV shows wherever they go and however they choose – all in spectacular digital quality."
"We're excited to be part of the initial video offering by NOOK in the UK," said Claude London, Digital Director, BBC Worldwide Consumer Products. "We hope that this partnership will provide consumers with flexible access to our wide variety of content including some of our major new releases and well-loved back catalogue."
"Barnes & Noble becoming the first UltraViolet retailer in the UK is going to change the way consumers purchase and enjoy their digital movie libraries," said Jim Wuthrich, President, International, Warner Home Video and Digital Distribution. "With UltraViolet-enabled movies, consumers know their collection is stored securely in the cloud and can be accessed across numerous devices, including the NOOK HD and NOOK HD+. This convenience, combined with the ability for consumers to share their digital libraries with up to five family members, makes NOOK Video a very compelling destination to purchase movies."
Alex was with Android Central for over a decade, producing written and video content for the site, and served as global Executive Editor from 2016 to 2022.
Can Android Central review the Nook HD & Nook HD+ please?
Android Central Newsletter
Get the best of Android Central in in your inbox, every day!
Thank you for signing up to Android Central. You will receive a verification email shortly.
There was a problem. Please refresh the page and try again.