Niantic's massive reboot to Ingress, called Prime, is finally here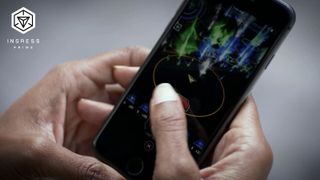 Long before Pokemon Go took over the world, Niantic was a small team inside of Google eager to make a game that got people out in the world and exploring the hidden secret cool things around them. Ingress grew steadily in popularity, and a huge percentage of its userbase remains fiercely loyal to this day. The Enlightened and Resistance factions continue to wage war around the world for control over the mind power of those unaware a fight is even happening, and gather regularly for massive planned missions with real world guilds numbering in the hundreds.
It's incredibly cool to see how well Ingress as a game has held up since its launch almost exactly six years ago, but very little about the core features have changed in a while. Niantic is addressing this starting today with a massive effort to not only change the face of the world's fist massive global augmented reality game, but but also breathe new life into its warring factions. The update is called Ingress Prime, and what you'll have access to starting today is just step one of a massive effort to grow and shape the entire game over the next year.
Lets start with the basics. As soon as you open Ingress Prime, existing players will see everything is going to look familiar yet strangely different. The entire interface has been updated, the scanner now using higher resolution maps with greatly improved animations and sounds. It's as though your phone was just upgraded to HD, and it's all very rich and dynamic feeling. Gone are the somewhat confusing long press shortcuts for weapons and hacks, instead now relying on a more friendly swiping system for interacting with the interface. Swiping from the sides reveals the tools you need to use while working on the fly, which means you can still drop blasters and hack portals with one hand as you quickly move from target to target. It's different, to be sure, but very easy to get used to.
Veteran Ingress players, particularly those who have earned their level 16 achievement long ago, will be able to take part in a new Prestige-like program in Ingress Prime. You'll earn a special badge and some unique perks if you turn in your 16 rank and reset your progress, a gameplay mechanism not terribly dissimilar from Call of Duty and others. There's nothing saying you must go this route, but Niantic made it clear there would be benefits to doing so, and after testing this part of the game with a bunch of loyal Ingress players it seems like a popular move forward for those who have maxxed out their level long ago.
It's important to make sure the existing players feel right at home, but Niantic is working overtime to make sure new users are given the tools they need to start quickly and grow more effective over time. A long needed tutorial system is now a part of Ingress Prime, and instead of dumping the entire UI on you with tap instructions like most games, users will be slowly introduced to new mechanics and tips on how to improve. These tutorials don't get in the way of gameplay, but the slow burn for effectiveness is going to make what is a fairly complicated yet fun system a lot easier to digest.
Coupled with this new onboarding process, Niantic has a whole new story and tons of new mysteries for users new and old to sink their teeth into. In Japan right now an Ingress-based anime is in the middle of its first season run in a primetime slot, and will be coming to Netflix in English eventually. This is coupled with a new web-based video mystery featuring a young woman who thought she was coming in to help with a research project, and of course a new ad featuring a grand introduction to this mysterious war happening in plain sight you can expect to see over the next couple of weeks. It all adds up to Ingress Prime, this massive effort to improve what has worked and get new folks eager to play alongside excited veteran players.
One thing Niantic was very clear about was the way this game update and Intel website update was only Step One. Ingress Prime is going to continue to grow and change over the next year, including a shift to a similar codebase as Niantic's other existing and upcoming games, as well as a huge new story which will change as one faction or the other wins events throughout the world. Niantic also treated us us to a sneak peek at a passthrough-camera Augmented Reality map which allowed teams to better visualize larger areas of terrain to plan out more elaborate campaigns through their phones, which was cool as hell. Ingress Prime is available for both Android and iOS starting today, but if you want to keep using the existing Ingress app you'll be able to through the Ingress Classic app hitting the store soon. Both apps give you access to the same core features, so veteran players will have plenty of time to adapt to these new systems while new players learn the basics and start to offer new hope for the success of their faction.
See in Google Play (opens in new tab)
Get the Android Central Newsletter
Instant access to breaking news, the hottest reviews, great deals and helpful tips.