Exclusive first look: Pics and video of the new Nexus 7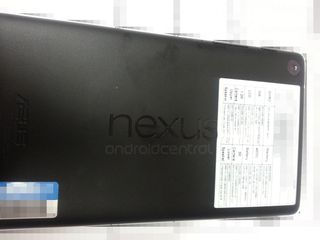 Here we go, folks. The first probable pictures of what we believe is the long-awaited successor to the Nexus 7. We've had to do a little Photoshop surgery to protect the source (we'll just call the source, oh, how about "Bert"), but what we're seeing lines up with rumored specs, and what we'd expect to see in the follow-up.
Separately, we've gotten a look at some possible pricing, giving some hope that we might finally soon see the retail release of Google's affordable tablet. And then there's the Google event set for July 24 in San Francisco.
Ready for more? Read on.
First, a quick caveat: Ain't nothing official yet. Google's not announced anything, and we have no idea if what we see here is a finished product, or prototype. (When in doubt, I usually assume the latter.) And we've seen things change greatly from early leaks to retail release before, including with the original Nexus 7. We're also not 100 percent confident in the specs that accompanied this thing. So, grain of salt and all that, until official things are official.
Hell, we don't even know what it'll be called.
But what we're looking at here is labeled as the ME571K_PR1_SKU2, again manufactured by ASUS. It should be one of (at least) two versions of the Nexus 7 successor — we're expecting 16- and 32-gigabyte options, and it's probably safe to assume we'll see Wifi-only versions as well as models with cellular data connections.
The specs slapped onto this little lost tablet include the expected 7-inch LCD display and, new this time around, a pair of cameras. There's a 1.2-megapixel shooter from LITEONMOBILE on the front, and 5-megapixel camera by Chicony on the back. The rear camera appears to be situated in the same corner as the 3.5mm headphone jack.
The listed motherboard points to Qualcomm's APQ8064 with a Qualcomm Snapdragon S4 Pro processor. That's different than the Snapdragon 600 that the Bluetooth Special Interest Group thought it saw, but stranger discrepancies have happened — and it's entirely possible that there are two versions of this thing out there. Remember that this is SKU2, according to the specs listed on it. The FCC, however, has already seen a Snapdragon S4 tablet come through.
We're also possibly looking at a ridiculously whopping 4 gigabytes of DDR3L RAM. (Though we're not 100 percent sure on that, 2GB wouldn't surprise us at all, and, again, written specs on stuff like this get messed up all the time.) We're also expecting the aforementioned (and not at all surprising) 16- and 32-gigabyte storage options.
Looks like microUSB is still the preferred method of plugging in, and it's centered in the bottom edge of the tablet. (For what it's worth, this is one of those areas in which we saw drastic changes between prototype and finished product in the original Nexus 7.) The power button and volume rocker are situated the same way as they are on the current Nexus 7.
One other addition — and this is one you can't see too well in these pictures— is the dual speakers, referred to in the specs here as "upper" and "lower" speakers. They're positioned on the rear of the tablet, with one near the USB port.
On the software side, we're told this unit had Android 4.3 on board. Not a real surprise there, especially with Google doing something next week in San Francisco. But it also wouldn't surprise us to see a 4.2.2 launch and an quick update immediately thereafter. Either way, it's got the same old lock screen widgets we're used to. (We've seen a phone dialer as well, but we wouldn't read too much into that just yet.)
Edit: On second thought, that's the lock screen PIN entry we're seeing, not a dialer. Thanks, zachavm.
Edit 2: By popular request, we've added the good look at the spec sheet — which we're still not 100 percent sure is finished product — in the gallery.
Big ups to "Bert" for the info!
Image 1 of 11
Get the Android Central Newsletter
Instant access to breaking news, the hottest reviews, great deals and helpful tips.