New Futurama game for Android promises to bring authentic experience for fans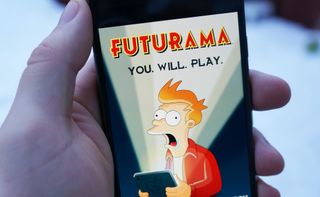 Futurama is coming back! ...as a mobile game. Yes, despite the animated series final finale airing back in 2013, the show is getting a brand new game for 2017 in a partnership between FOX Interactive and game developers TinyCo. Unfortunately, we don't know any specifics related to gameplay or what sort of hi-jinx Fry, Leela, and Bender will be getting up to yet, so instead we're left to speculate based on clues from TinyCo's previous licensed titles.
TinyCo was responsible for bringing another popular FOX animated series, Family Guy, to the mobile platform with Family Guy: The Search of Stuff (opens in new tab). It's a city building game with delayed build times and in-app purchases — as well as millions of downloads from the Google Play Store alone. It's hardly a stretch of the imagination to see how a show that's centered around an interplanetary delivery service could easily be developed into a lucrative, quest-based mobile game with a free-to-play model — but again that's pure speculation on our part.
At the very least, Family Guy: The Search of Stuff proves that TinyCo takes its source material seriously and takes the time to faithfully adapt the look, feel and humor of the original show to a mobile game.
And that's great news, because Futurama deserves a well-made mobile game more than any other franchise. Of all the great animated series that existed during the early 2000s, Futurama did the best job of capitalizing and embedding itself within the proliferation of nerd culture, and was literally kept alive thanks to fans showing support on the Internet. It was a incredibly creative and well-written show that offered a smart satirical look at the world and science fiction tropes won over the hearts of diehard fans… despite having been cancelled multiple times.
And really, it's not like Futurama needs a mobile game, but it would be nice to have something to make up for the other game "based on the series": Futurama: Game of Drones (opens in new tab) an uninspired tile-swapping game with the Futurama characters and branding slapped on.
So it's heartening to hear that the developers behind this new title carrying the Futurama brand are huge fans of the Futurama series. As TinyCo's Head of Business Operations Michael Chen explained, the team has the added benefit of working so closely with the series' original cast and crew.
"Our team is all die-hard Futurama fans, and we work day in and day out with the amazing people that gave birth to the incredible Futurama world. It is a labor of love and we just hope that all of our passion, love, and hard work translates into something that befits this world and these characters we all love," said Chen.
"We work with the original crew every day on this game. They are an integral part of making the game the best it can possibly be. We firmly believe that you can't get to 100% authenticity for a game on a brand like Futurama without working with the folks that created it. They lived this world for so long and have such unbelievable passion and love for the world and what makes it tick, that without them you can only do so much to make it authentic.
Without revealing any specifics, Chen did specify that the game should take advantage of one of the core aspects of Futurama — going on zany space adventures — would be a big part of the game. And that's good because, as Chen acknowledges, there's a lot of pressure to deliver when you're dealing with cherished source material.
"Yes there is added pressure, but the pressure for an authentic brand experience is the right pressure to have to push a team to deliver a better product," said Chen.
"When creating a game based on a world with beloved characters and universe it is an imperative that the experience is authentic in order to make it a game that's worth a player's time. If you have incredible mechanics and gameplay, but the world and characters are misrepresented or slapped on, you are doing your product and the fans of that brand a disservice."
As a Futurama fan, I'm cautiously optimistic to see what TinyCo and the Futurama crew have in store for us.
You can pre-register for the game in the Google Play Store (opens in new tab) or at www.youwillplayfuturama.com
See at Google Play Store (opens in new tab)
Android Central Newsletter
Get instant access to breaking news, the hottest reviews, great deals and helpful tips
Marc Lagace was an Apps and Games Editor at Android Central between 2016 and 2020. You can reach out to him on Twitter [@spacelagace.
April thirteenth... point two. We have failed to uphold Brannigan's Law. However, I did make it with a hot alien babe. And, in the end, is that not what man has dreamt of since first he looked up at the stars?! Kif, I'm asking you a question!

Awesome. Love Futurama (episodes before Comedy Central)

Actually, I'd say game of drones is pretty lovingly crafted from a Futurama perspective, but I'm not a big fan of the match-4 gameplay. But all the little bits around it, the Robot Devil, Twitcher, the card collection... pretty nice. Hope this one turns out well too.

I enjoy Game of Drones, great time killer and the fact that you only get 5 lives (lives refill every 30 mins or you can possibly get more by watching an Ad.) But I will say that by the time you get to the higher levels (Hermes) it becomes very difficult almost like you need to buy a buff to get past the level or get 3 stars on a level

"New Futurama game for Android promises to bring authentic experience for fans"
Awww yeah, 5 bucks they show up with just another city builder with timers.

I'd love to see a console game of Futurama. And a new Simpsons game (esp since XB360 version is not XBO compatible), and a good Family Guy game. But no RPG's, I'd rather have something like the Simpsons game was, or the old Family Guy PS2 game.

Yeh, I downloaded Game of Drones and played for 15 minutes. I uninstalled it right after. My love for Futurama is the only reason I played it as long as I did.

They should delay it a week, so they can release it on "Thursday the 20th".

Realized that was Simpsons, but still, solidarity.

It's "The Quest for Stuff", not "The Search of Stuff".

If they said it was Simpsons Tapped out but Futurama I'd be all over it! Search for stuff was way to much of a paywall. While simpsons feels great and I get alot done with 0 purchases. I think I bought one pack of donuts because I wanted a character cause it was my favorite episode. That was all

TinyCo alert....If this is going to be anything like Family Guy: The Quest For Stuff (not search), it's going to be slow and infuriating. The original Family Guy game was great. Then, it became an event driven model, where the only way to make any progress was to pay a ton of money for in game currency. Then, you were left with a bunch of characters you would never use again, so the game was/is purely a money grab/time waster. I'll play this for a little while, and if I see plenty of the TinyCo I am familiar with, I'll be uninstalling shortly thereafter.

Bite my shiny metal ass. YAY
Well that drones was a the copy of the candy Saga games. Not inspiring. But Futurama bits and pieces were awesome. Hopefully this is not like it and also not an RPG or fffing city builder.
Android Central Newsletter
Get instant access to breaking news, the hottest reviews, great deals and helpful tips
Thank you for signing up to Android Central. You will receive a verification email shortly.
There was a problem. Please refresh the page and try again.