HTC Puccini tablet goes through the FCC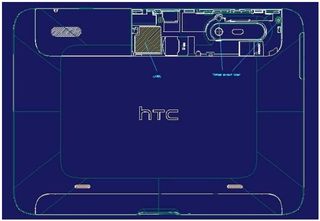 If you've been dying for a blueprint-esque look at HTC's upcoming 10-inch "Puccini" (that's a code name) Android tablet, look no further than the FCC, which has taking the HTC Puccini for a spin. Most of us can't tell too much from this line drawing (at least it doesn't appear to have dual 3D cameras), but the FCC's testing does out 850MHz and 1900MHz radios, which seems to imply that we could possibly see this guy on AT&T at some point. And it's also got an LTE radio to boot, which lends credence to the idea that this could roll out along with AT&T's true 4G network (enhanced backhaul be damned!) later this year. On the other hand, releasing an LTE tablet that's only LTE in five cities -- remember that AT&T plans to light up Dallas, Houston, Chicago, Atlanta and San Antonio first -- makes only slightly more sense than releasing an LTE tablet that doesn't actually have LTE.
Also still on the fence: Exactly what Android version will this thing be running, and what sort of special sauce will HTC bring to it?
Anyhoo, the Android tablet machine marches on. This one whetting anyone's appetite just yet?
I think I'm content with my GT 10.1, unless they can swing me away with some incredibly awesome screen and some neat new features.

Sure, sounds great, as long as it comes out WiFi only!

Hoping for wifi only version! I love HTC products so cant wait to see if this turns out to be a winner.

oh yea another HTC product umm best thing is WiFi version like alwayz now i wanna compare the this tablet wit the motorola Xoom

I want an HTC 7 inch tablet with Honeycomb!!!!!!
Android Central Newsletter
Get the best of Android Central in in your inbox, every day!
Thank you for signing up to Android Central. You will receive a verification email shortly.
There was a problem. Please refresh the page and try again.