How to follow the 2014 Formula 1 season on Android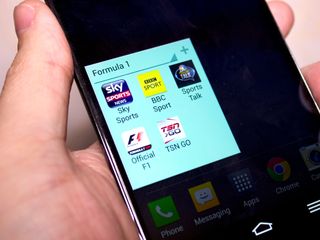 Follow every lap of the 2014 Formula 1 World Championship on your Android device
The 2014 Formula 1 season is officially here! It may seem like only yesterday we were watching the 2013 Brazilian GP wrap up the season, but a new one is upon us. Rule changes galore, drivers switching teams, it's all shaping up to be one fantastic season and you can follow it all on your Android phone or tablet.
As much as we might want to be glued to our TV's watching every last minute, it just doesn't happen. But, with a smartphone in our pockets or a tablet in our bags we need never be too far away from the action. It's a shame many apps depend on where in the world you are, but head on past the break for just a few of the apps out there to help you keep up with your favorite motorsport!
Official Formula 1 App
Updated just in time for the new season, the official timing app is now a free download supplemented by in-app purchases. This is an improvement on years past, where you'd have to cough up a substantial amount of cash up front just to download.
It's a little buggy and a little laggy at times, but you're going to get the absolute best F1 data from it of any app out there. Live timings on race day is a particularly awesome thing, and gives you a real second screen experience while you're watching the race. Or keeps you firmly informed if you can't be near a TV or the racetrack. The premium features are unlockable for $10.99 but if you just want the basic news and information it's completely free.
Download: Official Formula 1 App (Free/$10.99) (opens in new tab)
Sky Sports News and Sky Sports Mobile TV
In the UK, Sky Sports has the main rights to broadcast coverage, and it's generally doing a pretty good job with it. The good news is Sky also has a healthy supply of mobile apps to complement the TV offering. Sky Sports News has a dedicated F1 section with all the news and session timings for each race – though nowhere near as detailed as the official app – and driver bios.
Mobile TV is exactly as it sounds. The advantage to this over Sky Go is that you're not required to have a Sky Sports TV subscription to use it, you sign up for a mobile subscription. Sky Sports F1 is one of the channels included, and the £9.99 a month is worth the outlay for it should you be in need of watching the racing on your phone or tablet a lot this season (you also get access to all other Sky Sports channels for that price.)
Download: Sky Sports News (Free) (opens in new tab)
Download: Sky Sports Mobile TV (Free with subscriptions) (opens in new tab)
BBC Sport
A shout out to the other best app in the UK for following F1, and that's BBC Sport. BBC also has rights to cover the F1, and its BBC Sport app is arguably better than anything Sky has to offer. Video clips, news, radio coverage, all are available here. It's a pretty great all round sports news app, and it'll keep you well informed with all things F1 as well.
Download: BBC Sport (Free) (opens in new tab)
TSN Go
For our Canadian friends, TSN Go will be one of the better ways to get your fix. If you're a subscriber to the TV channels through a compatible service you'll be able to watch live TV. If you're not, you'll still be able to keep up with all the news and goings on from the paddock. But it's the mobile access to live TV – complete with commentary from the BBC team of Ben Edwards and David Coulthard – that makes this one a must have for Canadian fans.
Download: TSN Go (Free) (opens in new tab)
NBC Sports Live Extra and Sports Talk
For American F1 fans, NBC is the place to go for your main source of live action. Fortunately NBC also has a couple of mobile apps that will help you keep up on the go. To get most of the live video content through Sports Live Extra you need to be a cable subscriber of course, but it's at least an option. The Sports Talk application is more for news, and while F1 is lumped together with other motorsports, it's at least there to give you your fix.
Download: NBC Sports Live Extra (Free with subscriptions) (opens in new tab)
Download: NBC Sports Talk (Free) (opens in new tab)
Your picks
So, thats just a few of the apps out there to help you get your Formula 1 fix for the 2014 season. If you've got any personal favorites, be sure to share and drop them into the comments below!
Get the Android Central Newsletter
Instant access to breaking news, the hottest reviews, great deals and helpful tips.
What if i dont pay for TV and i want to watch live streams or recordings of the races on my android phone? I really want to get into F1 this year but need help getting the access

Many people want the same thing, but it's currently not possible under Bernie's control. For USA, you pretty much have to watch it on NBC sport which require cable, but their schedule was hectic last year and they broadcasted under different channels on occasions. There is no official legal way to stream it by mobile in US as far as I know. People in the UK can atleast stream the highlight on BBC iPlayer or if have Sky's subscription.

As the article said, countries where Sky is available you can subscribe to the streaming service without subscribing for a set top box. They have two alternatives, one for Android only and one for PC and Android.

Cool thx. Watching the practice right now. Kinda cool that the official app has team radio if you subscribe. Debating whether it's worth using my survey money on a sub.

I never figured you guys for race fans, or any sport fan for that matter. GO Kimi! Posted via Android Central App

This article made me think of two things. A Sprint app and a pretty nice tech guy from PocketNow. I can only say: NASCAR! Posted via my SPARK enabled Sprint LG G2, with 32GBs of internal memory and no sdcard. (Bring on 4.4.2, I can handle it.)

Ditto... go Kimi go! From my Nexus 5 via the coolest of cool Android Central App

Would it surprise you then to hear I actually have a UK racing licence?! :) One massive motorsports fan here!

Looks like AC has a resident race car driver then. :-) From my Nexus 5 via the coolest of cool Android Central App

I'm really hoping red bull can sort out their issues so Seb can win again but I'm happy to see a Martini livery on the grid! Posted via Android Central App

It does seem like what I suspected all along, that RB were just playing mind games during the pre-season. They were right up there at the first practice, and I have a feeling they've still not turned the dial all the way up on the turbo boost.

Loved the fact f1 is back. But the f1 timing app is pretty appaling. slow to start, 240MB ram, poor multitasking (ie use twitter whilst listening to commentary), intermittent crashes, drives cpu fast and hot. the worst aspect - and a total surprise to me, I paid for upgrade on phone, switched to tablet and got asked to pay again! WHat's that about. Nothing was made clear during purchase, and everything else I've bought from play store works across devices. I can put up with some bugginess as the app evolves but that is taking the mick. Have written to fomfm & google play to request refund.

Thanks for that tip. I was thinking about getting the subscription but if it's locked to one device, it's not worth it.

Keep in mind though that something that wasn't mentioned in this article in regards to the TSN GO app for fellow Canadians who are F1 racing fans, the live TV portion requires a TV subscription to TSN or it's secondary station, TSN2, or a subscription to both via Canadian TV service providers Bell or Rogers in order to be able to watch live F1 racing via the app. Oh and by the way, the live streaming via the app is free for TSN / TSN2 subscribers on Rogers or Bell.

Thanks a lot for the overview! I had already tried to catch up on F1 apps but it seems I missed a few. Go Mini-Mag! :-) Posted via Android Central App

FYI the official app is $11.49 in Australia. Seriously why do they charge so much every year! Posted via Android Central App

Probably because Bernie wants his cut :o\

You can also get results from Google Now.

Thanks! But how do you get Google Now to do that? I can get to a setting where I can "add a team", but entering the names of some of the F1 teams or driver names doesn't really give anything, and neither does entering "Formula 1". Maybe it's just because I'm in Denmark, and here Google Now is little more than an extension to Google Maps...

I'm in Denmark as well! You can't add it as a sport, you have to search for "Formula 1 results". I don't know it a card appears later. Posted via Android Central App

Interesting! If you search for "kimi raikkonen" it actually gives you a card for his race results. Hopefully they'll add it in soon.

Not for "kevin magnussen", though. Guess Google doesn't count him as a driver until he actually completes his first race ;-) But the one for Kimi looks very nice! I'd love that in Now instead of just plain Google search site :-)
I made sure to suggest adding Formula 1 to Google Now through the "Send feedback" option in Now (scroll down to the bottom, then select the menu)

I too would like to know how to do this. Maybe searching for F1 news using Google would bring up related articles into Now. The BBC Sport app is pretty awesome all round, not just for F1. Posted via Android Central App

Shameless plug for my own app! 2014 season and all results since 1950 :) https://www.androidcentral.com/e?link=https2F2F...

i like the ESPN F1 app. fairly basic, but every once in awhile they have some good stories: https://www.androidcentral.com/e?link=https2F2F...

Thanks for the article Posted via Android Central App

I didn't know you guys were F1 fans. Thanks for the info! Posted via Android Central App

As far as sports goes, this is defiantly where the good ol' USA (I am in Cali) has no idea what is going on internationally. Race fans are given one option...watching redneck bumper cars. If you want to see real driving, we are forced to wake up Sunday morning @ 5am and hunt through hundreds of channels for F1.

Can anyone confirm that the official F1 app season pass charge is per device? You only get one install.

I purchased it on my tablet then went to use it on my phone. Initially it only worked as the basic version. I then went to purchase it on the phone (just to see what would happen) and it said that I already owned it. At this point the Official F1 app crashed. When I restarted it I had full access on the phone. So long story short, it seems to be a single purchase per account and works across multiple devices.

A few years ago there was an official app with livetiming only and this app was completely free. Now the official app has to much sh*t which I don't need and it's overpriced.
Posted via Android Central App
BTW they did the same with MotoGP app :-(

If you want to watch F1 live races from abroad, use Super VPN services and watch all races without limitations. You can watch from any device you want, including all Android devices. Go Lotus!!!