Watch the Google I/O keynote and live blog!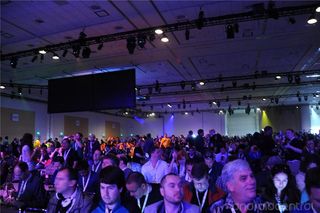 We're live from San Francisco this week where Google's bringing coders together from the far reaches of the globe for its annual developer conference. Wednesday morning is the kickoff event — the two-hour keynote address in which we'll see plans for what's next, updates on what's current — and maybe a surprise or two.
And we're bringing it all to you, live. Below you can both watch the keynote in video and tune into our live blog coverage. You won't find better Google I/O coverage anywhere else! And for all the stories coming out of the keynote and the conference this week, be sure to visit our Google I/O 2014 event page!
Get the Android Central Newsletter
Instant access to breaking news, the hottest reviews, great deals and helpful tips.
Can't wait for this to start!!! Anyone know when the livestream's opening up? I wanna make sure my Chromecast can handle it on my measley 2mbps connection.

I know the event will begin at 12 noon eastern time, so the live blog will probably start a but before that time. Posted via Android Central App

Fuck i thought it was today :( Posted via Android Central App

I know it's a little thing but I really appreciate you putting in the converted time in the article. Saves me having to work out when the event starts here in the UK. Thank you! Posted via Andrex Toilet Roll (2-ply)

Exactly what I was going to post Posted via Android Central App

Roger that, and i just remembered i need some toilet roll, will run down to tescos asap

We can thank Alex for being on the staff for that I bet. He probably gives a nice reminder :)

4 pm GMT for those who prefer not having to use online convert tools every time they read an article on these sites.

Or 5:00 p.m. British Summer Time :-) Posted via Android Central App

Only 2 hours and 21 minutes left....... I hate waiting :/ Got Nexus?

that one part of the year when san francisco becomes home...

I hope they spend a good amount of time on Android. It is the only thing I really am interested in. The wearables and home automation stuff bore me but it seems like that might be a focus this year.

2 hours to talk about all of the things. Not a lot of time for any of it really

I got a google now card saying it was time to leave for my flight, I was so sad. :( If I only had a ticket.

I woke up at 9 est lmao it's at 12 Posted via Android Central App

Haha I did the same. Oh well. Posted via Android Central App

They're going to talk about AdMob since they just redesigned the logo and website yesterday. Posted via Android Central App

Moto 360 pre-order announcement pls. Will buy immediately Posted via Android Central App

Bam, Android in Cars confirmed! And before the keynote starts no less. (Not like we all didn't see it coming though)

Google KeyNote will be LIVE HERE: https://www.youtube.com/watch?v=wtLJPvx7-ys

Love the picture from last year! My friend with the white hair in the bottom right is here with me at I/O Extended in Arlington VA!

Someone's wearing a Moto360

Sundar is wearing the Motorola smartwatch. Posted via Android Central App- Via HTC One

Gee, is that a Moto 360 on his wrist? lol

No comments on his watch?

Android One?
L Developer Preview Am I watching Microsoft?

What is he wearing. Posted via Android Central App

Dave has a LG smartwatch. Posted via Android Central App- Via HTC One

Why are they presenting this in a hallway? The constant stream of people walking by is distracting and gives the impression that many people there do not care what is being presented.

Damn... Are all these bobbing heads leaving... Posted via Android Central App- Via HTC One

This is pretty disappointing so far. Android OEMs will just shit all over this material design stuff.

What kind of smartphone is he using? Posted via Android Central App- Via HTC One

I like the notification update Posted via Android Central App

Nice security feature Posted via Android Central App

Wow... She could stop bullets with that smartwatch! Posted via Android Central App- Via HTC One

Lol Posted via Android Central App

Let's hope significant improvement in the battery life department. Posted via Android Central App- Via HTC One

I hope it does
Posted via Android Central App

I like the battery historian Posted via Android Central App

Who yelling I the background Posted via Android Central App

90 minutes? Posted via Android Central App- Via HTC One

That Moto 360 looks nice.

The live blog is now useless on the app for my phone because of the sticky with all the links :( Posted via Android Central App

That a nice watch Posted via Android Central App

Queue the Wrap it Up Box.

Al the snycing is nice but the battery life. Posted via Android Central App

BOOOOOO! Samsung before Moto!

Google could be a easy add on Posted via Android Central App

Android auto head unit? Posted via Android Central App- Via HTC One

Your smartwatch can control your tv. This is madness! THIS... IS... SPARTA!!! Posted via Android Central App- Via HTC One

Yeah. I was pretty much 100% against "smart" watches until today. But, the way Google has connected everything seamlessly suddenly makes the watch really interesting. Now, they just need to up the battery life to something like a month so you will never, or at least rarely, have to bring an additional charger with you when you're on the go.

I like the chrome cast update Posted via Android Central App

Where is the Hangouts update? Posted via Android Central App

Agreed. Surprised that they didn't announce the Voice and Hangouts will be joining. Seems like it was heavy on wearables. No G+ updates and no big apps and no name for the new operating system. The "L" system...really?

...but... Knox is just bloatware... that's what "they" have always said! :) Nice to see that at least Google are smart enough to appreciate clever security features and adopt them.

... You are building robots that kill people... Babababhahhahahahahahah.... Posted via Android Central App- Via HTC One

Lol. These people are freaking insane.

I hope there is hardware. Debug... Zzzzz Posted via Android Central App- Via HTC One

So, no Nexus device. And, we don't know what L stands for...

L stands for = what? I woke up early for this!? Posted via Android Central App- Via HTC One

@mercdroid: No Nexus device yet.. I'm still holding out hope that they'll put out at least one more Nexus phone and tablet before the end of the year.

Hay! Did they ask us to guess the new name of Android L?
I guess 'Android LightHouse' Anthon, Netherlands