Google to honor requests to remove 'revenge porn' from search results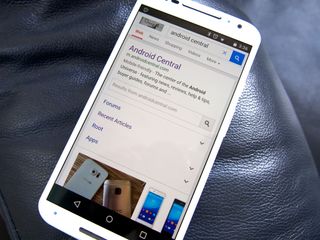 Google has announced that it is taking a stance against revenge porn in its search results. The search giant is implementing a way for victims to request that explicit images shared without their consent be removed from search results.
From Google:
As Google notes, while this is a significant step forward in addressing the ease of access to revenge porn, it's still a relatively limited policy that requires action on the part of the victim and only affects Google search results.
Source: Google
Android Central Newsletter
Get instant access to breaking news, the hottest reviews, great deals and helpful tips
Revenge porn?? What's that?

Leaking nude photos or videos of your ex. Posted via the Android Central App on my Droid Turbo

Something that's very related to Android apparently.

Haha very true. Posted via the Android Central App for Sailfish OS on my iPad 7

Lol Posted via the Android Central App

More like what was related to the ICloud downloads of celebrities. After it happened Jennifer Lawrence filed suit against Google for $100 million. Even though the cracked passwords and residual saved images of deleted and saved pictures and videos was with Apple's systems. So now the Governments around the world can have leaked information deleted as well I wonder.

Was no problems with Apple's systems, just stupid passwords by the affected people.

It may be limited to only their search results but it's still nice to see Google doing the right thing here. Leaking stuff like that is such a low and disgusting thing to do to someone. Posted via the Android Central App

Wait for it, someone will eventually complains about Google trying to limit their "rights" to search or leak revenge porn,or to dictate what they can and can't search. Posted via the Android Central App

I see it this way. If your girlfriend is willing to make a video or take pics and doesn't sign a disclaimer at the making of said video or photo shoot.... Then it's fair game. Period. Especially if it's an outdoor romp. Posted via the Android Central App

Hi and welcome to camp crystal Lake. Sent via carrier duck. They were out of pigeons

Outdoor romp? Thats...specific. Posted via the Android Central App

So is a bedroom. Kitchen. Car. But in the outdoors, that invites anyone and everyone to participate either physically or electronically. Kinda like the paparazzi snapping pics for a tabloid. But in the confines of a home.....that's where the disclaimer would be needed.

You shouldn't have to specify that a private, intimate act needs to be kept between the consenting parties. It's despicable that you think it's the woman's responsibility to have to specify this, especially going so far as to suggest that a verbal request isn't enough and that she needs to *sign* something. I really hope it was a joke.

Nope. Because a man should have to do it too. Posted via the Android Central App

Uh huh. That's why you said "girlfriend" in your original comment.

I think it comes down to who does the filming. I think the one doing the filming owns the film, assuming the other party is aware they are being filmed. I know this is a crazy idea, but if you don't want to risk having that stuff one day be on the net.... Don't make it in the first place. My personal policy is that if I would be ashamed if anyone found out I was doing something, then that is a good indicator that I shouldnt be doing it.

Are they gonna delete anything crossdresser or crossgender? Sent via carrier duck. They were out of pigeons

I think think so. You're safe.

... Obviously created due to celebrity outcry from the iFap leak. Google didn't seem to give a shit about the common citizen before. Posted via the Android Central App

They need to do this for the food industry as well. The blatant food porn posted between rival restaurants and food critics has gotten a little bit out control.(Will Smith) I blame Facebook for that mostly though since it started with people posting food pics that were subliminally saying ha-ha! I'm eating this and you're not! Now drool fool!

No way! I want and need my daily doses of Bacon Porn! From my lollipopped rooted LG G2

"Stiff Bacon has sex with young embryonic chicken!" "No arrests have been made due to lack of evidence on their plate....more at 11."

The main down side to this is that I can see anti-porn types filing false reports to pull legit porn off of Google, much like YouTube has an issue with false DMCA takedowns. Or an angry ex boyfriend could use it to pull the links to his former girlfriends Cam site she gets income from. Posted via Android Central App

you, sir, are a critical thinker. I never even would have thought of that last bit.

Curious question as to one has to prove that it is their intellectual property first and how it is proven. I can see false claims being rampant as well, which would eventually lead to Google having to deal with the legalities and creating some type of rules with filing. Curious as to what happens when someone claims something that belongs to someone else and it is pulled by Google which could lead to some material loss to the original owner. Google could potentially open itself up to a lawsuit pulling the questioned information. For an example an Instagram model who's pictures are pulled falsely could open a suit to google to repay that person monetarily for removing their pictures giving them less exposure.

Why is it Google's responsibility to play big brother? They should play no role in authority over users. Now they'll just post the same pictures and images without the tag "revenge porn"? Kudos to them for getting whiners appeased so quickly. Here's another POSSIBILITY: Sort out your daddy issues and quit letting creeps google your yahoo.
And for cripes sake. Regardless of what your boyfriend tells you, a camera is NOT for him to admire you with later. Quit being so stupid. If you're old enough to have sex, grow up and consider the consequences.

Good on Google to take a stance against stuff it believes in.

People still use Google to search for porn?

https://www.change.org/p/protect-victims-end-revenge-porn-now this is why it was removed. Not because of the celeb leaks. Posted via the Android Central App

I don't get how this is revenge porn. If her story is truthful, then she was filmed being raped. I mean, she says at one point that she had no idea the act had occurred. I could have sworn that filming yourself having sex with an unconscious person is a good way to go to jail. Are laws in the UK such that this isn't considered rape? That to me is a huge difference from someone breaking up and posting your nudes you let them take. Playing devil's advocate, this would also be a good way to boost your YouTube channel. I mean, look was leaked porn tapes did for Paris Hilton and

I believe that the best way to protect yourself against revenge porn is not allowing to film our sex act.
Really... All those people taking photos of their boobs or of their cock: I don't understand!
And people are complaining about lack of privacy!

That was really my point. Thank you! Posted via the Android Central App

This is a basic copyright issue. Even photographers know that they need permission from the person whose image is in their photographs in order to use it or redistribute it in any way, for financial gain or not. It says a lot about our sexism when we assume that women in a sexual context are exempt from this basic copyright protocol, as if women are always public property with zero rights to their own image. This isn't the Lincoln Memorial. This isn't the Grand Canyon. This isn't something from the National Archives, and it isn't public property available for distribution as you see fit.
Android Central Newsletter
Get instant access to breaking news, the hottest reviews, great deals and helpful tips
Thank you for signing up to Android Central. You will receive a verification email shortly.
There was a problem. Please refresh the page and try again.