Ematic 9.7-inch tablet on sale today for $179.99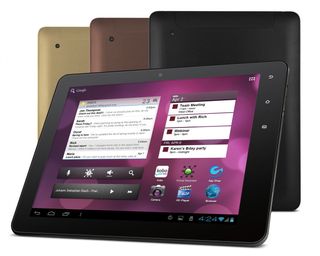 We've got another entry into the budget full-sized Android tablet game today with the Ematic EXP8. Its got a 1.2Ghz processor (listed as an ARM Cortex A8), 1GB of RAM, 8GB of storage (with MicroSD support) and HDMI out. The 9.7-inch EXP8 seems to check all the boxes as far as specs go, and doesn't offer any more than you'd expect at the price point. For the sake of completeness, here's the full list of specs:
9.7-inch IPS display
1.2Ghz processor, 400Mhz GPU
1GB of RAM
USB 2.0 port
HDMI port
8GB of storage, expandable
5GB of cloud storage
front and rear cameras
3-axis gyroscope, accelerometer
Android 4.0 Ice Cream Sandwich
It's a tad worrying that no official screen resolution is listed other than "high resolution" and the sizes of the cameras are unknown, but the specs and looks of the device seem nice, and at $179.99 it's hard to argue with. The real question will be whether its worth the extra $20 to bump up to the Nexus 7, which is a known quantity.
A full press release can be found after the break.
EMATIC RELEASES THE EXP8: A HIGH RESOLUTION 9.7" ANDROID 4.0 POWERED TABLET WITH DUAL CAMERAS
LOS ANGELES - September 11, 2012 - Ematic, a leader in value tablets, releases the EXP8 tablet for the consumer requiring a feature rich device at a reasonable price. The EXP8 features a 9.7" high resolution IPS display, and is powered by Android 4.0 Operating System. Slim and lightweight, this tablet is ideal for those who are always on the move.
"The IPS Display Technology enhances colors and offers wider viewing angles," says Roy Rayn, President of Ematic. "The multi-touch display is perfect for writing emails, browsing the Internet, and playing the latest games."
Packed with power, the EXP8 features a fast 1.2 GHz processor, 400 Mhz GPU with 1 GB of DDR3 RAM to deliver superior performance. These leading specifications come in a slim package as the EXP8 is only .46" thick making it portable enough to put into a briefcase or purse.
The Ematic App Shop offers thousands of the latest apps from the most popular developers. Every EXP8 tablet comes preloaded with EDAN ("Ematic Digital Assistant & Navigator"), a virtual assistant that helps answer your everyday questions. Voice-to- text technology lets the user search for movie times, nearby restaurants and more. It also makes updating Facebook statuses or dictating an email hands-free and simple.
EXP8 users can be confident that all their favorite images, videos, and important documents will be stored safely. The tablet is equipped with 8GB of built-in flash memory plus an additional 5GB of cloud storage. A MicroSD Card slot allows an extra 32GB of storage, too.
Full List of Features:
• Android 4.0 (ICS)
• 9.7" Capacitive Multi-Touch Screen
• IPS Display technology
• 1.2 GHz Processor with 400MHz GPU
• 1GBDDR3ofRAM
• 8GB on-board storage memory
• USB 2.0 port
• HDMI port
• Back and front cameras
• 1080p HD video playback
• 3-axis gyroscope, accelerometer
The EXP8 comes in black, gold or copper. It is available for $179.99 at walmart.com.
About Ematic:
Ematic is a leader in portable media and value tablets offering high quality consumer electronics at an affordable price. The company offers a variety of technology ranging from designer headphones to MP3 players and tablets. Ematic prides itself on offering the latest in advanced technology that has undergone rigorous testing for quality, sturdiness and reliability.
Ematic Corporate Giving:
Beyond the production of high quality consumer electronics, Ematic supports initiatives for a greener Earth by running power-conscious facilities, using environmentally-friendly inks made from recycled cartridges, and 100% recyclable packaging. Ematic also makes it their mission to give back to its communities by donating 10% of all profits to various charities.
Android Central Newsletter
Get the best of Android Central in in your inbox, every day!
Andrew was an Executive Editor, U.S. at Android Central between 2012 and 2020.
Junk. $199 gives you a Nexus 7 w/ a Tegra 3. This thing gives you a Droid X in tablet form. Hell for $149 you can get an Acer Iconia A100 w/ a Tegra 2 and all the expansion ports you could ask for. This will only hurt Android tablet adoption and peoples opinion of it not help it.

Actually this would have been a decent cheap tablet a year or two ago. But the current generation of tablets are much better and cheaper at the same time. Like you said the Nexus 7 gives you a Quad-Core SoC + more than 8GB storage. But that reason alone does not make this Junk..

No Google Apps or Google Play Store. What does that tell you?

It looks horrible. I would get the Nexus 7.

Walmart has a listing: https://goto.walmart.com/c/1943169/612734/9383?sharedid=159229&subId1=UU... Shows resolution as 1024x768 -- hello 4:3 aspect ratio!

I have to say that comparison with the Nexus 7 is a joke. A cortex A8 processor (probably single core?) against the Tegra 3, ICS against Jelly Bean? I'd spend a little more for the Nexus 7. Not even the lack of USB, expandable storage, HDMI, and lack of back camera would change my mind.

I'd prefer the larger screen, which is why I'm reading this on a $150 HP Touchpad running CM9. No need to upgrade to the latest and greatest when this meets my needs.

did you get hp touch pad recently? if so where did you get it because i want one :)

also is it a 16 GB or 32GB lowest i can find is 175 with tax for 32GB
Android Central Newsletter
Thank you for signing up to Android Central. You will receive a verification email shortly.
There was a problem. Please refresh the page and try again.