EE hits 200th town milestone in UK 4G rollout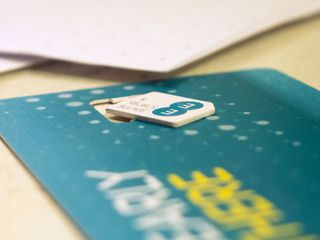 EE has today announced hitting a new milestone in the rollout of 4G LTE across the UK. The mobile operator has added the 200th town to its supported list, bringing the total coverage to a reported 72 percent. The residents of Rhyl, Wales recently had their LTE connection switched on alongside 12 other locations. The network began rolling out upgrades throughout the UK back in 2012.
If you're locked into a 4G plan with the network and reside in one of the newly covered locations, you'll be able to enjoy faster speeds. Fear not if you're still in an area with little to no coverage as the mobile operator is continuing to lock down the UK and reach complete coverage.
4G LANDMARK – RHYL IS 200th TOWN TO GET SUPERFAST MOBILE FROM EE
This week, Rhyl has become the 200th town to receive 4G from EE
Customers in 12 other towns now also covered by 4GEE
EE was recently ranked number one for mobile internet, call, text and reliability across the UK following rigorous independent testing from RootMetrics®
April 25, 2014 – EE, the UK's most advanced digital communications company, today announced that the seaside town of Rhyl in North Wales is the 200th town in the UK to benefit from 4GEE. The UK's biggest and fastest network officially switched on superfast 4G mobile broadband in 13 towns across the UK this week, bringing the total to 200 places and 72% of the UK population.
4G from EE goes live today in: Armadale, Bishop Auckland, Brighouse, Cumbernauld, Hamilton Kirkintilloch, Larne, Newry, Peterlee, Staines, Stockton-on-Tees, Rhyl and Washington. These places will now benefit from superfast internet access on mobiles, tablets and laptops, helping people and businesses to do more on the go, whether that's working or enjoying social media, music and videos.
EE's rigorous switch on requirements mean that locations aren't considered official 4GEE towns until at least 80% of the area is covered, ensuring new customers get the best 4G experience possible. EE continues to switch on hundreds of 4G sites all over the UK every month, and many additional towns are set to be announced in the near future.
Olaf Swantee, CEO of EE said: "Today we switch on our 200th 4G town just 18 months after pioneering the service in the UK.
"We now have over 2 million customers using superfast 4G. That's the fastest rollout and uptake of any technology in Britain, and means that the UK's mobile digital infrastructure is now ahead of many other nations. We're proud to have been the driving force that made that happen, but we won't stop there.
"Our continued drive to deliver 4G to more of the UK means that our customers have access to by far the biggest network in the country. Hitting this landmark highlights that 4G from EE is available wherever people need it - at home, at work, or enjoying the sunshine on the beach in Rhyl, our 200th town."
4GEE is available from just £13.99, allowing more customers than ever to enjoy the benefits of the UK's biggest and fastest network. The new price plan was launched last month alongside the first ever EE-branded smartphone – the EE Kestrel. The EE Kestrel is free on plans from £13.99, or for just £99 on 4GEE Pay As You Go.
Last month EE was ranked as the number one mobile network in the UK, following comprehensive independent testing from RootMetrics. RootMetrics assessed all four major operators, collecting over 840,000 test samples and driving more than 23,000 miles.
Get the Android Central Newsletter
Instant access to breaking news, the hottest reviews, great deals and helpful tips.