Dunkin' Donuts goes mobile with the release of payment and gifting app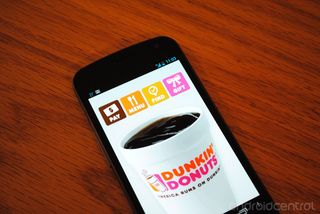 The daily grind can be tough on some folks. For that there is coffee. Mass amounts of coffee. Looking to keep up with competitors such as the infamous Starbucks, Dunkin' Donuts has now gone ahead and launched a new app that will help caffeine deprived individuals get their fix a little bit faster. It's a combination app that allows you to process payments, send virtual gift cards, look up store locations and finally, check out the menu and nutritional facts.
Purchase, manage, and reload a Dunkin' Donuts Card: Guests can purchase a new mobile Dunkin' Donuts Card (selecting from multiple designs for many occasions), add money to an existing card, and view all previous card transactions. The Dunkin' Mobile App supports American Express, Visa, MasterCard, Discover, and PayPal.
Pay right from the app using a virtual Dunkin' Donuts Card: Guests can purchase Dunkin' Donuts products with the Dunkin' App by simply tapping the mobile Dunkin' Donuts Card and presenting the screen to the crew member to be scanned. Balances are updated immediately after purchase.
Send an mGift: Dunkin' Donuts Cards can be sent to friends, family, or colleagues via email, text, or Facebook. Dunkin' Donuts is now the only national coffee retailer to offer people all of these options for sending an mGift. Dunkin' Donuts Cards can be sent in denominations between $2 and $100.
Locate the nearest Dunkin' Donuts: A detailed restaurant locator makes it easy to find directions to and information about local Dunkin' Donuts restaurants, including store hours, in-store Wi-Fi, drive-thru availability, and more.
Find nutritional information: The Dunkin' App makes nutritional facts available for guests' favorite Dunkin' Donuts menu items.
Link to Dunkin' Donuts' social media communities: Dunkin' Donuts is actively engaged within leading social media channels, with more than 6.8 million Facebook fans and 160,000 Twitter followers. Easy links to "Like" Dunkin' Donuts on Facebook or follow @DunkinDonuts on Twitter can be found in the "Social" section of the Dunkin' App.
The app is available in the Google Play Store right now, though it does seem as though it's only available for folks in the U.S. and it doesn't appear to be compatible with any Android tablets. If you prefer Dunkin' over Starbucks, it might be worth checking out.
Source: Dunkin' Donuts via: CIO
Android Central Newsletter
Get instant access to breaking news, the hottest reviews, great deals and helpful tips
I was just about to say that!! D'oh

Good way to pay for an item that won't be what you ordered. DD is absolutely horrid. Cheapest ingredients, low, low quality. Sucks that I'm surrounded by the horrible establishments and their lemming followers(Boston area). DD should start selling iOS products...lemmings!!!

If they really want to keep up with competitors, maybe they shouldn't have closed all their establishments on the west coast. Screw you, Dunkin.

That is what happens when a company goes public that should not have gone public. I'm just glad I can still buy their grounded coffee from the grocery store. Dunkin Donuts makes pretty good coffee.

They do, and I just got to have it again on vacation last week, which is why I'm still irked! Oh well, maybe Tim Hortons will move in or something.

Signed into my DD account and there was my current card already loaded. Nicely done.

No NFC so this is just backwards thinking welcome to yesteryear Dunkin

America runs on Starbucks! ;P Seriously, I used to like Dunkin coffee but now it's crap even when adding a turbo shot (expresso) to try to make it drinkable (I need some flavor). Heck, Community Coffee from the local convenience store is typically better. But I digress, looking at the laundry list of app permissions turns me off anyway. No thanks

Great, now come back to California.

Not sure why this might be construed as better than Google Wallet. I certainly don't want to have to load a different app for every store I go to.
Android Central Newsletter
Get instant access to breaking news, the hottest reviews, great deals and helpful tips
Thank you for signing up to Android Central. You will receive a verification email shortly.
There was a problem. Please refresh the page and try again.